In this month's RHIO Report
Usage of Rochester RHIO services shows significant growth
Solution Spotlight: RHIO Explore continues to expand
RHIO Deployment Coordinators engage participants at MCMS Ask the Carrier
---
Usage of Rochester RHIO services shows significant growth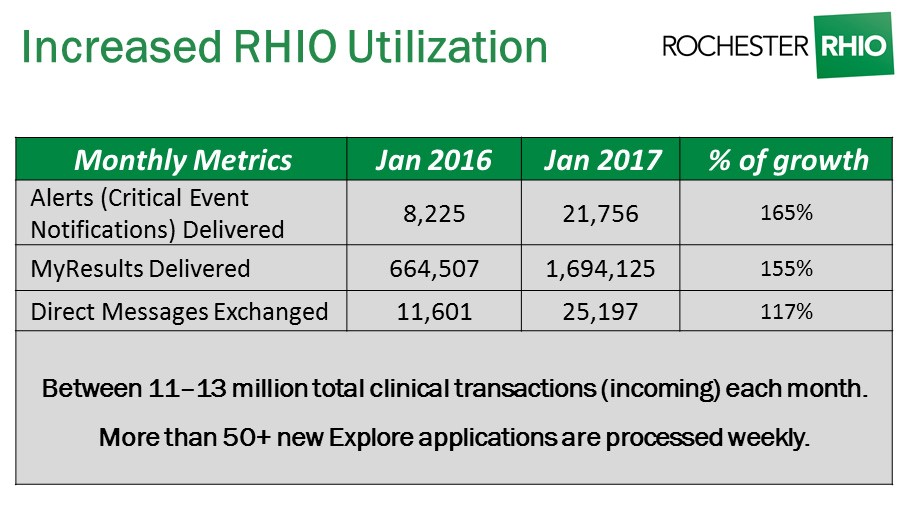 ---
Solution Spotlight: RHIO Explore continues to expand
Whether in the hospital, an emergency room, or a doctor's office, authorized users can immediately access the data they need when additional guidance is necessary. Explore is Rochester RHIO's secure, web-based clinical query tool, which includes data for over 1.4 million patients in 13 counties. It's a window to patient information across different health systems and care settings, which is always available and up-to-date. Explore is one of Rochester RHIO's most popular Core services, and it continues to grow in terms of its data, sources, and utilization. From January 2016 – January 2017, use of RHIO Explore grew approximately 21 percent from over 27,000 logins per month to 33,000 logins per month!

What's new with RHIO Explore? During the past year, several enhancements have been made to Explore, including:
Improved printing capabilities (Fall 2016)
State-wide data query (Fall 2016)
Data from ambulatory care settings (CCDs) (Spring 2017)
The state-wide data query allows authorized users to query and retrieve patient information from other regions of New York State through the SHIN-NY. Also, CCDs, or Continuity of Care Documents, have started flowing into RHIO Explore, and soon more will be available through Rochester RHIO's Repository! More and more ambulatory care information will become available as spring progresses!

Using the Explore query tool helps clinicians and care managers obtain more background information on a patient regarding preexisting conditions, or prior tests. It can also improve office workflows by allowing users to obtain lab and test results more quickly. Explore helps clinicians build a more complete patient record.

Want to know more about Explore? Contact your Deployment Coordinator, or call Customer Support at 1-800-865-7446 (RHIO).

More about using RHIO Explore: Starbridge begins using RHIO Explore.

---
RHIO Deployment Coordinators engage participants at MCMS Ask the Carrier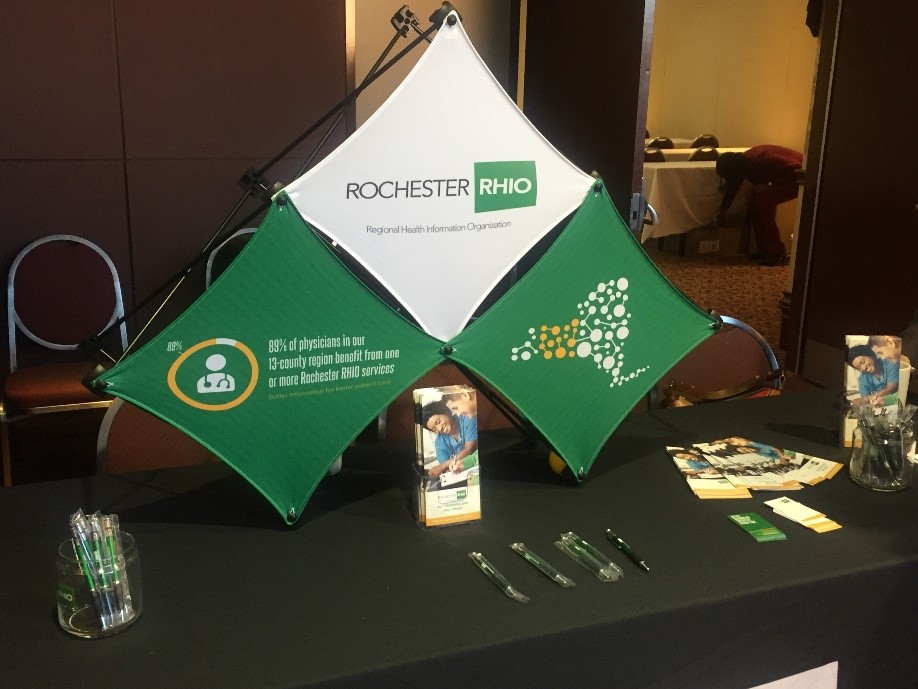 Rochester RHIO Deployment Coordinators presented, educated, and answered questions from our healthcare community on Wednesday, March 29 at Monroe County Medical Society's Ask the Carrier. It was an all-day conference held at the Rochester Riverside Convention Center in Monroe County. Nearly 400 people attended the event.

Presenters included Deployment Coordinators Renee Graham and Elizabeth Bailey. They introduced participants to several new RHIO services and features including Contribute, statewide query, MyAlerts and batch printing for lab results. They also fielded several questions from audience members including inquiries about patient consent.

Question: When a patient checks "I GIVE CONSENT…" on the consent form, how long is it good for?

Answer: Consents are evergreen (durable) and are good until the patient changes their consent choice by signing a new form.
If a minor has previously signed a consent form, when that minor turns 18 and becomes an adult, then that patient's consent status will change. A new consent form is signed as an adult, even if the patient previously signed a consent form as a minor.

Download the Ask the Carrier PowerPoint presentation. Questions? Contact your Deployment Coordinator.