Revised Data Sharing Agreement
As part of new Department of Health and NYS requirements, the Rochester RHIO is revising our Data Sharing Agreement that governs all participants use and obligations related to our health information exchange services. In keeping with earlier updated releases, these provisions do not take effect immediately, giving participants significant time to consider any material changes. As these changes are required as part of the new statewide RHIO certification process, this new data sharing agreement and the related policies will be effective May 1, 2015. These revisions are posted on our
Provider Portal
. You are encouraged to review these new documents. As per our policy, no action is required on your part.
---
Spring 2015 Will Bring Exciting Changes
Beginning in April, RHIO staff will start to roll out our new clinical query portal. After six years, the VHR will be retired.
Rochester RHIO Explore
will provide regional healthcare clinicians and staff access to comprehensive patient health data.
Here is a sneak peak at a few of the new features you will find in Explore:
Log in from your favorite browser (Chrome, Safari, Internet Explorer, Firefox).
View patient data organized by episode of care. For example, all the reports and results related to one hospitalization will be linked.
Search for and sort all the imaging studies related to your patient in a HIE Worklist.
Configure the landing page to see what's most important to you first.
And, look for additional new capabilities during the second half of 2015. These new services will be outlined in future RHIO Reports.

Over the next few months, the RHIO will also complete full accreditation as a Qualified Entity by NYS Department of Health, and as the Greater Rochester region's connection to the State Health Information Network of New York (SHIN-NY).

---
DSRIP
The Finger Lakes PPS DSRIP project is working with the Rochester RHIO to support interoperability requirements. As the PPS projects and their IT needs are more fully defined, the RHIO will work directly with participants to develop the required functionality. For 2015, the RHIO's DSRIP focus will be to upgrade interfaces with medical providers to support providers sending patient data from their practice to the health information exchange.

We encourage DSRIP participants who do not yet participate with the RHIO to contact the RHIO at 1-877-485-7446, so that we can begin the on-boarding process.

---
Getting to Know RHIO's Tech Team
There is a dedicated team of technical experts who work behind the scenes to provide the region's health information technology services. Ramesh Sridharan, Director of Technical Services, leads this team.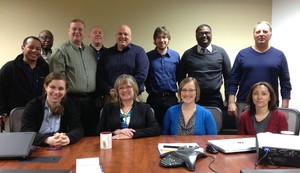 From left to right:
Ken Bermudez
Earnest Daniels
Elizabeth Way
Mark Tellier
David Schond
Jason Mohr
Lisa Tucker
JC Wright
Sara Abrams
Ramesh Sridharan
Ted Wolfley
Marilyn Sargeant

IN THIS ISSUE:
Revised DSA

Spring 2015 News

DSRIP

RHIO Tech Team


Be sure to visit us!
HIMSS/Digital Rochester-
IT Leaders-
Community Engagement:
March 19th
MCMS Ask the Carrier:
April 8th
CONTACT RHIO:
200 Canal View Blvd.
Suite 200
Rochester, NY 14623
(877) 865-RHIO
info@grrhio.org