In this month's RHIO Report
RHIO Explore users can now query for statewide data
Rochester RHIO coming to a community near you: Genesee County
Improved printing feature added to RHIO Explore
Discount available for 2016 Digital Health Conference
RHIO Explore users can now look up statewide data
The Rochester RHIO is pleased to announce the addition of statewide data to the RHIO Explore clinical query portal. This update allows Explore users to query and retrieve patient information from other regions in the state through the SHIN-NY.

For example, if an Explore user is looking up a patient who resides in Genesee County, the user can then query for state clinical data that may be available through HealtheLINK in Buffalo, or another RHIO in New York State.

For additional details on using this function, access the Rochester RHIO User Guide inside of the Provider Portal under the Information tab.

Rochester RHIO coming to a community near you!
Where: United Memorial Medical Center, Batavia
When: Friday, Nov. 18 – 9 a.m. – 4 p.m.

The Rochester RHIO is hitting the road to celebrate its 10th anniversary as a community health information exchange! We are looking forward to reaching out to participants in the coming weeks. Keep an eye out for us coming to your county!

The Rochester RHIO will be holding office hours at the United Memorial Medical Center in Batavia on Friday, November 18 from 9 a.m. to 4 p.m. One our Deployment Coordinators will be onsite for our Genesee County participants to assist with any questions about RHIO services. We look forward to seeing you there!

Improved printing feature added to RHIO Explore
RHIO Explore users can now select multiple items and print those items as a PDF file. To use the feature, go to the "Laboratories" screen, and select two or more clinical items. The "Download Selected Items as PDF" option then displays after you select at least two options.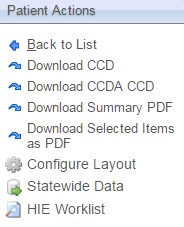 Discount available for 2016 Digital Health Conference
Digital Health Conference
December 6-7, 2016 | New York, NY
www.DigitalHealthConference.com

The New York eHealth Collaborative's Digital Health Conference (DHC) brings together 500 senior-level healthcare industry leaders to learn about new innovations and to foster dynamic conversation addressing how healthcare is being redefined through technology.

Keynote Speakers:

- Robert Wachter, MD, Professor and Interim Chairman of the Department of Medicine, University of California, San Francisco, Author, "The Digital Doctor: Hope, Hype and Harm at the Dawn of Medicine's Computer Age"

- Steven Johnson, PBS Host and Bestselling Author, "How We Got To Now" and "Where Good Ideas Come From"

Each year a who's who of New York's healthcare and health tech community gather for two days of networking, lively intellectual exchange, and exploration to see what's new, what's cutting edge, and what will shape the future of healthcare. Join your peers and register today!

Rochester RHIO Colleagues: Receive a 10% registration discount. Use code Rochester when registering at www.DigitalHealthConference.com.

Annual Meeting Time & Location
The Rochester RHIO will be holding its annual meeting on Tuesday, November 29 at 4 p.m. The meeting will be held in the third floor conference room suite at 200 Canal View Boulevard, Rochester, NY 14623. If you plan to attend, please RSVP to
Heidi Farrington
.
RHIO Fast Stats
- Rochester RHIO delivered over 16,000 Alerts in October.
- Over 1.1 million Results Delivered messages were sent in October to 400 clinical practices.
- As of October 31, the RHIO has over 1.2 million unique patient consents.
Fall Training
Our 2016 online training series concludes with Explore Refresher Training. Sign up for a webinar below!
Explore Refresher Training
Tues., November 15 - 8 am
Tues., November 15 - 12 pm
Thurs., November 17 - 4 pm
CONTACT RHIO:
200 Canal View Blvd.
Suite 200
Rochester, NY 14623
(877) 865-RHIO
info@grrhio.org