In this report: 5 announcements
Rochester RHIO launches MyAlerts service
Download the updated Standard English Consent form
New training available for RHIO Administrators
Take our 2016 Participant Satisfaction Survey!
Cyber Insurance: Not all policies are created equal
Rochester RHIO launches MyAlerts service
MyAlerts is the alerts solution for a practice or care manager working within a larger health system, or for a clinical provider who needs to carefully monitor critical events for active or high-risk patients. It is a service that has been developed to meet specific clinical use cases and allows for the customization of clinical workflows. With MyAlerts, providers can identify a list of consented patients. After a list is created, providers then receive alert notifications about these patients for easier tracking of critical events.

MyAlerts can be:
delivered through DIRECT messaging, or
integrated through an EHR vendor or system.
To learn more about MyAlerts, or to further customize the basic RHIO Alerts service, contact your Deployment Team Coordinator, or call Rochester RHIO's Customer Support Center at 1-877-865-RHIO (7446).
Download the updated Standard English Consent form
The electronic version of the Rochester RHIO's Standard English Consent form has been updated to include some additional language about access to a minor's electronic health record in an emergency. How can you tell if you are using the most recent Standard English Consent form? In the lower left hand corner, it says "DOH-form number pending (6/16 R)". The (6/16 R) indicates the date of the latest version of the form (June 2016).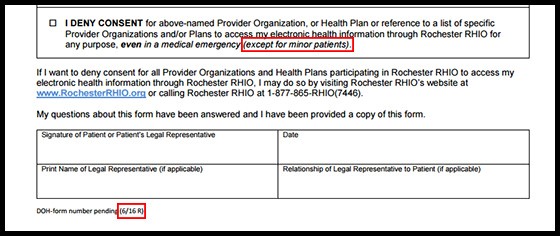 New training available for RHIO administrators!
Recently, the Rochester RHIO updated its Provider Portal Training tab to include a new computer-based training module for those who are RHIO Administrators. According to Rochester RHIO's security and privacy policies, RHIO Administrators are required to participate in the "RHIO Administrator Computer-Based Training Module" at least once a year, as part of annual refresher training.

As of September 1, all RHIO Administrators are required to take this training. To get started, log into the Provider Portal, and go to the Training tab. The module only takes about 10 minutes to complete. After the training has been completed, RHIO Administrators must click the attestation link to verify that they have completed the training. There are also additional tools and resources available through the RHIO's Provider Portal such as applications, consent forms, the RHIO User Guide, and a secure option to submit a support request.

Questions? Contact the Rochester RHIO Customer Support Center at 1-877- 865-RHIO (7446), or contact your Deployment Coordinator directly.

Take our 2016 Participant Satisfaction Survey!
Participants are invited to take part in this year's Participant Satisfaction Survey. The survey was emailed out to participants the week of August 29. To help ensure that we continue to offer the highest quality service, we're interested in hearing about your experience with us.

Participants should take a few minutes to complete and submit the survey by Thursday September 15. If you didn't receive a survey, and would like to complete one, please call our Customer Support Center at 1-877-865-RHIO (7446). The survey is anonymous. Respondents have the option of requesting follow-up from the Rochester RHIO Deployment Team by including contact information. All responses are kept confidential.

As the Rochester RHIO approaches 10 years of service, we want to ensure continued focus on our participant's experience. This survey and your feedback helps us remain committed to excellence as we continue to support our community.

Cyber Insurance: Not all policies are created equal
Guest writer: Jennifer Wenzke Wallace, First Niagara Risk Management

Cyber Insurance has been available in the insurance marketplace for well over a decade, but it is only in recent years that the healthcare industry has begun to embrace insurance as part of their overall risk management program. Driven in part by lower premiums, increased awareness of breaches and requirements in a multitude of funding contracts or data sharing agreements, healthcare entities of all sizes are now purchasing insurance with increased frequency.
So, how do you know what you're buying?

Read more: Cyber Insurance: Not all policies are created equal.
Sign up for eMOLST Single Sign On with your Deployment Coordinator
If you have both eMOLST and RHIO Explore accounts, a simplified login process is now available for users. Contact us at 1-877- 865-RHIO (7446) to sign up today!
In the News
RHIO's Executive Director Jill Eisenstein has been nominated for a Digital Rochester GREAT Award. In August, Eisenstein was nominated for Technology Leader.
The GREAT awards ceremony is September 22. Read more about the nominations from the Rochester Business Journal:
Finalists announced for GREAT Awards
.
RHIO Data Facts
- 89 percent of physicians in our 13-county region benefit from one or more Rochester RHIO services.
- Nearly 1,500 participant organizations utilize Rochester RHIO services.
- Over 16,000 RHIO Alerts were delivered during the month of August.
Upcoming Training
Our 2016 online training series continues in October. Select a date and sign up for a session!
HIPAA Training Sessions
Tues., October 18 - 8 am
Thurs., October 20 - 12 pm
Thurs., October 20 - 4 pm
Explore Refresher Training
Tues., November 15 - 8 am
Tues., November 15 - 12 pm
Thurs., November 17 - 4 pm
CONTACT RHIO:
200 Canal View Blvd.
Suite 200
Rochester, NY 14623
(877) 865-RHIO
info@grrhio.org