In this month's RHIO Report
Welcome Dr. Tarun Kothari to Rochester RHIO!
Contribute to the transformation of healthcare!
What's New: Deceased indicator now available in RHIO Explore
Attention: Article 36 Organizations
---
Welcome Dr. Tarun Kothari to Rochester RHIO!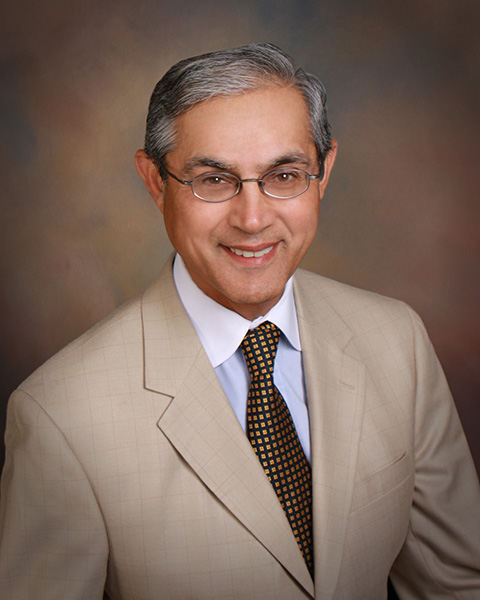 A new Rochester RHIO initiative for better data collection and analysis will support regional medical practices and health centers as they transition to value-based payment (VBP) models. Through VBP, healthcare services will be reimbursed based on clinical results measurements.

In conjunction, Tarun Kothari, MD, FACG, FACP, has been named to a newly-created Medical Director role with the RHIO. He will lead efforts to identify gaps between health care data currently collected by clinicians and community organizations, and the emerging data needs required for quality reporting. This will promote more effective VBP and community quality metrics.

Dr. Kothari is Chief of Gastroenterology and Endoscopy for Unity Hospital / Rochester Regional Health, and co-founded Rochester Gastroenterology Associates. Known across the region for his patient care innovations, widespread volunteerism and substantial philanthropy, he was presented the Monroe County Medical Society's highest honor in 2016, the Edward Mott Moore Award.

"We could not be more pleased that Dr. Kothari is joining the RHIO as our first Medical Director – a role that has significant long-term implications for the quality of care across 13 counties," noted Eisenstein. "The unique experiences and skills required to be successful in this new position, created with input from the community's clinical experts, are daunting. In appointing Dr. Kothari, we have a highly-collaborative physician whose proven knowledge in quality reporting, direct patient care and clinical leadership are remarkable."

The Medical Director role is funded by an Opportunity Grant from the Greater Rochester Health Foundation.

---
Contribute to the transformation of healthcare!
Did you know that by contributing patient data to the Rochester RHIO you can help transform the delivery of healthcare in our community? Become a data contributor today! Through a new service offered by Rochester RHIO, providers can contribute C-CDAs through their EMRs/EHRs to help build a more complete patient record in RHIO Explore.

Funding is available, and many of our participants may be able to help cover their vendor costs associated with this service. This funding is through the Data Exchange Incentive Program (DEIP) for HIE Adoption. Funding is available on a first come, first serve basis. Learn more about the DEIP program from the New York eHealth Collaborative website.

Rochester RHIO is committed to improving the quality of health care for our community, and data from ambulatory care providers is essential. Getting started with Contribute is easy! Participants should first contact their EHR/EMR vendor to learn more about how they send data to a community health information exchange, like Rochester RHIO. Next, participants should reach out to their designated RHIO Deployment Coordinator to learn more about DEIP funding qualifications. Call 1-877-865-7446, and speak with someone today.

---
What's New: Deceased indicator now available in RHIO Explore


In partnership with the Monroe County Health Department (Public Health), a flag has been added inside of Rochester RHIO's Explore clinical query portal to notify users if a patient is deceased.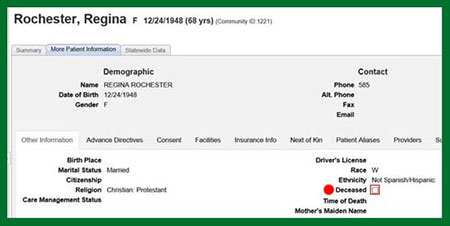 The clinical value of this feature for the provider community is as follows:
A provider may want to express sympathy to family members, or may receive related questions from family.
A patient needs to be flagged as inactive in the EMR so a provider can maintain accurate quality measures.
A patient's billing record and follow-up process may need to be altered.
Currently, this flag is only available for patient records in Monroe and Genesee counties. Rochester RHIO is looking to expand this feature with other counties in our 13-county region.

---
Attention: Article 36 Organizations
Over the past year, Rochester RHIO has engaged Article 28 hospitals to increase data contribution to our community health information exchange (HIE) as required by the New York State Department of Health (NYS DOH). Other types of organizations are required to participate as of March 9, 2018 and RHIO is in the process of engaging these organizations this year. This includes Article 36 certified home health care agencies and long-term home health care programs.

For more information on the Common Clinical Data Set for contributing data, go to the New York eHealthCollaborative website. For federal standards and certification deadlines, go to HealthIT.gov.




2017 RHIO Webinar Schedule
All Rochester RHIO webinars take place the second Tuesday each month at 12 p.m.
Register today!
9/12 – Advanced Explore Training
10/10 – Public Health Usage
11/14 – Rochester RHIO Roundtable
12/ 12 – HIPAA/Consent Training
Welcoming new data sources to the RHIO!
- Canisteo Valley Family Practice (C-CDAs)
- Irondequoit Pediatrics (C-CDAs)
- Keuka Family Practice Associates LLP (C-CDAs)
- Wyoming County Community ENT (C-CDAs)
CONTACT RHIO:
200 Canal View Blvd.
Suite 200
Rochester, NY 14623
(877) 865-RHIO
info@grrhio.org