In this month's RHIO Report
Success Spotlight: Lifespan
Upcoming event: MCMS "Innovation in Action"
Available: Foreign Language Consent Forms
Attention: Article 28 Organizations
Success Spotlight: Lifespan

"I work with a client with diabetes who has been hospitalized a few times over the past year. Rochester RHIO has helped tremendously. His last hospitalization happened a couple of months ago. He was transported by ambulance to RGH. I received alerts almost immediately about his condition. I was able to see labs that were being drawn in real time as well as imaging results, any testing that was happening and admission and discharge documents I was able to call my client's mother with information within a very short period of time and keep her informed almost daily as to his current condition. It is an amazing tool for us. Thank you!"

~ Allison Dills, LPN Healthcare Coordinator, Lifespan

"I find Rochester RHIO to be very helpful. The alerts prevent delays in good follow-up care. Recently, I was notified by RHIO that my client was brought into Unity Hospital. I was able to see him the same day he was brought in. The client's family didn't know he was there, but I was able to notify them while on my way to the hospital. When I arrived, my client was surprised I was notified and already there. He very grateful that I arrived so quickly. I was able to give the hospital staff tips on how best to support my client as he is blind and does things a bit differently. He told me that his hospital stay was better as a result. I was able to get his lab work and see what the outcome of some procedures were through the RHIO. He is now stable and recovering at home."

~ Melanie Jones, LPN, Lifespan

Upcoming: MCMS "Innovation in Action"

On October 17, Rochester RHIO's CIO/CISO Ramesh Sridharan will be speaking at "Innovation in Action," which is put on by the Monroe County Medical Society. The RHIO is proud to sponsor the annual technology program once again and is excited about the slate of guest speakers! The event takes place at the City Grill, 384 East Avenue, Rochester, from 5 – 8 p.m. Register at mcms.org.

Available: Foreign Language Consent Forms

The Rochester RHIO has foreign language standard consent forms available in 12 different languages! Languages include: Spanish, Italian, Chinese, Arabic, Russian, Hindi, Nepalese, Turkish, Karen, Swahili and Vietnamese. You can download the forms through the Provider Portal under the Information tab, or contact your Deployment Coordinator for further assistance.

Is there a language needed that is currently unavailable? Contact your Deployment Coordinator to request a new translation.

Attention: Article 28 Organizations

Over the past year, Rochester RHIO has engaged Article 28 hospitals to increase data contribution to our community health information exchange (HIE) as required by the New York State Department of Health (NYS DOH). Other types of organizations are required to participate and contribute as of March 9, 2018 and RHIO is in the process of engaging these organizations this year. This includes Article 28 nursing home and diagnostic treatment centers.

For more information on the Common Clinical Data Set for contributing data, go to the New York eHealthCollaborative website. For federal standards and certification deadlines, go to HealthIT.gov.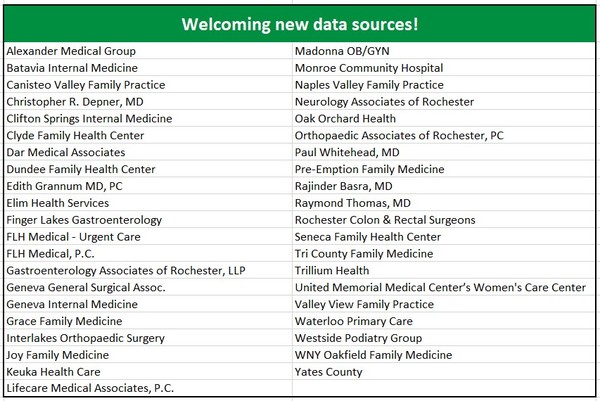 2017 RHIO Webinar Schedule

All Rochester RHIO webinars take place the second Tuesday each month at 12 p.m.
Register today!
10/10 – Public Health Usage
11/14 – Rochester
RHIO Roundtable
12/ 12 –
HIPAA/Consent Training



CONTACT RHIO:
200 Canal View Blvd.
Suite 200
Rochester, NY 14623
(877) 865-RHIO
info@grrhio.org