Dear Friend of the Northcoast Environmental Center,
The NEC remains a truly grassroots organization, with the majority of our funding coming from supporters like you. We are so grateful for the support from our community and, from the bottom of our hearts, we thank you! Your generosity allows us to continue our work to protect and celebrate our treasured North Coast.
We are just a few days into summer and already we are feeling the heat, witnessing water supplies dwindling, and preparing for a long fire season. With challenges looming for fish, forests, farms – and all who depend on them – it is even more critical that we work together towards a more resilient future.
Over the past six months we have accomplished a great deal. We are proud of the many long-standing NEC programs and
we need your help
so that they will continue to flourish:
Taking Action for Clean Beaches and Clean Water! The NEC has been leading Coastal Cleanup efforts throughout Northern California for over 30 years. In June we were honored to be recognized by the City of Arcata in their World Oceans Day proclamation for our coastal stewardship work. Working with the California Coastal Commission and our volunteer teams, the NEC continues to monitor debris from the March 2011 tsunami in Japan and clean up trash from our beaches. At the forefront of coastal cleanup efforts, the NEC is now unveiling an improved Adopt-a-Beach program to better coordinate cleanups year-round. Your contribution will help keep our beaches and waterways clean.
Engaging to Protect Watersheds and Promote Sustainable Communities! Through the Healthy Humboldt Coalition and other collaborative efforts, the NEC has made clear progress towards protecting farms, forests and watersheds, while promoting sustainable development through Humboldt County's General Plan Update. Unfortunately there is significant pressure from special interest groups to undermine this work. We need your help to ensure that environmental protection and sustainable community design remains at the forefront of our land-use decisions.
Taking Action for the Humboldt Bay Trail! In partnership with numerous other organizations and individuals, the NEC continues to support a region-wide network of trails which will improve our quality of life, decrease our reliance on fossil fuels, and increase recreational opportunities for visitors and residents alike. Your support will allow the NEC to keep pressing for a Bay Trail that will serve as a safe and scenic route between Arcata and Eureka for bicyclists commuting to work, families out for a stroll, or joggers out for a morning run.
Activating North Coast Communities! Nothing is more important to promoting change in our world than an informed populace. Your support will sustain the NEC's following media programs and outreach efforts:

EcoNews:
Now in our 42
nd
year, EcoNews continues to get the word out not only on the work the NEC engages in directly, but the indispensible efforts of other environmental organizations throughout the bioregion. Whether you prefer perusing print or reading it online (
www.yournec.org
), we look forward to continuing to provide our supporters with news on the ecological issues that matter most here on the North Coast.
If you're not already, by signing up as a member of the NEC, you will receive EcoNews delivered right to your mailbox.
EcoNews Report:
With shows ranging from environmental politics to animal poems, we continue to broadcast informative environmental programming over the airwaves on KHSU and streaming online with our weekly radio show, the EcoNews Report. Whether recording on campus, in the NEC's own studio, or in the field, our hosts work to bring you important environmental news.
Don't forget to tune into the ECONEWS Report every Thursday afternoon at 1:30pm on KHSU 90.5 FM!
You can also listen online anytime at
www.yournec.org

.
With your help, we can continue these important programs and invigorate a more active support network.
Please renew your commitment to the NEC today, and invest in continuing the good work of the NEC for years to come.
On behalf of the board and staff of the NEC, we thank you in advance for your continued support.
For the forests, farms, rivers, and coast---


Larry Glass,
NEC Board President
Dan Ehresman,
Executive Director
P.S. - Please take a moment to send in your donation today, or donate online! Each dollar you contribute will have a lasting impact on the health and vitality of our North Coast environment.
---
Invasive Plant Workday at Arcata Marsh
Saturday, July 20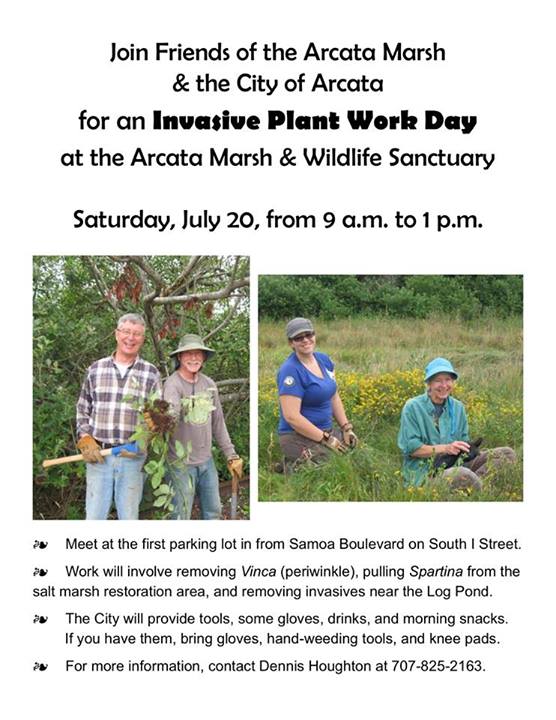 The NEC is partnering with Friends of the Arcata Marsh and the City of Arcata for an Invasive Weed Work Day at the Arcata Marsh and Wildlife Sanctuary. Join us Saturday, July 20, from 9am-1pm to help remove invasive weeds from our beautiful Marsh! Bring some friends, and gloves if you have 'em.. we'll see you there!
CLICK HERE
to see a larger flyer for details.
---
Mark you Calendars NOW for Coastal Cleanup Day!
Saturday, September 21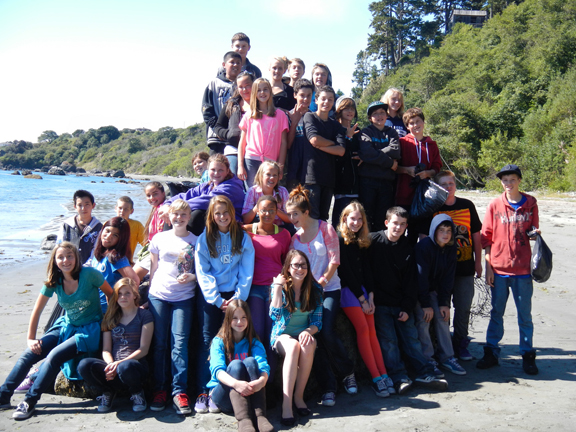 The NEC is looking for Coastal Cleanup Day volunteers—including site captains, entire teams, individuals who want to join a team, or those willing to help table at the North Country Fair where we will be collecting cleanup data cards. Check our
Clean Beaches, Clean Water webpage
to find out which beaches are currently available for both our Adopt-A-Beach program and Coastal Cleanup Day. To register for a site, or to volunteer, contact
coastalcleanup@yournec.org
or call the NEC office at 822-6918.
YOU can make a difference for
Clean Beaches and Clean Water!
Sign up today!
---
Forward this message to a friend
Click to view this email in a browser
Northcoast Environmental Center
791 Eighth Street, P.O. Box 4259, Arcata, CA 95518
Phone: (707) 822-6918 | Fax: 822-6980 | E-mail: nec@yournec.orghttp://www.yournec.org/coastalcleanup