---
'52 and '62 reconnect at alumni dinner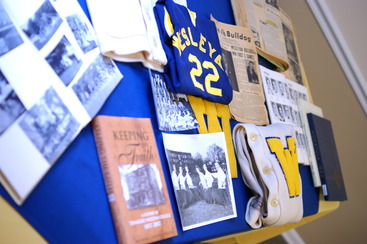 Friday, May 4, Tennessee Wesleyan College hosted an alumni dinner for the classes of 1952 and 1962. The classes were recognized during this year's commencement ceremony.
---
2012 Commencement

---
TWC graduates more than 230 students at 155th Commencement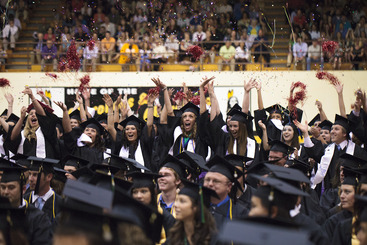 Tennessee Wesleyan College's 155
th
Commencement started with Friday evening's Baccalaureate service in Townsend Memorial Hall and concluded Saturday morning at the college's 155
th
Commencement service where more than 230 students celebrated their graduation and received their degrees. Held in McMinn County High School's gymnasium because of inclement weather, the graduates were cheered on by more than 5,000 family members, friends and college faculty and staff.
---
62 TWC nursing students receive pins at graduation ceremony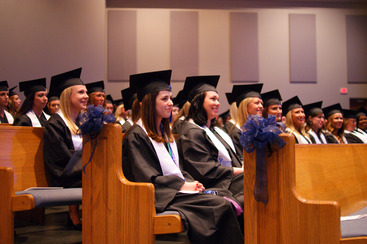 Tennessee Wesleyan College's Fort Sanders Nursing Department pinned 62 graduates at Thursday evening's senior convocation and pinning ceremony. Faculty, students, friends and family gathered at Cokesbury United Methodist Church in Knoxville, Tenn., to celebrate the academic achievements of the 62 graduates. Class President Afeni Henderson delivered the student address while the keynote address was given by Diane Oliver, vice president and chief nursing officer of Parkwest Medical Center.
---
---
TWC Rise N Shine Quarterly Alumni Breakfast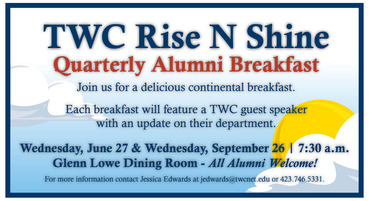 ---
---
Students, faculty and staff honored at Honors Convocation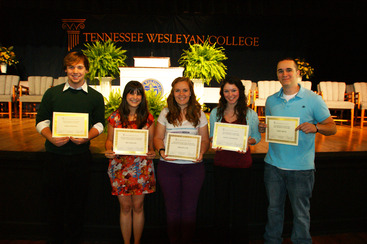 Thursday was a morning of celebration at Tennessee Wesleyan College. Students, faculty and staff gathered in Townsend Memorial Hall to celebrate academic achievement, hard work and dedication. President Harley Knowles and faculty and staff members presented more than 100 awards recognizing individuals on campus who have exceeded expectations and excelled in their work at the college.
---
Partnerships and Pajamas: TWC students offer "story time" to community children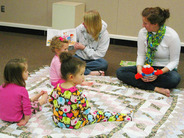 Five Tennessee Wesleyan College education students have turned their passion for teaching into play and story time for community children. Partnering with E.G. Fisher Public Library, TWC Professor Nancy Gregg created "Pajama Storytime," a monthly event held at the library that serves community children and provides a service-learning opportunity to students in her Literacy and Language Acquisition class.
---
Education Angels donate supplies to local schools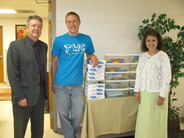 "Every student matters" is the slogan of Tennessee Wesleyan College's Education Angels, a student organization that provides students an environment for developing fellowship, personal growth, service opportunities and involvement in activities pertaining to education.
Education Angels annually raises funds for and distributes "We Care Packages" to local schools. This year the organization donated packages full of markers, pens, paper, highlighters, crayons and other supplies to local schools including E.K. Baker, Englewood, Mountain View, Riceville, Rogers Creek, Niota, Westside, North City and Calhoun.
---
Nursing department holds health awareness event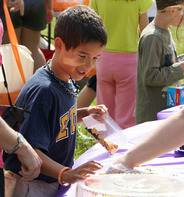 Saturday, April 14, the Tennessee Wesleyan College Fort Sanders Nursing Department focused its efforts on addressing childhood obesity, holding its first "Fit-N-Fun" event.
"This event truly came out of the hearts and minds of the nursing students," said Penny Neal, TWC assistant professor of nursing.
---
---
Alumni Updates

Nate Davis '01
, is releasing his first official CD titled "Born 2 Win." It is available for purchase on zerodoubtmusic.com, iTunes, CDBaby, Spotify and Facebook.

Sid Derrick '76
, and his wife Sandra, of Dalton, GA.,
recently celebrated the college graduation of their daughter, Lindsey Derrick.
Lindsey graduated in December 2011 from the University of Georgia with a Bachelor of Arts degree in Journalism from the Grady College of Journalism and Mass Communication.
Lindsey received a degree in magazines with a minor in history.
She is freelancing with the Daily Citizen News in Dalton in the sports department.
Hartwell Ray Hatfield '70
, will retire May 31 from his position as Warden of the Tennessee Department of Corrections as well as from his position as a criminal justice instructor at Walters State Community College. He was with the Tennessee Department of Corrections for 25 years and was with Walters State for 17 years.
Jaclyn Reynolds Martin '02
, and her husband Jeremi C. Martin gave birth to their second child, Walker Reynolds Martin on July 2, 2011. He is the brother of Annabeth Martin.

Fred Zeigler '69
,
will retire in July after 42 years as the United Methodist minister in the Alabama-West Florida Conference. Zeigler lives in Montgomery, Alabama and will be part of the FUMC Montgomery Congregational Care Ministry Team as of Sept. 1.