---
A New Year of Learning and Growing

The spring semester has began once again on the campuses of Tennessee Wesleyan College. We hope you had a blessed Christmas season and have had a happy new year as we move further into 2012.
As you reflect upon 2011, we hope you have had much to be thankful for. Help make 2012 a huge success for students at TWC by making a gift to the scholarship fund. Your gift makes a significant difference in the lives of our students.
To make a gift, click the "
Believe
" button to your right.
---
Campus News:
TWC MBA Survey

The Business Adminstration Department would like your input concerning the potential of an MBA program being offered through the College. Faculty and staff are currently exploring the option of an MBA being offered at TWC. If you could please take a moment of your time to fill out the survey, your information would be appreciated.
---
Upcoming Events:
Barbecue and Bluegrass

Last chance to RSVP
Alumni and Friends of Tennessee Wesleyan College are invited to the upcoming 6th Annual Barbecue and Bluegrass event.

The event is being held on Saturday, January 21, from 11 a.m. to 12:30 p.m. in Chattanooga, Tenn. Directions are located below.

We would love to have our Alumni (and guest) join us for this annual event! If you can attend please RSVP as soon as possible with your name, guest name and class year.

To RSVP, call TWC Alumni Relations Director Jessica Edwards at 423-746-5331 or send an email to jedwards@twcnet.edu.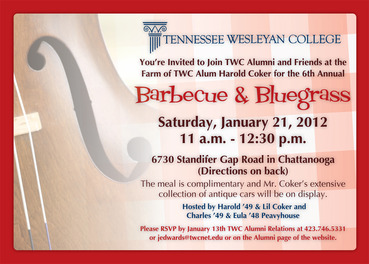 Directions to the Coker Farm:
From the North:
Take Interstate 75 S to Exit 7

Turn right at end of ramp

At next light, turn left onto Lee Hwy.

Turn right at Standifer Gap Road

Cross Hickory Valley Road

Coker Barn will be on the left
From the South:
Take Interstate 75 N to Exit 1

Turn left onto Shallowford Road

Turn Right onto Hickory Valley Road

Turn left at Standifer Gap Road

Coker Barn will be on the left
---
Phonathon

The annual Phonathon will be conducted from January 30th through February 9th. TWC students will be calling on alumni during this fundraising drive.

---
Spring Sports Day

---
Save the Date:

Golf Tournament sign-ups now underway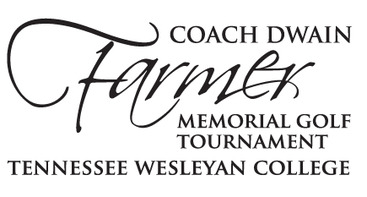 The Coach Dwain Farmer Memorial Golf Tournament will be held on Monday May 21, 2012. Registration will take place at Noon with tee time at 1:00p.m. at Holston Hills Country Club in Knoxville, TN
If interested in registering to play or being a corporate sponsor please contact Jared Wright, jwright@twcnet.edu or call 423-746-5210.

---
Alumni and Student News:

TWC Student interning in Tennessee Legislature

TWC senior Amber Jones, of Dunlap, recently started an internship working with the State of Tennessee legislature.
Jones will be assigned to one of the legislative committees in the state capitol. She is a History /Pre-law major at TWC and will graduate this Spring.
Jones was recently accepted into the University of Tennessee, Knoxville law program.
---
Lotti named coach at West Hall High School.

Tony Lotti '93, was recently named Head Football Coach at West Hall High School in Oakwood, Ga.

---
Barham named Business Development Specialist

Brad Barham '10 was recently named Business Development Specialist for the American Jersey Cattle Association and National All-Jersey Inc. headquartered in
Reynoldsburg, Ohio
.
---
Kasior named Federal Credit Union Examiner
Linda Kasior '08 was recently hired at the National Credit Union Administration as a Federal Credit Union Examiner. She graduated from TWC in 08 with a degree in business administration. She earned an MBA from the University of Tennessee, Knoxville, in December 2010.