Presidential Inauguration

---
TWC inaugurates Dr. Harley Knowles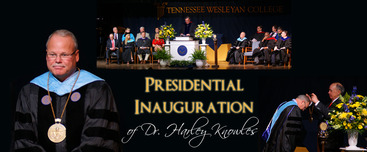 "It's hard to imagine a community across this country that is more inextricably intertwined in the life and the future success of a college than this community. I'm inspired by your faith and commitment in seeing that Tennessee Wesleyan takes its distinctive place as a leader in higher education."


- Dr. Harley Knowles, president



Thursday, April 12 was Inauguration Day at Tennessee Wesleyan College. Dr. Harley Knowles was officially inaugurated as TWC's 21st president and community members, visiting colleagues and TWC faculty, staff, students and alumni gathered together in Townsend Memorial Hall for the inauguration investiture to celebrate his past nine months of work at the college.
---
---
TWC Rise N Shine Quarterly Alumni Breakfast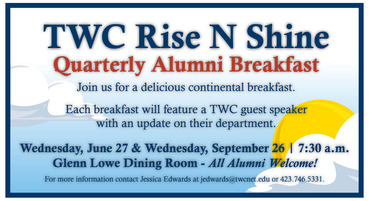 ---
---
Tennessee Wesleyan and J103 partner to give away scholarship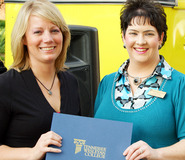 For the second year in a row, Tennessee Wesleyan College and local radio station J103 have teamed up to award a scholarship to one deserving student.
"We're very excited this year to give this scholarship to someone entering our Management Excellence, ME program," said Stan Harrison, TWC vice president for enrollment services.
"Last year the scholarship was for a traditional student and this year we've made it for a non-traditional student enrolling in our ME evening program. It's a degree completion program for students who have completed at least 60 hours of college work prior to coming to us. It takes about 15 months to complete, attending one or two night classes a week."
---
Windt honored with 2010 Exemplary Teacher Award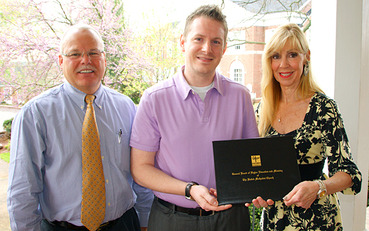 The United Methodist Church has awarded the spring 2012 Exemplary Teacher Award to Tennessee Wesleyan College's Dr. Nathan Windt, director of choral activities and assistant professor of music. Sponsored by the Division of Higher Education of the General Board of Higher Education and Ministry, the award recognizes Windt for his contribution to his students and the academic community.
"I am overwhelmed," said Windt after receiving the award certificate presented by TWC President Harley Knowles. "I am honored, pleased and surprised."
Windt has been a professor of music at the college for four years and was nominated for this award by Dr. Suzanne Hine, vice president of academic affairs.
---
---
Alumni Updates

Chad Littleton '98,
earned his Ph.D. in English Composition and TESOL from Indiana University of Pennsylvania August 5, 2011. Chad lives with his wife, Rebecca, and kids, Erica (6) and Robert (3), in Harrison, Tennessee. He teaches English at the University of Tennessee at Chattanooga.
Jaclyn Reynolds Martin '02,
and husband Jeremi C. Martin gave birth to their second child Walker Reynolds Martin on July 2, 2011. He is the brother of Annabeth Martin.



---
Post-Graduation Career Survey

Tennessee Wesleyan Career Services wants to know where you've landed since graduation. The Post-Graduation Survey helps us in planning the future of the college so that more young people can achieve the bulldog advantage.
Take a few minutes to complete the online survey to update your contact information and to tell us about your current career situation (employed, grad school, volunteering, job searching, etc.).
---
Save the Date

Nurses Pinning Ceremony
May 3 at 7 p.m.
Cokesbury UMC Knoxville
Baccalaureate Ceremony
May 4 at 8 p.m.
Townsend Auditorium
Commencement
May 5 at 9 a.m.
Nocatula Gardens