Tennessee Wesleyan College will enroll graduate students this August in its first Master's program. Developed by the college's education department, TWC's Master of Science in Curriculum Leadership will train future academic and business leaders, producing teachers and leaders who will be competent professionals, service-oriented individuals and reflective practitioners.
With classes starting August 15, this 15-month, 30-hour degree can be completed through an alternating combination of 6-hour fall and spring semesters coupled with 12 hours spread throughout three accelerated terms during a summer semester. All degree classes will be offered in the afternoon and evening hours, with some online options included.
---
Bridgett Raper named TWC's director of major gifts and grants

Tennessee Wesleyan College has named Bridgett Raper as the college's director of major gifts and grants. Raper brings almost 40 years of professional experience to the position, having spent 37 years at Mayfield Dairy, 21 of those years serving as the public relations manager, growing and marketing the brand throughout her time at the company.

As TWC's director of major gifts and grants, Raper will be a liaison between the college and the community, maintaining those relationships while also encouraging partnerships that will better both Tennessee Wesleyan and the Athens community.
"Being just down the street for the last 30-something years, I have watched Tennessee Wesleyan grow into an outstanding institution that does so much for the Athens community," said Raper. "I couldn't have become a part of the Tennessee Wesleyan family at a more exciting time."
---
Tennessee Wesleyan awarded BP's Fueling Communities grant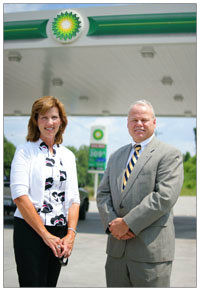 Tennessee Wesleyan College is the recipient of BP's Fueling Communities grant, a program designed to give back to local organizations that support health, education, youth, food and housing in order to spread charity and goodwill wherever it's needed most. The grant funds will provide scholarship money for TWC students through the college's general scholarship fund.
"Grants like BP's Fueling Communities play an integral role in helping Tennessee Wesleyan provide scholarship funding for students," said TWC President Harley Knowles. "I am grateful for the support of BP and its continued support of the college."
---
TWC recognized at PBL National Leadership Conference

More than 1,700 of America's best and brightest college students traveled to the historic city of San Antonio to make some history of their own as they showcased their talents as future business leaders and vied for the opportunity to win over $54,000 in cash awards.

Future Business Leaders of America-Phi Beta Lambda (FBLA-PBL), the largest and oldest student business organization, held its National Leadership Conference in San Antonio on June 24–27.

Participants from across the United States and two countries attended the conference to sharpen their core business skills, expand their networks and participate in more than 55 business and business-related competitive events.
---
TWC's summer cheerleading camp a success




Tennessee Wesleyan College recently held its first cheerleading camp that was open to community children from the pre-kindergarten age to the eighth grade level. Approximately 30 to 35 attended the camp each day and were coached by TWC cheerleaders. On the final day of camp the young cheerleaders performed a routine for their friends and families.

For more information about TWC athletics, visit TWCBulldogs.com.
---
Save the Date
---



---
Special Request
---

Dr. Dick Pelley is writing a book about Burkett Witt. Dr. Pelley requests that any alumni who would like to share stories or anecdotes about Burkett Witt please submit no more than 100 words to him at pelpsych@comcast.net or Jessica Edwards at jedwards@twcnet.edu. Pictures are also welcome.