Over the last few weeks you may have received a letter from Tennessee Wesleyan College President Harley Knowles addressing the financial needs of our student body. We ask that you prayerfully consider how you may help a Tennessee Wesleyan student as we approach a new year.
This year 99% of our students received some form of financial aid with 33% requiring full scholarship aid. One third of our students have a total family income under $25,000 per year. Without a doubt, Tennessee Wesleyan College is reaching students that would not have the opportunity to fulfill their dreams of a college education.
Due to the faltering global economy over the past several years, the amount of financial aid needed by our students has increased. This year, TWC committed nearly $9 million in unfunded scholarship aid to ensure that our students have access to a quality college education and fulfilling their dreams of receiving an education. We are committed to continuing to help these students, but we can't do it alone.
We hope you follow in the season of giving and contribute to the educational needs of our students. Not only does your gift allow students access to a transformational opportunity to grow academically, they also develop socially and spiritually at Tennessee Wesleyan.
If you would like to contribute and have not yet done so, you can send in the envelope you may have received or simply click to the "Believe" button on the right hand side of this message. Your gift will help fulfill a student's dream.
---
Out-of-State Alumni Volunteers wanted

&a

The Tennessee Wesleyan College Admissions Office is seeking Alumni volunteers, living outside of Tennessee, who are willing to attend college fairs in their area to help promote the College to perspective students. If you interested in promoting TWC in your area, contact Kara Fox, TWC Director of Admissions, at kfox@twcnet.edu or by calling (423) 746-5285 for more information.
---
Alumni Social Media Survey

In order to better reach our alumni we would ask that you take a moment and take part in the survey linked below. The survey asks about social media habits, such as Facebook, and how you keep in touch with the College and fellow alumni. Your participation will be tremendously beneficial to the College as we strive to keep in contact with our TWC family.


---
Online MBA survey coming in January

A survey will be sent out in January asking alumni questions about a potential online MBA program currently in consideration by the college.
---
Upcoming Events:

Barbecue and Bluegrass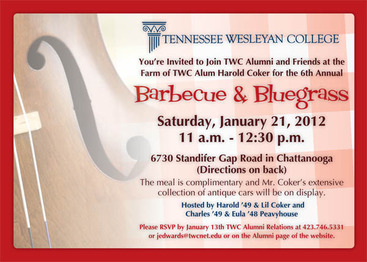 You're Invited to Join TWC Alumni and Friends at the farm of TWC Alum Harold Coker for the 6th Annual Barbecue & Bluegrass
Saturday, January 21, 2012, 11 a.m. - 12:30 p.m. at
6730 Standifer Gap Road in Chattanooga
The meal is complimentary and Mr. Coker's extensive collection of antique cars will be on display.
The event is hosted by Harold '49 & Lil Coker and
Charles '49 & Eula '48 Peavyhouse
---
Spring soccer tournament signup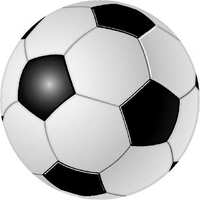 Team signups for the "Justin Lucas Forza 14 Six-A-Side" soccer tournament to be held in April is now underway. A date for the event has not yet been finalized. If you would like information about the tournament or to sign up please contact Martyn Blankley at mblankley@twcnet.edu
---
Campus News:

Servant Leadership

With the fall semester coming to a close the Department of Servant Leadership recently released the totals for their department. For the semester, 188 students logged in a total of 1,791 volunteer hours at 70 local agencies, organizations, and church groups.
The Department of Servant Leadership also hosted an angel tree to benefit senior citizens at three Athens area assisted living centers. The department collected 165 gifts which was recently delivered to residents at Life Care Center of Athens, Morning Pointe Assisted Living Center, and Wellington Place.
---
Dr. Dunn case study used in recent book

TWC History Professor Dr. Durwood Dunn 1857 case study (violence against slaves as a catalyst in changing attitudes toward slavery) was recently used in Bruce K. Stewart's new book, Blood in the Hills. You can find Dr. Dunn's work in chapter six of this remarkable publication.

---