Tennessee Wesleyan offers online RN to BSN degree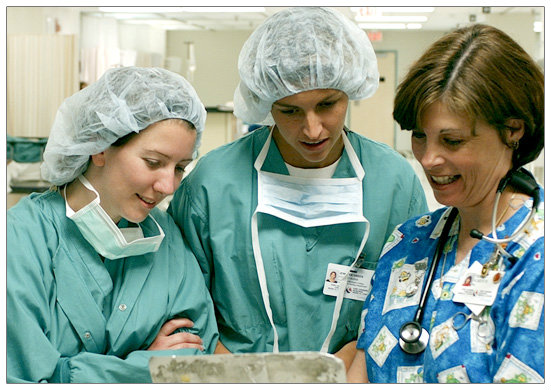 July 20 Tennessee Wesleyan College will begin offering its first online degree, an RN to BSN nursing program that offers a flexible schedule designed specifically for registered nurses returning to school to obtain a Bachelor of Science in nursing.
"The mission of this program is to prepare professional nurses for lives of significance, leadership and service through a quality baccalaureate nursing education," said Dr. Suzanne Hine, TWC vice president of academic affairs.
---
Tennessee Wesleyan student wins Miss Tennessee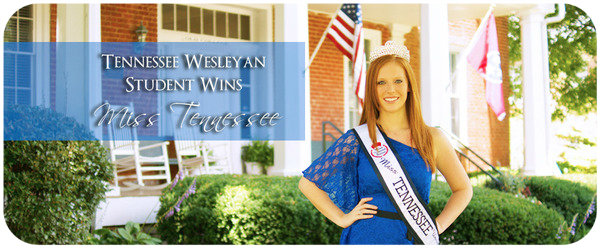 At 5 months old Tennessee Wesleyan Junior Ashley Ingram competed in her first pageant. Twenty years later she's the reigning Miss Tennessee in the Miss United States pageant.

"Competing in pageants has been such a wonderful experience," said Ingram, a 20-year-old business administration major who won the 2012 Miss Tennessee title after taking an 11-year break from pageants. "I came back to pageants after taking a hiatus from the age of 7 to 18 because I saw the opportunities that competing in pageants could provide. I've met some amazing people."
---
Congratulations to the 2012 NAIA Baseball National Champions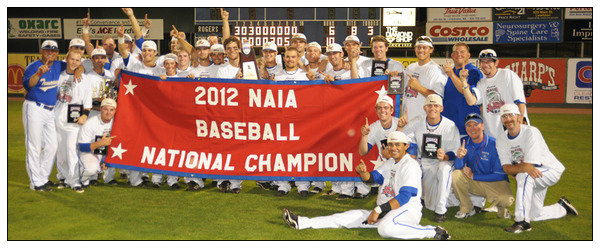 Congratulations Bulldogs! If you'd like to make a donation to the baseball team to help fund the purchase of their national championship rings, contact the advancement office at
423.746.5330.
---
TWC cheerleading camp open to community children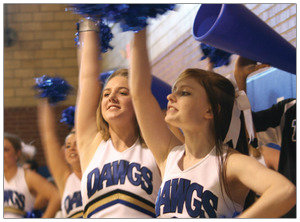 This July Tennessee Wesleyan College will be offering a cheerleading camp that is open to community children from the pre-kindergarten age to the eighth grade level. The camp will run 8 a.m. to 12 p.m. from July 9 to 13 and will be instructed by the men and women of the TWC 2012-13 cheerleading squad. The cost is $50 per child or $80 for two children. The registration deadline is July 2.

"This is the first year we've offered this," said Jessica Edwards, TWC head cheerleading coach. "The squad wanted to offer a service to the community. We wanted to mentor young cheerleaders who are aspiring to continue their cheer careers throughout their college educations."
For more information on TWC summer athletics campus, click here.
---
Donor Spotlights
---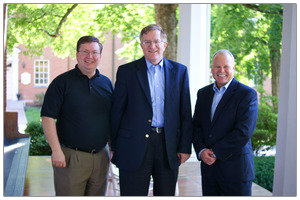 Tennessee Wesleyan College's Chief Advancement Officer Randy Nelson (left) and President Harley Knowles (right) accept a contribution from BB&T Senior Vice President Bo Perkinson (center) on behalf of the college.

"We sincerely appreciate the support of this community," said Knowles. "We truly value the partnerships with local businesses and community leaders such as BB&T."

The BB&T donation was contributed to the college's general scholarship fund and will be doubled because of the George R. Johnson Family Foundation's matching gift which doubled donations to the college up to a total of $50,000 throughout the month of June.
---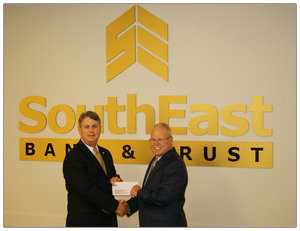 Tennessee Wesleyan College's President Harley Knowles (right) accepts a generous gift from SouthEast Bank President Tom Hughes. SouthEast Bank made this contribution in support of the college's general scholarship fund which will help underwrite the scholarships received by students from the McMinn County area who will be enrolling at the college. This donation will be doubled because of the George R. Johnson Family Foundation's matching gift.

"We appreciate what the college does for our community," said Hughes. "We want to do all that we can to support the college and we donated now so that our donation could be doubled through the matching gift. We wanted to be a part of that impact."
---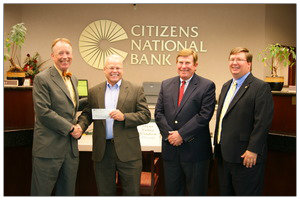 One of TWC's longtime banking partners, Citizens National Bank, recently made a generous gift to Tennessee Welseyan's general scholarship fund in response to the George R. Johnson Family Foundation's $50,000 challenge gift.

"We appreciate the long partnership that the college has had with Citizen's National Bank and the Willson family," said TWC President Harley Knowles. "They have been faithful in their support of the college for many years."

From left to right: Citizen's National Bank Chairman/CEO Paul Willson, TWC President Harley Knowles, Citizen's National Bank Senior Credit Officer Charles Davis and TWC Chief Advancement Officer Randy Nelson.

"We are thrilled to partner with Tennessee Wesleyan because it is good for our entire community," said Paul Willson, CNB's chairman/CEO. "We have many of Tennessee Wesleyan's alumni, like Cary Davis, working with us at the bank and we see their leadership throughout this county and region."

"This gift has put us over the top of the $50,000 challenge gift from the George R. Johnson Family Foundation," said Randy Nelson, TWC's chief advancement officer. "We are so grateful to Citizens Bank and the many other alumni, friends and community partners for their help in successfully reaching the challenge gift goal.
---
---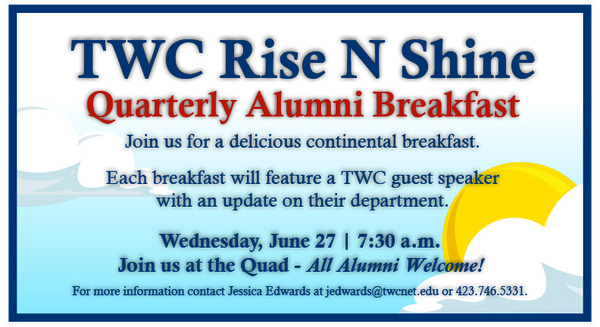 ---
Raising the Arches
---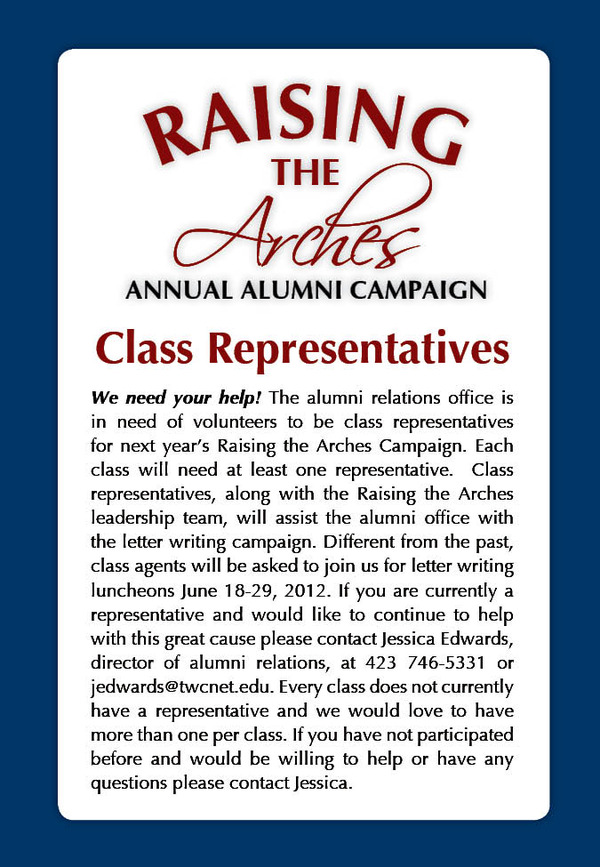 ---
Alumni Updates
---

Chad and Tonya Mizer Martin '98, of Madisonville, announce the birth of their daughter Mallory Jolette Martin, born May 13, 2011 at Fort Sanders Regional Medical Center at 11:25pm. She was 7lb1.8oz and 20 1/2 inches. She is the granddaugter of Jerry '81 and Kay Martin of Englewood, TN.

Karen J. Baker '95, has joined Life Uniform in Knoxville, TN after working for Walmart and Pond's Family Clothing in recent years. She loves working with the public and professionals and says Life Uniform is a great company. Baker has two grandsons, Jacob Fisig, 6 and Landon Fasig, 3, from her daughter Adrianne and her son-in-law Adam.

Laura (Hopper) Fleenor '94, graduated from basic military training in the Air Force on April 27. At 39 years old she is currently at tech school in San Antonion, TX until August.

Maria Salgado '09, announces the birth of her daugher Paola who was born January 24, 2012.