September 2018 E-News & Updates
The Institute for Applied Ecology works to conserve native species and habitats. With offices in Oregon and New Mexico, our work puts restoration, research, and education into action. Volunteer, become a
member
, or
support
our programs today.
IAE's Board of Directors:
Ken Bierly, President; Cary Stephens, Vice President; Deborah Clark, Secretary; Steve Smith, Treasurer; Debbie Johnson, Sarah Greene, Laurie Halsey, Bob Hansen, Brandy Humphreys, Carol Savonen, Julissa Rosales, Pooria Manoocherhri
"Autumn is a second spring when every leaf is a flower." - Albert Camus
Featured Articles
In Search of Willamette Daisy!

By IAE Interns Marisa Mancillas, Jillian Demus, Chelsea Osbron, and Amy Zimmer, Summer 2018

This field season, IAE's Habitat Restoration and Conservation Research Programs partnered to conduct a range-wide inventory of the endangered Willamette daisy (
Erigeron decumbens
).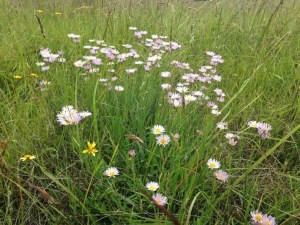 The goal of this project was to obtain an up-to-date status of this
endemic plant and its associated habitat quality in the
Willamette Valley of Oregon, enabling local land managers and property owners to make informed conservation and restoration
decisions
. A lack of rain in May accelerated our field schedule a bit, but thanks to our hard working crew and some collaboration with partners, we were able to visit 73 of 82 known patches, from the wetlands of west Eugene to the dry upland prairies north of Salem. The results of our surveys confirm what many at IAE and elsewhere have long known – the Willamette daisy is a vulnerable species whose extent is diminishing. In over 30% (24 out of 73) of the patches we surveyed, the plant was extirpated (no longer present). However, many of the patches we visited ranged in size from hundreds to thousands of plants and are on protected public lands. We also had the pleasure of working with several private land owners who were very interested in not only helping us relocate the daisy on their property, but also managing their lands so the daisy may persist there.
IAE continues to dedicate resources to the conservation of the Willamette daisy and several other rare species by growing and outplanting young plants at restoration sites, researching effective treatments to improve habitat quality, and conducting surveys such as this one.
Read More.
Behind the scenes at the 2018 Invasive Species Cook-off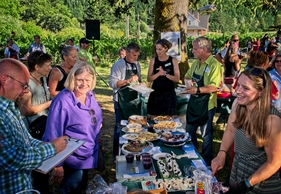 By Michel Wiman, August 2018
On a perfect sunny August afternoon near Wren, Oregon, I walk through tables dressed with apple-green tablecloths and little wreaths of Queen Anne's lace and burdock. As the band warms up and guests arrive, community supporters bring dish after dish to the Cook-off contest table. This is not your ordinary summer dinner; it's the Invasive Species Cook-off, where the spotlight is on invasive plants and animals that threaten native wildlife habitats. We've gathered at beautiful Harris Bridge Vineyard for this annual celebration of habitat restoration and "eradication by mastication" of invasive species. The Institute for Applied Ecology (IAE) is in the 7th year of presenting this celebration to raise awareness of the damaging effects of invasive species… by cooking them up and serving them on platters. This year's event was graciously hosted by Harris Bridge Vineyard at their beautiful site along the Marys River, with a catered buffet featuring delicious invasive plants served by Kalamata Bistro. The Cook-off contest allows community members to come up with creative ways to use invasive species. As judges gather and the band begins, guests begin to mingle at the contest table, commenting about the scrumptious-looking entries. A woman named Cat asks me, "Can I try that?" pointing to a sophisticated presentation of Himalayan blackberries and whipped cream. I wish I could tell her yes, but the panel of honorable judges (including Corvallis Mayor Biff Traber) get the first tastes, then she and the rest of the guests will have their chance to sample. Read More
Intern Spotlight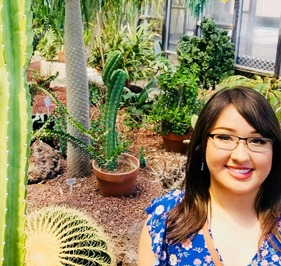 IAE hires seasonal interns to complete the monumental seasonal tasks of seed collection, cleaning, and site weeding and planting. Not only do they get a ton of restoration and seed collection done, the IAE internship program is a great way to gain field experience for early career biologists and ecologists. One exemplary intern this year was Kayleigh Warren out of the Southwest Program.
Kayleigh comes from a traditional farming family in the S
anta Clara and Isleta Pueblos of New Mexico. She
has been engaged in the cultiv
ation and preservation of indigenous seeds her entire life. As a botany intern with the Las Cruces Seed Crew, she worked all summer to collect seed and monitor plant populations in the Lincoln National Forest, Gila National Forest, and Chihuahuan Desert of southern New Mexico. Prior to joining the Las Cruces Seed Crew, Kayleigh worked in environmental policy and justice in northern New Mexico, advocating for sustainable land management and the protection of cultural and environmental resources from extractive industry on behalf of both tribal agencies and community organizations. Kayleigh was a pleasure to work with, and now will continue her undergraduate studies at the Evergreen State College, pursuing a bachelor of science focused on ecology. Thanks for your hard work, Kayleigh!
A little help goes a long way for restoration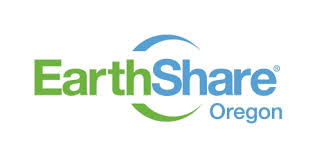 IAE is a member of EarthShare Oregon, a nonprofit that makes it easy for employees across Oregon to support nearly more than 100 of the best environmental organizations here at home, and coast to coast.
If you work for the State of Oregon, Benton County, First Alternative Co-op, City of Corvallis, or one of more than 100 employers (visit
earthshare-oregon.org/workplace-programs
to see the list), you can make one-time or regular donations from your paycheck – just by signing up once a year. It's simple and easy, and many employers match your gift.
Check it out
today!
September 13, 5:30 pm - Evening Hike at Fitton Green Natural Area.
So what does oak and prairie restoration look like? Join IAE ecologists for a walking tour of the Fitton Green Natural Area near Corvallis, Oregon.
Details
.
September 27, 6:45-8:45 pm - IAE's Tom Kaye will present "
From Extinction to Recovery: Reintroducing golden paintbrush to the Willamette Valley" at the Cheahmill Chapter of the Oregon Native Plant Society meeting, McMinnville Public Library.
September 28, 3-6 pm - Plant a Tree Volunteer Day at Bald Hill Farm. Your volunteerism will be matched with cash from a grant to help fund an educational migratory bird partnership between the Rio Laja basin in Mexico and Corvallis, Oregon. Click here for more information and to register.
October 25, 6 pm -
Stories from the Field. Join us at the Corvallis Arts Center for field stories of 2018 and free light refreshments.
We're hiring!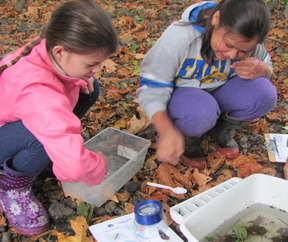 IAE's Ecological Education Program is hiring for 1 to 2 program coordinators. Applications will be reviewed as received through September 28. Visit our
Jobs
page, and please share this post on
Facebook
with your networks. Thank you!
---
Program Updates
Get the scoop on IAE's day-to-day program news here!

Native Seed Network

Our native seed collection efforts have wrapped up for the season and we have bid adieu to IAE interns Meridith and Sarah who are both starting graduate school this fall. It's been a fun and productive season of scouring Willamette Valley prairies and mid-elevation meadows to gather seed destined for agricultural production to make more seed available for restoration projects across Oregon.


Conservation Research

Field projects have wound down, and we have said goodbye to all of our intern crews for the season. Our high school ASE intern, Isabella Ayala, did an amazing job presenting her vegetation monitoring research at the Saturday Academy Symposium at the University of Portland. Our current focus is to analyze data and complete project reports for all of our seasonal crews' hard work.


Ecological Education

Inmates at the Warner Creek Correctional Facility near Lakeview, Oregon, learned about prairie restoration from IAE's

Peter Moore and Jeremy Austin of the Oregon Natural Desert Association. Plants raised by the inmates will be provided to

local BLM offices, and will be

planted on wildfire areas near Paisley

by Lakeview High School and Paisley School students.

The students will design their own planting restoration experiments, and monitor their restoration project.