It is hard to believe that another year has nearly passed since the 2015 NECA Convention. In a few days, over 60 members and guests from our local NECA chapters, the NIETC, and a few supporting vendors will gather in Boston to experience a variety of educational and professional development programs, including one of my favorites, the Trade Show.
While there can be a bit of repetition with certain product lines, I have always found a number of new tools, materials and electrical installation methods to increase productivity and safety at the show. However, there are new concepts which are sometimes difficult to see the application in our typical construction setting. For those who were in San Francisco last year, do you recall seeing this young man?
I don't mean Jeff Holmes, but rather the man walking the show floor with the Ekso-Bionics exoskeleton frame, spring assist tool support.
While fixed industry has employed the use of tool balancers and similar ergonomic devices, it seemed to me that donning this superhero looking harness on our job sites really wouldn't be practical.
I could be wrong. A recent study found measurable increases in productivity, work quality, and reduced fatigue when using exoskeleton devices during construction like tasks. Furthermore, the author predicts these devices "will be widely used in people's lives in 15 years." We will see.
In the meantime, other options are becoming available which provide similar benefits but are paired with mechanical equipment rather than being worn on the body. United Rentals now offers aerial lifts, with manufacturer approved accessories, that can support a variety of tools used for overhead work or repetitive tasks.
The Eksoaerial system is pictured here.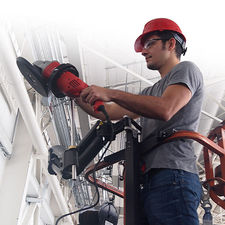 I wouldn't be surprised to find other options presented at the show this year.
Hope to see you there.