Your newsletter for French music, arts, festivals and concerts in Sydney.
You are receiving this newsletter because you may be a member of Sydney French Language Group, The French, Spanish, Andalusia-Arabic choirs or attended concerts produced by French Music and Dance Company.

Join our mailing list: www.fmdc.com.au

Click to view this email in a browser
---
FEATURED EVENT:
THE DREAM OF ANDALUSIA
Songs from medieval Andalusia and various parts of the Arab world - presented by Oz Choirs and Music and FMDC, performed by the Andalusian Arabic Choir and Orchestra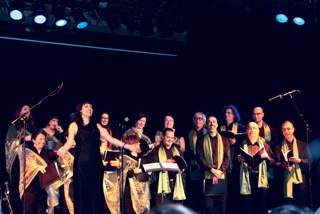 Conductor Ms Ghada Daher and Orchestra Musical Director Mr Samir Maarbani will take you back to Cordova's Andalusian era of music culture. Join the choir and orchestra on an outstanding journey through the golden era of art, creativity and music in a unique perfromance never before seen in Australia. You will be transported to Andalusia through North Africa, Lebanon, Syria, Jordan and Iraq. The repertoire includes a rich selection of songs from mouwashah to traditional, folk and modern Arabic.
When: 7:00pm for 7:30 start, 24th March 2012
Where: Tom Mann Theatre, 136 Chalmers St Surry Hills (Close to Central Station)
Bookings: Moshtix
---
The Alliance Francaise French Film Festival 2012!
From 6th - 25th March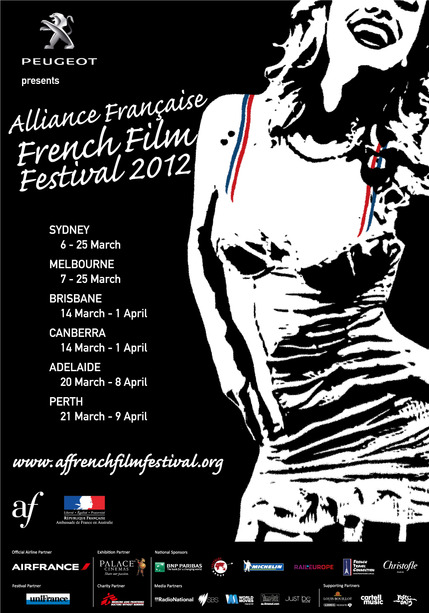 The Alliance Francaise French Film Festival 2012 has the pleasure of announcing the launch of its official webiste for the festival, now in its 23rd year.

Click here to buy your tickets online and to register for your chance to win four fantastic prizes: a trip to Paris, a weekend getaway, a Christofle silver set and a French course at Alliance Francaise!

Don't miss out on the official festival program: you can pick it up from the reception at Alliance Francaise.

For more information on festival events, go to the website or email info@affrenchfilmfestival.org
---
Sydney Film Festival is Coming
June 6th to 17th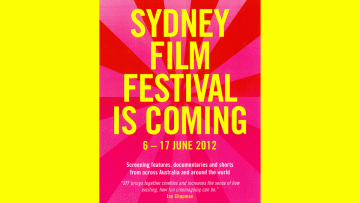 Click here for full details ..
---
Do you want to practice your French, Arabic or Spanish?

Why not join one of the Choirs - or join our language groups.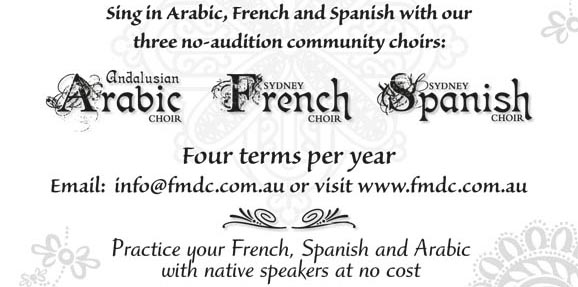 Join for free:

Sydney Arabic Language Group - Click here
Sydney French Language Group - Click here
Sydney Spanish Language Group - Click here
---

The French Australian Chamber of Commerce and industry (FACCI) promotes the Franco Australian Relationship from a commercial, industrial and economic perspective. As member of the FACCI, you will join a network of companies and individuals through a number of meetings and presentations with local decision makers, key individuals in the Franco - Australian relationship. You will enjoy a number of networking and social events that may support you and/or your company in bringing its business agenda forward.
The French Australian Chamber of Commerce covers a nationwide network with four representations or State Chapters - in New South Wales, Queensland, South Australia and Victoria with soon as fifth one in Perth!
Membership with your local Chapter provides access to the wider French-Australian business community around Australia.
Please email
or call 9279 4140 for further information!
Click here for details on the benefits of joining the chamber.
---
FACCI Corporate Golf Day!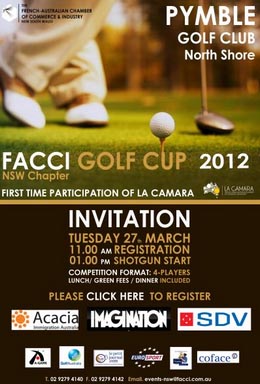 The FACCI CORPORATE GOLF DAY provides an ideal opportunity to combine the love of Golf and business in a relaxed atmosphere. This Annual Golf Cup is the first FACCI event with the participation of LA CAMARA, the Spanish-Australian Chamber of Commerce and Industry. The FACCI Golf Cup is where key DECISION MAKERS of the French-Australian business community can sink a hole...or 18. It is a fun activity day and the evening diner provides an ideal opportunity for those not too interested in the Golf activity to join.

Click here to register.

---
Sydney French Language Group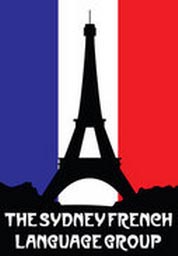 The Sydney French Language Group is a cultural melting pot of native French Speakers, French language students, International French Students and newly arrived French / Francophone permanent residents, as well as local francophiles of all backgrounds in Sydney. All of our events are free and there's no joining fee.

Click here to join us!
Events Calendar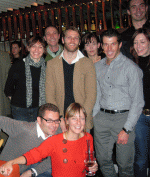 Parlez-Vous Français?
Fortnightly French conversation practice and social event at St James Hotel, Wednesday, 14th March, 6.15pm.
Click here
to join and RSVP for free

Trampoline 2rrr 88.5 FM
Radio program in French
Trampoline est une émission de radio culturelle présentée en français et en direct à Sydney tous les mardi soirs de 21h à 22h30 sur 88.5 FM.

Elle est l'un des nombreux programmes ethniques diffusés sur 2rrr, une radio communautaire située au Nord de Sydney.

A community radio program presented in French every Tuesday from 9pm to 10.30pm.
More info
Laur Pearls

Inspired by the classic beauty of pearls, Laurel Fox creates one of a kind wearable art pieces with Akoya and Freshwater pearls in her Sydney studio.

Mention FMDC with your order and receive a complimentary pair of pearl studs. (Next 20 orders only)

More Info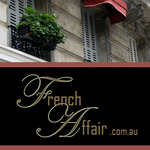 French Affair



Unique and affordable French
and French inspired products with lashings of French style.

Want to learn French or brush up on your French with the greatest language teacher in the world?
The new "Learn French with Michel Thomas" range is now available from French Affair.

More info

Svengali



For all of your design and print needs Ph 0410 340 412

LushVids



Video Production
Training
Multimedia Support
Infinite Patience
Reasonable Rates
Contact Michael for a quote
Ph 0401 009 120

More info
Wordwallah



Wordwallah offers a professional, one-stop-shop service to business, industry and government.

We have a team of highly skilled writers, editors, indexers, graphic designers, project managers and printers.

This means you only need one point of contact for your entire project, freeing up your time to focus on what you do best.

More info