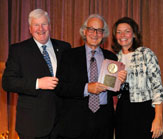 Chicago Medal to Iain
On 1st October Iain Douglas-Hamilton, founder and CEO of Save the Elephants, was awarded the George B Rabb Conservation Medal for his lifetime's contribution to securing a future for elephants. The Chicago Zoological Society hosted 300 people to the award ceremony, which raised more than $500,000 for conservation.

// read more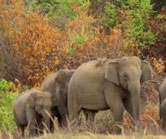 Bees in Sri Lanka
With human-elephant conflict in Asia, hopes are high that the beehive fences that have proved successful in deterring crop-raiding African elephants will also work there. STE's PhD student, Kylie Butler says managing expectations is key - until this trial is complete, we won't know whether Asian bees are threatening enough to work!
// read more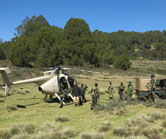 Mountain Ele Tracking
Mount Kenya's elephants are under seige. The thick forests that cover the foothills give cover to poachers. In partnership with the Lewa Wildlife Conservancy we have begun a new programme to track the movements of the mountain elephants. The real-time data is fed into the security control room where it helps guide the deployment of ranger forces.
// read more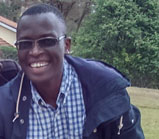 Introducing Dr Okita
Save the Elephants is delighted to welcome the newest member of our team. Dr Benson Okita has joined us from the Kenya Wildlife Service, where he has had a distinguished career in rhino conservation. Dr Okita will be heading up STE's research operations. This month also sees the publication of our 2014 Annual Report...

// read Annual Report