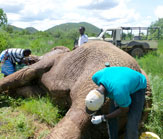 Follow the Boys
It has been a great rainy season in Samburu. The raging river may have destroyed our new well, but the lush vegetation has brought hundreds of elephants into the reserve. We took this opportunity to collar two big new bulls, Uffe and Leakey. As always with the bulls, it was a nerve-racking business.
// read more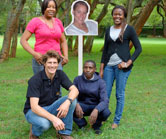 Strenghtening STE
Save the Elephants has been busy building a team with the strength and flexibility to deal with the diverse challenges that come our way. As well as broad review of our HR, in the past six months we've recruited five passionate people to strategise, map, manage and communicate towards a future with elephants.
// read more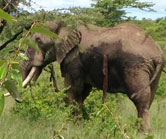 Omondi's Drama
When we got word from the Mara Elephant Project that one of the bulls that we track with them had been speared and appearing to be trailing intestines we feared the worst. But thanks to the Sheldrick Trust a KWS vet was immediately flown in and Omondi was soon patched up and seems fine.
// read more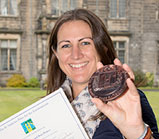 Lucy Wins Again!
Looks like we're going to have to reserve this column of our Monthly Trumpet for awards won by STE's Dr Lucy King. This month, Lucy won the prestigious St. Andrews Prize for the Environment. The $100,000 prize will help her defend more farmers' crops with income-generating beehive fences.
// read more