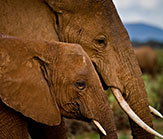 Why Elephants?
The Guardian newspaper is doing a year of reporting on elephants, thanks to support from our partners Vulcan. To set up the series they sent an interepid reporter who'd never met an elephant before to come to Samburu to discover first-hand why these magnificent animals matter, and what threatens their future.

// read more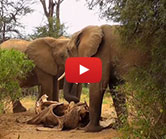 Elephants and the Dead
Researcher Shifra Goldenberg witnessed a moving scene as an elephant family stood vigil around a carcass in Samburu. In this moving video on National Geographic, Shifra discusses the mystery of elephants and their reaction to the bodies of those that have fallen. This fascinating behaviour is an area that STE have published on before.
// watch video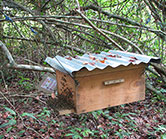 Gabon Joins the Beeline
The tiny solution to a giant problem keeps on spreading! This innovative method to deter crop-raiding elephants is now making waves in Central Africa. The beehive fence, pioneered by Dr Lucy King, is being put to the test in Gabon with heart-warmingly positive outcomes. Elephants and Bees also featured on CNN recently.
// read more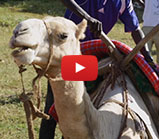 Camels & Conservation
STE's outreach team was at the 27th annual Maralal Camel Derby, Kenya's best known and most prestigious camel race. The great gathering of local nomads is an opportunity to spread the word about the value of elephants. This year we went all-out, dispatching our media intern Nicole to bag a bronze in the race!
// watch video