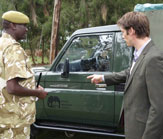 Ground Support in Tsavo
We have supported the Tsavo Trust in the aerial patrolling of Tsavo since early 2013. Now we have donated a new Toyota Landcruiser to the Kenya Wildlife Service that will be dedicated to anti-poaching work with a focus on defending the regions remaining large elephants.
// read more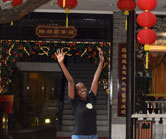 Hope in Sight
With mutual understanding comes greater collaboration. When Chinese conservation scientist (and one-time STE intern) Gao Yufang offered Resson Kantai Duff a tour of China's ivory markets, she leapt at the chance. Her experiences were many, diverse, and transformative.
// read more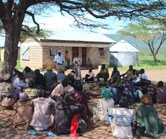 Reaching Kirimon
In Kirimon in Northern Kenya, many elephants have recently been killed. The people in this remote community are not killing for ivory but to defend – and sometimes avenge – their crops. STE's community team paid them a visit recently as part of our outreach programme.

// read more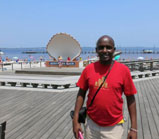 US College Beckons
STE's Samburu camp manager has won a scholarship to study in the US for a year! Gilbert Sabinga leaves this month for Texas, where he will study Information Technology at the Houston community college. Thanks to the US Dept of State and their Community College Initiative!
// read more