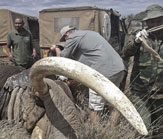 Treating Tim
Last week Tim, the king of Amboseli's elephants, was speared through the ear having run the gauntlet of a narrow wildlife corridor. ECF grantee Big Life's aerial team worked with the Kenya Wildlife Service and others to find and treat Tim, who is a target for poachers and farmers trying to protect their crops.

// read more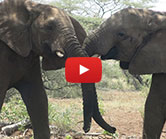 Tale of 3 Bulls
There are signs that Matt, the biggest tusker we know of in the north of Kenya, may be losing his dominant position. Watch this 3-minute movie to see Matt meet his match in Edison, both of whom starred in the recent BBC series Nature's Epic Journeys. Iain Douglas-Hamilton was there to bear witness, only to find himself a target!
// watch video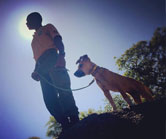 Fury the Tracking Dog
Conservation Lower Zambezi are implementing a sniffer-dog project co-funded by the ECF. The tried and trusted breeds are effective but expensive and prone to disease. Now a local village puppy called Fury is defying stereotypes and swiftly learning to track effectively, giving hope that they might provide an efficient alternative.
// read more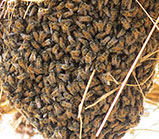 Plants, Elephants and Bees
Edwin Ruto, a conservation biologist interning at our Human Elephant Coexistence research site in Tsavo tells of his adventures working with elephants and bees. Hear Dr Lucy King tell more in the US next month at WCN in San Francisco on 21st July and the Nature Museum in Chicago on the 23rd July.
// read more