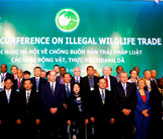 Vietnam Talks Tusks
Vietnam - one of the biggest ivory markets in the world, according to our recent report - hosted the third Illegal Wildlife Trade conference this month. STE was there, along with over 40 nations, to discuss how to help Vietnam in its pledge to crack down on the trade. A series of new seizures have been made.

// read more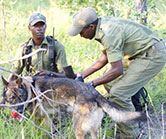 Dogs of Zimbabwe
Man's best friend arrived to boost rangers efforts in anti-poaching in Gonarezhou National Park, Zimbabwe. This new canine unit was made possible by the support of the Elephant Crisis Fund. Since it began operating in Dec 2015, there have been 10 successful prosecutions and the rangers are now upbeat.
// read more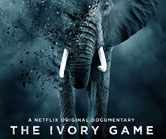 Spotlight on Ivory
The powerful new film The Ivory Game lays bare the dark underworld of the ivory trade in Africa and the Far East. The film, produced by Vulcan and Netflix, features the work of many Elephant Crisis Fund grantees as they fight to catch those who are profiting most from the slaughter of Africa's wildlife.
// read more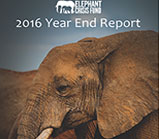 Crisis Fund in 2016
Three years in and the impact of our Elephant Crisis Fund, run jointly with the Wildlife Conservation Network, is being felt across Africa and in nations where ivory is sold. With 45 partners conducting 114 projects in 25 countries, we're making progress. Read our 2016 Year End report to learn more.
// read report