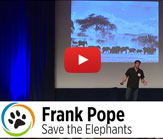 Opening WCN Expo
In October, the Wildlife Conservation Network (WCN) holds its annual Expo, bringing conservationists and their supporters face to face. Elephants topped the agenda this year and STE opened the event with news on the current situation and the solutions of the Elephant Crisis Funds.
// watch video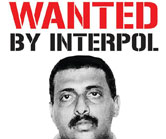 Interpol after Ali
Ivory trade kingpin Feisal Ali Mohammed remains on the run, but in a significant new development Interpol has issued a warrant for his arrest. As the net closes on him, we continue to work closely with our partners to increase the risk to other organised crime bosses of being involved in the ivory trade.
// read more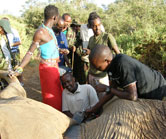 Treating Lomunyak
When a young bull elephant named Lomunyak was speared, he fled to the relative safety of Kenya's Samburu National Reserve. While working with the Kenya Wildlife Service to remove the spear and treat the wound, STE took the chance to investigate the choices that bring him into danger.
// read more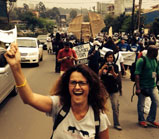 Elephant Marching
October's Global March for Elephants and Rhinos drew unprecedented numbers of elephant friends onto the world's streets. STE joined the marches in three of the 136 cities around the world where concerned cititzens joined the ever-growing global coalition to save elephants and rhinos.
// read more