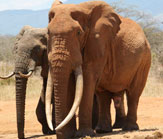 Tsavo's Great Tusker
Save the Great Tuskers aerial patrols have been successfully assisting the Kenya Wildlife Service during our first full month of operations in Tsavo. Construction of a hangar to protect the fabric of the supercub anti-poaching aircraft from sun and rain is complete. With the team now in place, we're seeking funds to keep them there.
// read more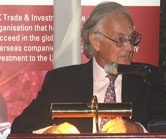 Ivory & Insecurity Event
Mid-February saw the British High Commission and STE host a high level diplomatic event, "Ivory & Insecurity". More than 160 diplomats, lawmakers, businessmen and conservationists attended. Aside from the hosts, the UK Minister for Natural Resources and the CITES Secretary General also spoke up for the elephants.
// read more