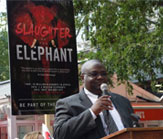 On The March
Concerned citizens of the world united across 15 cities and 24 other locations on the 4th October to demand action to end the slaughter of Africa's elephants. From 10,000 people on the streets of Arusha in Tanzania to Hollywood celebrities making speeches in New York's Times Square, we hope this marks a new dawn of awareness about the impacts of the ivory trade.
// read more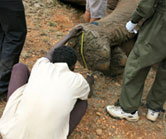 Collaring A Legend
Mountain Bull found celebrity thanks to the BBC's Secret Life of Elephants, but among the foothills of Mount Kenya he's long been a famous – and sometimes feared – figure. STE has been tracking him for many years and when the battery on his GPS collar failed, it was time to get up close and personal with this most charismatic of creatures. STE Intern Rebecca Sergeant was there to bear witness.
// read more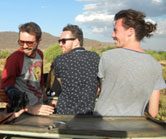 Band Aid For Elephants
Not every rumbling bassline in the Kenyan bush is an elephant… this month Australian hit rock band Hands Like Houses came to visit the elephants of Samburu. With their sights set on stardom they were seeking a cause on which to focus their future fortunes. These days elephants need new fans as much as rock stars, and we very much hope to hear ele-inspired trumpets in the next album produced by the boys!
// read more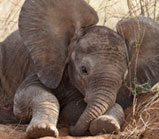 Samburu Baby Boom
At the beginning of October the First Ladies, one of Samburu's most popular elephant families, arrived back in the reserve with no fewer than six new babies. Our team were surprised, given that last year saw a record number of births and elephants gestate for almost two years, but this is part of a mini-baby boom that has seen 15 new – and very cute – calves in October-November alone.

//read more