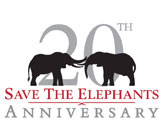 20 Years of STE
It's been a rollercoaster ride for both elephants and STE over the last 20 years since Iain Douglas-Hamilton started Save the Elephants. There have been disasters, victories, losses, and discoveries, but every year we grow stronger and accomplish more. Our 2013 Annual Report, just out, charts some of our headline events so far.
// read more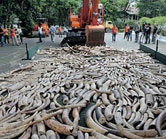 Crushing Demand
Kenya burnt ivory stockpiles in 1989 and 2011. Gabon burnt hers in 2012. The Philippines destroyed five tons in June this year. Now, on 8th October, the US government intends to crush its six-ton, $12m stockpile of seized ivory. The move signals a new determination to end the poaching and illegal wildlife trade.
// read more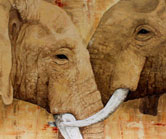 Eye to Eye
Artist Nicola Heath was sickened by the ongoing poaching of elephants, and decided to act in the way she knew best: with her paintbrush. Soon she had created an exhibition whose elephant portraits featured some of the most moving depictions of elephant eyes we've ever seen. Last month they were sold in Nairobi for Save the Elephants.
// read more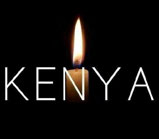 Kenya Mourns
The shock of last month's terror attack on the Nairobi's Westgate shopping mall is still with us all. Save the Elephants did not lose anyone but our hearts go out to those who did. Tuko pamoja. We are together. Kenya will emerge stronger, united, and more determined than ever to defeat the scourge of fundamentalist terror.