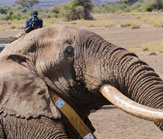 Collaring Tim
Although a popular icon when in Kenya's Amboseli National Park, Tim the Tusker is unpopular with locals when he steps outside and raids their crops. This month we put a GPS collar on the 47 year-old bull to help KWS and Big Life rangers follow his night-time excursions and keep both elephant and people safe.

// read more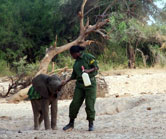 New Sanctuary for Elephants in the North
The new Reteti elephant sanctuary is the first community owned and managed elephant orphanage in Africa. Set in the Namunyak Wildlife Conservancy in Samburu County, Kenya, the new facility will focus on successfully reintroducing orphaned elephants into their home environment.
// read more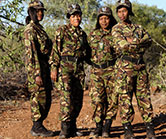 The Black Mambas Anti- Poaching Unit
The Black Mambas are an all-female rapid response anti-poaching team based in South Africa's Kruger National Park. Iain Douglas-Hamilton recently visited with the new Head of Environment at the UN and learnt how the team are also using beehive fences as part of their community programme.
// read more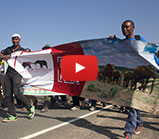 Marching for Elephants in Samburu
The scorching Samburu sun did not stop more than 300 men, women and children from walking, singing and dancing for 17 kilometers as part of the Global March for Elephants and Rhinos, a worldwide series of such events designed to call attention to the plight of pachyderms.
// read more