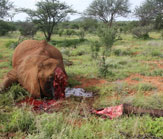 A Dark Cloud Over Christmas
After a tumultuous year, heightened anti-poaching efforts brought a period of relative peace to Samburu. The killing grounds south of the Reserves have been pacified, but we mourn the loss of one young bull called Pompeii, who was shot in December.

// read more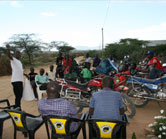 Riding Poachers Out
STE and local communities are tackling ivory traffickers head on. After years of aiding and abetting poachers, the new consensus amongst boda boda motorbike taxi drivers, implicated in this heinous illegal trade, is that involvement is now too risky.

// read more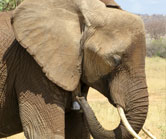 Of Hope and Orphans
The Planets are amongst the hardest hit of all elephant families in Samburu. Once 35 strong, now just a handful of orphans remain. A distress signal from Luna's collar made us fear the worst. The team leapt into action, but instead of death new life triumphed!
// read more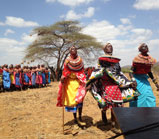 Peacing A Community Together
After years of inter-tribal fighting, four communities have joined hands to build their future by protecting the wildlife on their land, which has long been pillaged by poachers. STE joined Nasuulu Conservancy as they broke ground to build the new headquarters!

// read more