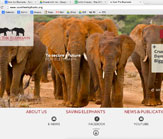 A Fresh Look for STE on the Web
The rains have come in Kenya, and half a world away to the north spring is in full flush. Out come the blossoms, green grass… and a new website! It's a fresh perspective on our work to save elephants, designed to be easier to read on the move.
// read more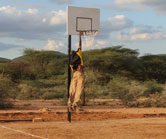 Yao Ming Gives Sport for Samburu
When Yao Ming, China's biggest star, visited Samburu he inspired everyone with his basketball skills… but broke the village hoop. In compensation he has funded an entire basketball court, the latest fruit of the growing China-Samburu connection!
// read more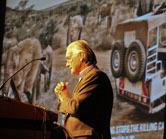 Talking Elephants in London
On May 28th Iain Douglas-Hamilton will be in London to give his uniquely in-depth perspective on the wonder of elephants and the battle to save them from the ivory trade. The talk will be held at Christie's auction house on the King's Road.
// read more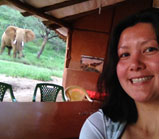 Californian Lions to African Elephants
STE intern Yiwei Wang connects both worlds and species. An American with Chinese roots, Yiwei tracked Mountain Lions in California for her PhD and is now turning her skills to elephants. She'll be sharing her experiences with East and West.
// read more