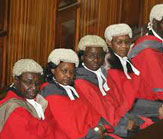 Sensible Sentences
While STE is working hard to reduce demand for ivory in China, it has become painfully obvious that Kenya's legal system is not taking poaching cases seriously. Tiny fines and paltry sentences mean poachers keep poaching, and undermine Kenya's appeals for China to stamp out the trade.
// read more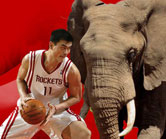 Yao Ming Launch
The STE/WildAid campaign to reduce demand for ivory in China is launching in Beijing this month when Head of Research David Daballen takes the stage with superstar Yao Ming. Meanwhile we are hoping to introduce one of China's most famous actresses to Samburu's elephants in May. Watch this space!
// read more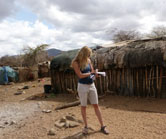 Human Footprint
The ivory crisis can be beaten - with your help. Once it has been, Africa's elephants will still face a battle for survival on an increasingly crowded continent. STE researchers have spent five years mapping the spread of human settlements to understand how elephants can live alongside them.
// read more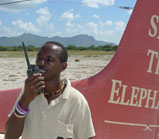 Wildlife Leader
Jerenimo Leipirei began working with STE five years ago and has proved a great asset in the field. He's now in the US for the first time having won a place on the Emerging Wildlife Leader's program. After a 2 week course in Texas he'll be returning to Samburu as a newly-skilled conservationist.
// read more