New from Al-Anon!
Paths to Recovery Workbook (P-93)
Introducing this wonderful companion piece to one of Al-Anon's most treasured books! Contains the thought-provoking questions on each Step, Tradition, and Concept of Service found in Paths to Recovery (B-24), with space to write answers.
Available for $10 U.S.—or buy the book and the workbook for only $25 U.S.
Contact your local Literature Distribution Center or visit the Al-Anon Online Store, al‑anon.org/onlinestore, after January 10, for more information.
---
AFA is not The Forum!
The WSO produces two magazines with two different purposes and readership audiences.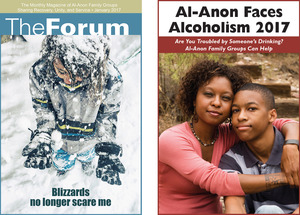 Al-Anon Faces Alcoholism (AFA)—The content is designed for families of alcoholics who are unfamiliar with our program. Members write about their own denial, or share how they overcame the fear of reaching out for Al-Anon's help. Members share hope, understanding, and compassion for the alcoholic's illness and its effects on the family. Articles by professionals and basic information about Al-Anon are included. AFA motivates readers to start attending Al‑Anon. Members can order AFA two times per year.

The Forum—Readers are members who are already attending Al-Anon. Members share how the various tools of the program including the Twelve Steps, Traditions, and Concepts of Service have helped them find—and keep recovery! Members subscribe to The Forum throughout the year.

Groups can reach out to prospective newcomers locally. Order AFA 2017 magazines before February 8, 2017. Orders are shipped in March in time for April Alcohol Awareness Month.

---

Be informed!
Want news from your World Service Office (WSO)? Subscribe to AFG Announcements.

It's easy. To receive a free subscription to AFG Announcements—all we need is your email address (you can easily unsubscribe at any time). Sign up today on the Members' website "Be informed!". This communication system for individual members will deliver announcements from the World Service Office (WSO) right to your inbox.

Some examples of announcements include: Area Highlights, Group eNews, and surveys.

Members in service who currently receive information through the "Announcements—WSC Structure" community on AFG Connects will continue to receive announcements in that manner so there is no need for them to subscribe.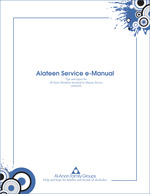 Alateen Service e-Manual is now updated!
The Alateen Service e-Manual provides information about Alateen service to all Al‑Anon members including tips and topics for Al-Anon Members Involved in Alateen Service (AMIAS). Now the Alateen Service e-Manual can be downloaded and/or printed from a PDF format and it has interactive links to pages and content.
Click on the image above to access the
Alateen Service e-Manual
---
Al-Anon WSO is now on Instagram!
The WSO has expanded its Social Media Outreach project to include Instagram. Please join us in carrying Al-Anon's message of hope to many people including you adults, affected by someone's drinking on Instagram by following and liking our posts. Find us on Instagram or click on the link located on the WSO Public Outreach website, al-anon.org.
Please remember to protect your anonymity on social media by not making comments or using screen names that would reveal your Al-Anon membership.