Be informed!
Want news from your World Service Office (WSO)? Subscribe to AFG Announcements.
It's easy. To receive a free subscription to AFG Announcements—all we need is your email address (you can easily unsubscribe at any time). Sign up today on the Members' website http://www.al-anon.org/members/item/491-be-informed "Be informed!". This communication system for individual members will deliver announcements from the WSO right to your inbox.
Some examples of announcements include: Area Highlights, Group eNews, and surveys.
Members in service who currently receive information through the "Announcements—WSC Structure" community on AFG Connects will continue to receive announcements in that manner so there is no need for them to subscribe.

---
Conference discussion of
'Prayer for Today'
Your World Service Office has been contacted by a number of Al-Anon members who have heard that "the WSO is removing the 'Prayer for Today.'" Please keep in mind that the WSO is a clearinghouse of information, not a decision-making body.

A discussion did take place at the 2016 World Service Conference regarding this prayer. No decision was reached, except that the Conference agreed to continue the discussion next year, after the Delegates conduct informed, Traditions-based discussions within their Areas. Please consider contacting your Delegate to find out how you can participate in an Area discussion of the topic.

To read the full report of this Conference discussion, see pages 57-60 in the 2016 World Service Conference Summary (P-46) here: 2016 Summary.

You can also find the Summary on the Members' Web site by taking the following steps:
Go to al-anon.org.
Click on "Members' Site" on the right side of the screen.
From the menu, select World Service Conference Summary.
Enter your group name, followed by AFG as your password. (Example: Easy Does It AFG or mondayafg).

---
Alateen Public
Outreach Graphics!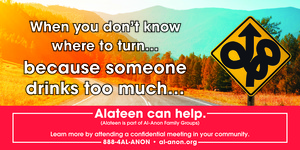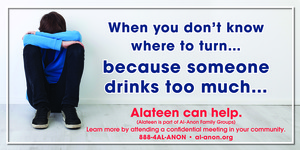 Two Alateen Public Outreach graphics are now available in three different sizes to accommodate a variety of public outreach needs:
http://al-anon.org/members/public-outreach/some-helpful-public-outreach-tools/item/526-road-sign-design-for-local-adaptation

Please note that local contact information should be from a local service arm or from a certified Al-Anon Member Involved in Alateen Service (AMIAS). When your design is complete, please submit it to the World Service Office (WSO) for review prior to production.

Thanks for all you do for Alateen!

---
One magazine can make a difference
This month, Al-Anon members in the U.S., Canada, Puerto Rico, and Bermuda are making plans to distribute close to 205,000 copies of Al-Anon Faces Alcoholism 2017, our annual public outreach magazine, in their communities.
Here are some AFA stories of hope:
"I picked up a copy of your magazine at the library. I'd like to go to an Al-Anon meeting. Do I need an appointment?"
"The family program counselor recommended Al-Anon and gave me a copy of the Al-Anon Faces Alcoholism magazine. I read it and think I'll try Al-Anon. I'm miserable. What have I got to lose?"
"Hello, I'm a therapist. Someone left copies of your Al-Anon Faces Alcoholism magazine at my office. They're all gone. Please send me more copies."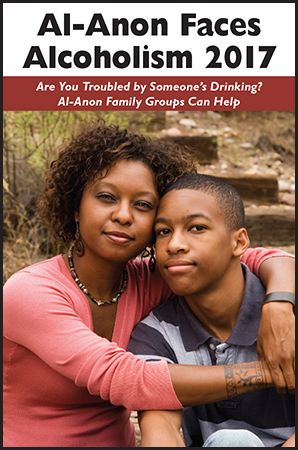 Thanks for caring and for sharing Al-Anon's message of hope! The deadline to order the second printing of AFA 2017 is February 8, 2017, 5 p.m. ET. Order from the Al-Anon on-line store or from the downloadable order form.


Keep Al-Anon in the conversation about recovery on social media
When you share WSO posts during September, please consider adding the hashtag #RecoveryMonth. This will help propel Al-Anon into the conversations about recovery that will be held on social media during Recovery Month. Sharing posts takes only a few seconds, but can have a huge impact on people who need Al‑Anon support.

Find us by searching on Facebook for "Al-Anon WSO" in English, "Los Grupos de Familia Al‑Anon OSM" in Spanish, and "Les Groupes Familiaux Al-Anon BSM" in French. Find us on
Twitter at @AlAnon_WSO.
---
Your help needed!
Each month, The Forum magazine needs sharings on the Step, Tradition, and Concept of the Month. The WSO receives very few Legacy writings. Particularly helpful would be sharings focused on Steps Five, Six, and Eight, or on any of the Twelve Traditions or Twelve Concepts of Service, since we have an extreme shortage of these.

Please send your personal recovery experience with our Legacies to The Forum, 1600 Corporate Landing Parkway, Virginia Beach, VA 23454-5617; or Attention "The Forum" at wso@al‑anon.org. You can also submit your sharing on-line by taking the following steps:
Go to al-anon.org.
Click on "Members' Site" on the right side of the screen.
From the menu, select "Send your sharing."
Enter your group name, followed by AFG as your password. (Example: Easy Does It AFG or mondayafg).