Al-Anon's doors are always open!
During the summer months, Al-Anon members love to visit Al-Anon groups outside of their local area, especially on vacation! Although the program is the same everywhere, group customs and formats can vary from place to place. Whether visitors are from another state, or just from another town, they might not be aware of the specific customs of your group. Remember to always welcome visitors (and everyone!) with the warmth and comfort so freely offered in Al-Anon!

Also, when regular members of your group are on vacation, please make sure that the group continues to meet. Share with one another when someone will be away so that the doors will always be open and the meeting will always be held. Talk to each other and reason things out! How disappointing it is for a visitor (or a newcomer) to arrive at a listed location and find there is no one there. "Let it begin with me!"
---
THE FORUM BOOK (working title)
Have you ever read a Forum sharing that:
helped you to look at something a bit differently?
made you laugh?
touched your heart and reminded you that you aren't alone?
had a unique way of presenting the topic/subject?
will stand the test of time?
These are the sharings we would like to include in THE FORUM BOOK (working title).
The 2015 World Service Conference gave conceptual approval to develop a piece of Conference Approved Literature based on member sharings published in past issues of The Forum. The piece is intended to compile thoughtful sharings that are important enough to be read for years to come.

You are cordially invited to send us your most memorable and relatively recent, Forum sharings (2005 – present). There's only one caveat! We need to know the title, month, and year in which it appeared in the magazine. You can submit your suggestions online. Go to the Members' website at al-anon.org/members. Click on Individuals, Featured Publications, The Forum, THE FORUM BOOK (working title).
---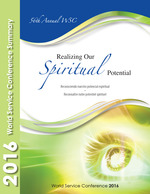 The 2016 World Service Conference Summary (P-46) Captures Important
Conference Discussions
What changes were made to the Concept Eleven descriptive text ("Al-Anon's Twelve Concepts of Service," pages 207 – 214 in the 2014-2017 Al‑Anon/Alateen Service Manual)?
What did Conference members discuss during the Task Force presentation on Acceptance of Communities, Cultures, and Beliefs?
What changes did Conference members vote on during the Policy discussion regarding "Memorial Contributions"?
The 2016 World Service Conference Summary (P-46) covers these conversations and more.
Order your copy today—for $5 shipping and handling—or download for
free
from the Members' Web site,
al-anon.org/members
.
---
Al-Anon and A.A. —a bit of history
"Another way in which the Family Group's relationship with the A.A. groups may be improved is outlined for us by Edna L. of Vallejo, Cal., who writes:

"While our group is small and less than a year old, we are finding it a wonderful help to ourselves, and also to our alcoholics. On January 28th, we held an open meeting, inviting A.A. members from the [three] A.A. Groups in Vallejo. We had two non - alcoholic speakers and an alcoholic speaker from the Oakland Group. The meeting was very well attended and the A.A. members expressed a great deal of surprise and pleasure at the progress made by our group, not in numbers, but in the personality changes in ourselves as well as a better understanding of the A.A. member."
Source: 1953 The Forum pp.1-2
Thanks for a successful 2016 AMIAS Recertification!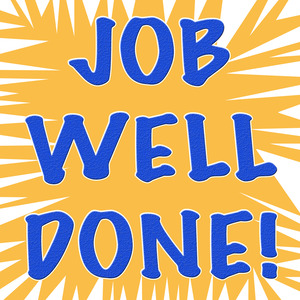 The WSO invites all members to join us again this year in thanking the Area, AAPPs, Alateen Coordinators, District Representatives (DRs) and Al-Anon Member Involved in Alateen (AMIAS) for a job well done meeting the deadline to complete their 2016 AMIAS Recertification! We applaud them for their ongoing service and commitment to help make Alateen groups safe by keeping Alateen group and AMIAS records up-to-date.
---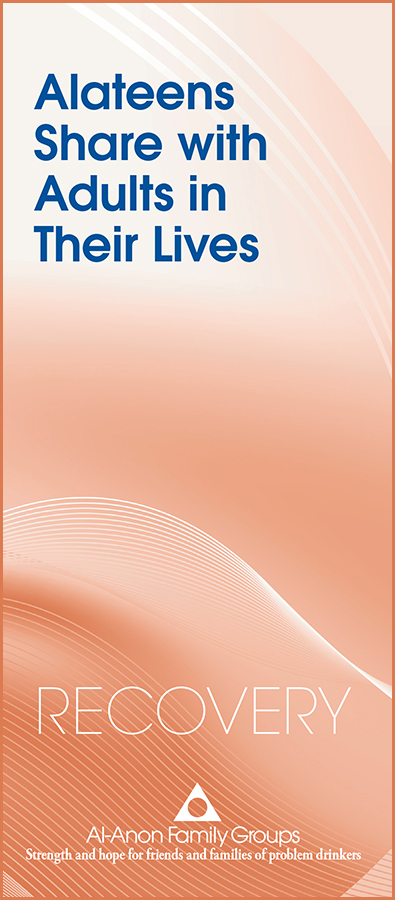 Alateens Share with Adults in Their Lives (P-67)
The newly revised pamphlet (previously titled Dear Mom and Dad), features stories by Alateen members who share with the adults in their lives how they have been affected by the disease of alcoholism and why they need to go to Alateen. With updated graphics and text, this pamphlet can be used as an outreach tool to members of Al‑Anon, members of A.A., members of the professional community, and to any adult who is in contact with a teenager affected by someone else's drinking.
---
Electronic version of The Forum more widely available!
Individual copies of The Forum are now available on Amazon and Kobo for $1.49 (U.S.) and Apple iTunes for $1.99 (U.S.). An annual electronic subscription continues to be available from Barnes & Noble for $11 (U.S.), with individual copies for $1.49 (U.S.).
This announcement is informational only, and not an endorsement of any electronic media provider, reader, or other products sold by electronic media providers.

---
Employment Opportunities
at the
World Service Office!
To find out more click on the link
http://www.al-anon.org/members/wso/inside-the-wso/item/178-employment-opportunities
Once you login, click on the tab "WSO" and the sub-tab "Employment Opportunities."