Providence Foundation Newsletter
Church and State – Cohorts or Combatants?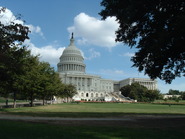 By Ricki Pepin

We've all heard the protests:
Separation of church and State! You can't post the 10 Commandments in a courthouse! You can't have Jesus in a Christmas play in a public school! That would violate the First Amendment!
Really? Have any of the people making such proclamations read the First Amendment, or what any of the founders said in regard to the relationship between the church and the state? Time for a dose of truth by way of a brief history lesson.
Wake-up call: The words "separation of church and State" appear nowhere in any founding document. The First Amendment says,
Congress shall make no law respecting an establishment of religion or prohibiting the free exercise thereof…
Read on
---
Providence Foundation Representative from the Netherlands Speaks at a Pro-family Conference in Moscow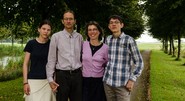 By Alex and Janneke van Vuuren

The pro-family conference in Moscow, September 10-12, 2014, was a very impressive event. More than thousand people attended from 45 different nations. There were many speakers in plenary sessions and in round tables. It was an amazing experience to be in Russia, to see proof of some high-level resistance to the global attack on the family and to speak freely about Christian homeschooling.
Around the globe, the traditional family of one father and one mother with children is under attack. Participants from many nations testified to that fact. There are many sources of this attack, but UN agencies and Non-Governmental Organizations (NGO's) with UN-status were often mentioned. Much of the destruction of the family in the West can be attributed to the sexual revolution of the sixties of the last century, which had its foundation in cultural Marxism.
Read on
---
Start a Course in Your Church on "Restoring America as the Land of Liberty"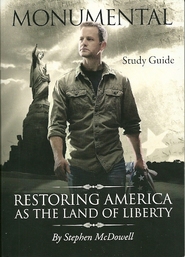 ---
The Bible and Economics (Part 7)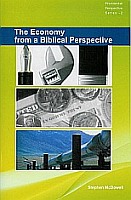 By Stephen McDowell


The Bible speaks to all of life and gives principles for every good work. It has much to say about economics and business. Ten Biblical economic principles are being presented over the course of 10 newsletters. All ten are contained in our booklet, The Economy from a Biblical Perspective. The first seven principles are:

1. God desires us to have wealth in order to fulfill His purposes.

2. Christianity produces liberty which is necessary for economic advancement.

3. A Christian economy (with the corresponding fruit of wealth, blessing, charity) will flow from the heart and mind of man outward.

4. Private property is a fundamental component of prosperous, advancing economies.

5. Individual enterprise and wealth result when men are able to benefit from the fruit of their labor.

6. Productivity increases as we work in union with others who exercise their unique gifts and skills.

7. The free market encourages men to serve the wants and the desires of their fellow man, voluntarily.


A voluntary working together of all peoples and regions of a nation will encourage economic growth. This would prohibit any tariff barriers within a nation and create a nationwide "common market." This would allow each person in each region or district of a nation to do what he could do best (and working with the natural resources in his locality), and exchange it for the production of others, using honest money as the medium of exchange. Each person is free to sell or not to sell at whatever price they want to offer, but they cannot force anyone to buy. Exchange of goods and services is voluntary and will occur as all involved believe they benefit from the exchange.

The prices of goods and services will be determined by "supply and demand."


Read On
---
The Economy from a Biblical Perspective (Book)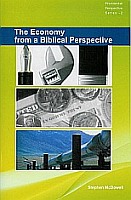 By Stephen McDowell


To learn more on the Bible and economics order The Economy from a Biblical Perspective.

---
God's Blueprint for Life, Liberty, & Property: A Bible Study on the Ten Commandments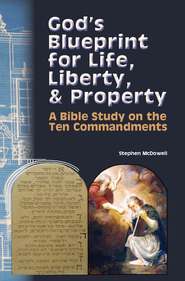 By Stephen McDowell


Save 30% for a limited time!
America is becoming a lawless society because the church has become lawless. The church has in many ways disregarded all uses of God's basic moral laws as revealed in the Ten Commandments: for civil use as a curb against sinful action in society, for didactic use as the rule by which we should govern our lives and grow to maturity, and for theological use as a mirror that serves as a schoolmaster to bring us to Christ. Through a series of questions and answers, using hundreds of Scriptures, this Bible study will guide you through the prohibitive nature of the commands, the positive corollaries and rights rooted in these commands, and their application in civil society.
Click to order
---
Receive this FREE Book!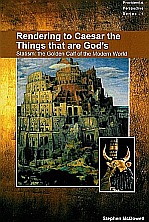 Donate today and receive Rendering to Caesar the Things that are God's: Statism: the Golden Calf of the Modern World
---
Providential Perspective Podcast

Listen to our Providential Perspective Podcast (PPP).

The PPPs address various historical and cultural issues from a Biblical perspective. New podcasts are posted on our website every two-three weeks, or you can download them to your mp3 device to listen to later. You can also access the podcast via iTunes and sign up to receive this regularly. (Go to the iTunes store and search for Providence Foundation.)
---
Visit Our Website

• Read articles, including:
Letters of John Quincy Adams to His Son on the Bible and Its Teachings
•
See sample Biblical Worldview University Classes
•
Learn Biblical solutions to today's problems, and more
---