July 30, 2013
Vol I, Issue 2
---
Watch a video of your spiritual goals at Jalsa Salana 2013: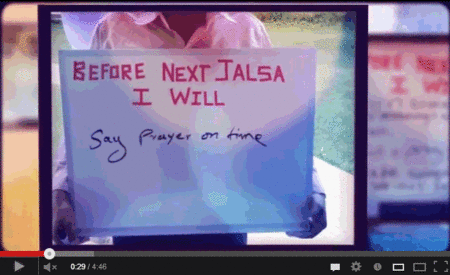 Work on your goals during the last 10 days of Ramadan!
Remember the boarding pass to heaven? Nearly 2000 were distributed and another 450+ were downloaded from our website: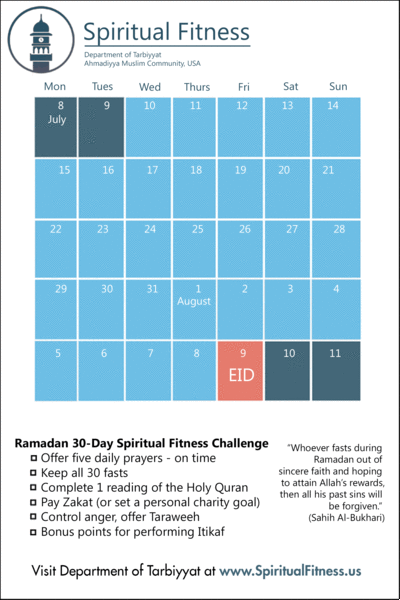 It's working. People are sending us testimonials from around the country. Here are a few samples:

"I have not seen my husband reciate Holy Quran for a number of years. This year after the Jalsa he started reciting Holy Quran during the month of Ramadan."

"I cannot remember the last time I said all my daily prayers on time. But this year, as a result of the Ramadan 30 day spiritual fitness campaign, I pledged to do all my prayers on time. Its amazing. I feel like the taste of my previous prayer is still with me and the time for next prayer comes knocking on my heart. Great feeling."

"My sister and I don't fight during fasting. Thanks to the spiritual fitness campaign."


Please email us an (anonymous) inspiring story of change from your area, and help us collect at least 30 testimonials!



Next month: Spiritual Fitness Camps. A nationwide campaign of physical and spiritual fitness…coming to a mosque near you.

---
www.SpiritualFitness.us is the new home of the Department of Tarbiyat, Ahmadiyya Muslim Community, USA. We welcome you to interact with us.

Visit - Spiritualfitness.us

Follow - @SpiritualFit

Ask a question (even anonymously) – Spiritual.Fitness@ahmadiyya.us