We are in the midst of our third annual Salat Center campaign and alhamdulillah, the quantity and quality of congregational salat is growing nationwide. This year we will share the map of all Salat Centers in the U.S. with Hazrat Khalifatul Masih (may Allah be his helper).
This is how Miami Jamaat looks on that map today: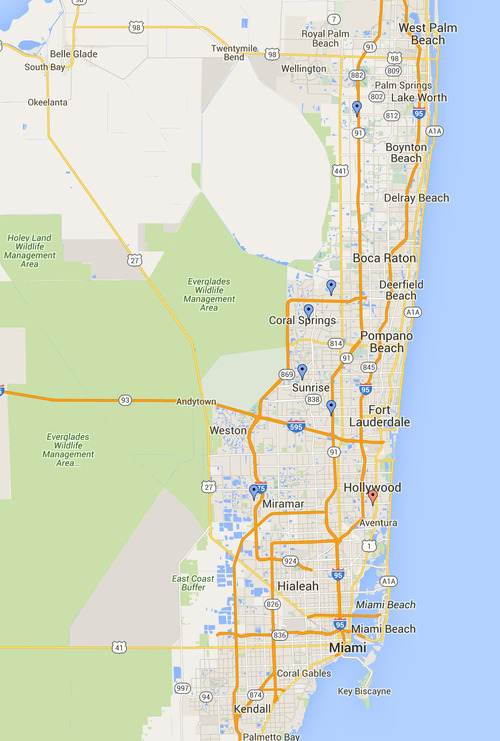 They have established a total of TEN salat centers (three are not showing on the map due to long distances). Blue dots are the Salat Centers and red one is the mosque. When we asked President Miami, Munawar Chaudhry sb about the impact Salat Centers have had on the local Jamaat, he said, "These Salat Centers have strengthened our mutual bonds of brotherhood. Murrabi sb and myself visit them and it allows us to frequently gather on a spiritual platform."
How does your Jamaat appear on this Spiritual Fitness map? Click here to find out. Read FAQs here. Learn more about this campaign by clicking here.
YOU can start a Salat Center. Simply contact another Ahmadi Muslim family in your neighborhood and agree on getting together for a minimum of two days a week to be placed on the map. Remember the word "MINIMUM." Salat Centers are just a step in the right direction...like Allah tala says, "Walk towards Me, I will run towards you."
Let's "walk" dear brothers and sisters. Please consider establishing a Salat Centers in your home or your neighborhood,
National Tarbiyat Department