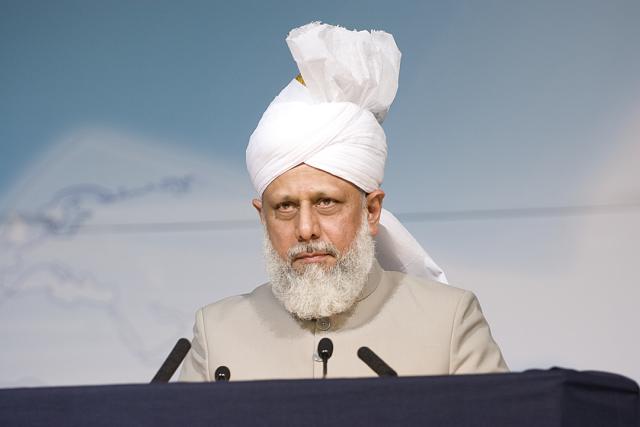 Inshallah, we will send you seven tips for spiritual fitness on a
monthly basis. Typically, these would be short quotes from the Friday
Sermons of Hazrat Khalifatul Masih Al-Khamis (may Allah be his
helper). Short and powerful.
Please use them for reflection and personal development.
* Huzur said there are usually complaints from the women's side that the
Salat rows are not straight, and even the office-holders stand in
uneven rows. Another complaint is that elderly or unwell ladies place
chairs in the middle of rows to offer their Salat. This usually takes
place at large gatherings like Jalsa etc. Those who have to offer
their Salat sitting on chairs should move to one side or at the back.
April 13, 2007.
* Huzur cited verse 287 of Surah Al Baqarah and explained all the
prayers within. The verse seeks forgiveness for any oversight that we
may make due to our weakness lest it hinders our spiritual growth.
Huzur said the Waqfeen (life devotees) and Community office-holders
should make this prayer in abundance. October 06, 2006.
* The office holders of the Community should be mindful that they
represent the Khalifa in their tasks and ought to carry out their
obligations fully mindful that God is ever watching them. If they are
angry with someone over something, they should wait a couple of days
before handling the specific matter. November 10, 2006.
* Commenting on the situation when a decision is not implemented
properly and is then re-introduced as a proposal (according to the
rules after duration of three years) Huzur aba said this shows
incapability and apathy. The national and the local office-holders
should analyse this and assess why the implementation had not taken
place. March 24, 2006.
* The office-holders should try that all their Salat are observed in
congregation. Having being chosen as the key people in the Community
and given responsibilities, if they did not pay attention to the
mainstays of faith then what service could they render and what
suggestions and proposal could they give. March 24, 2006.
* Office-holders need to demonstrate excellent model in civility and
morals so that people replicate the high standards. Regarding
obedience to the Khalifa, if they are not fully attentive in
implementing what is required then they could be imperceptibly viewing
the decision of the Khalifa in negative light. March 24, 2006.
* The opportunity to serve should not be looked upon only as a status;
it is only eminent when taqwa is adhered to. March 24, 2006.
Please share your favorite quotes and we may include them in future
issues of this newsletter.
Jazakumallah,
National Tarbiyat Department
SpiritualFitness.us