In the context of a recent fire at the Baitul Futuh mosque in London, Hazrat Khalifatul Masih Al-Khamis (may Allah be his helper) exhorted Jamaat members to recite the following three prayers during a
historic Friday Sermon
on October 2nd 2015.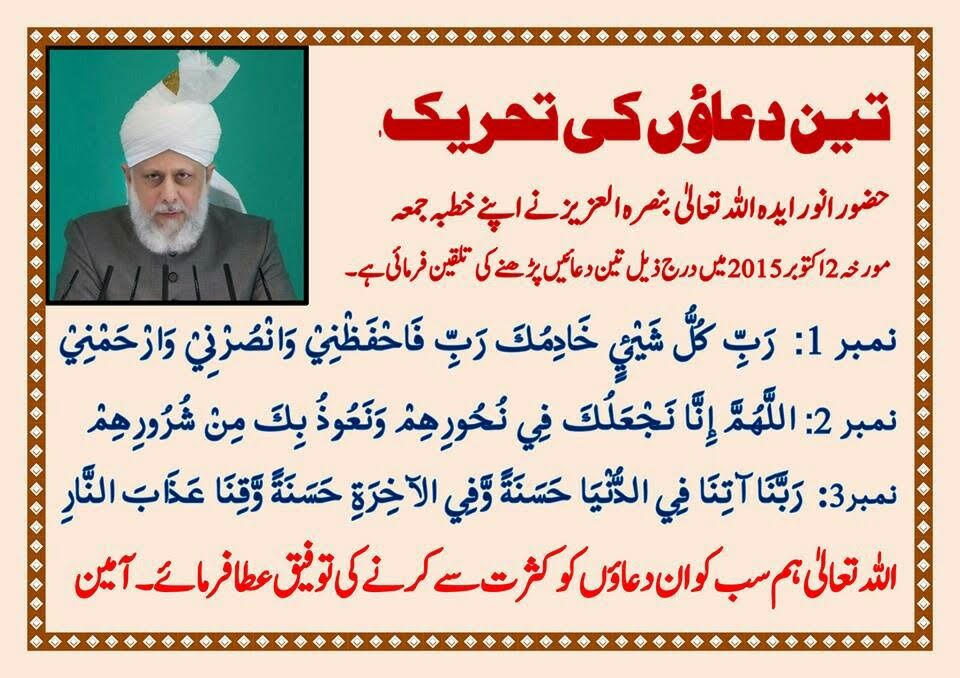 The translation is as follows:


 

1. O' my Allah, everything is subservient to You. So my Lord, protect me, help me and have mercy upon me.

2. O'Allah We make you a shield against the enemy and we seek Your protection against their evil design

3. Our Allah, grant us good in this world as well as good in the world to come and protect us from the torment of the

Please also remember to seek Allah's forgiveness (Istaghfaar) as abundantly as we can.
We ask that you share this with your friends and family. May Allah protect us all from the designs of evil, ameen.
National Tarbiyat Team

PS: We express our gratitude to whoever designed the above graphic with Huzoor's picture. We received it via an email chain.
SpiritualFitness.us