Webinar - 100 Resilient Cities: Transforming an Industrial Legacy with Resilience Planning in Pittsburgh, PA
If you have not already, please re-register for the webinar series using the link at the bottom.

When: Thursday, November 5th at 2 pm Eastern
(1 pm Central / Noon Mountain / 11 am Pacific)

Upcoming Webinars:
Thursday, November 12, 2015 @ 2 pm Eastern - Re-energizing Downtown: Innovative Public-Private Partnerships for Mixed-Use Development in Hamilton, Ohio

Thursday, November 19, 2014 @ 2 pm Eastern - Healthy Living: Building a Health & Wellness Community in Jackson, Tennessee

​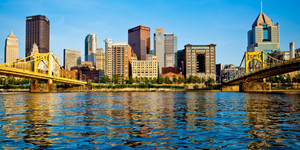 The City of Pittsburgh is well-known for its great American comeback story, rebounding from the collapse of its industrial-based legacy to build a diverse, balanced economy with manufacturing still as a key pillar, but fortified with innovation and knowledge that add new value to legacy strengths and give rise to new opportunities. In recent decades, Pittsburgh has emerged as an active hub for technology, education, healthcare and finance. The loss of steel production and industrial manufacturing jobs has driven many younger residents from the city, and increased the relative size of the elderly population. Officials see these new sectors, along with the available housing stock, as strong levers for growth. Supporting this trend of resilience and growth will require Pittsburgh to address its industrial legacy—including regional energy production, and its transportation system and land-use patterns—which continues to impact the city's air and water quality.
In 2014, Pittsburgh was among the 35 cities selected in the second round of the Rockefeller Foundation's "100 Resilient Cities Challenge." Pittsburgh is using the support to create a comprehensive resilience strategy to address crumbling infrastructure, confront violent crime, reduce environmental pollution and degradation, and mitigate challenges created by severe weather events, such as blizzards and heavy rains. With its landscape of hills and rivers, flooding poses a serious threat to the city's bridge and tunnel networks and aging water containment infrastructure. 100 Resilient Cities will also support and enhance Pittsburgh's current efforts, which are centered on a flood management system and the expansion of green infrastructure. On June 15, 2015, Pittsburgh kicked off the process of planning a comprehensive resilience strategy by bringing together stakeholders across city government and from the private sector, non-profits, NGO's and civic groups for a "Resilience Agenda Workshop."

The 100 Resilient Cities Challenge seeks to find 100 cities that are ready to build resilience to the social, economic, and physical challenges that cities face in an increasingly urbanized world. Selected cities receive funding to hire a Chief Resilience Officer, assistance in developing a resilience strategy, access to a platform of innovative private and public sector tools to help design and implement that strategy, and membership in the 100 Resilient Cities Network. The deadline for the third and final round of the 100 Resilient Cities Challenge is November 24, 2015. For more information, click here.

On this Thursday's Climate Communities webinar, we will be joined by Grant Ervin, Chief Resilience Officer for the City of Pittsburgh, where he oversees the integration of sustainability and resilience into City services, programs and policy. Grant will discuss Pittsburgh's resilience challenges and the role 100 Resilient Cities support is playing in advancing community readiness for a range of hazards, such as aging infrastructure and environmental degradation.

Every week, Climate Communities provides local leaders with informative discussions on sustainability best practices, funding opportunities and cutting-edge policies. Join us this week to learn how comprehensive resilience planning can tackle economic, social, and environmental threats to cities.
---
Stay Connected with Climate Communities
Climate Communities hosts weekly training webinars every Thursday at 2 pm Eastern for its members on federal funding opportunities, best practices and other key sustainability issues of importance to local governments.

For current Climate Communities members: Register once for the members-only webinars at: https://attendee.gotowebinar.com/register/1883552840166699778.
Following registration, you will receive a confirmation and new access information weekly.
If you are not a Climate Communities member yet:
Contact Andrew Seth at andy@climatecommunities.us for a membership kit.