Earlier this month, Red Sweater Project participated as a partner NGO at the First African Ladies Summit in Dar es Salaam, Tanzania. Hosted by President George W. Bush and First Ladies Laura Bush and Michelle Obama, the conference focused on the importance of women's education, health, innovation and entrepreneurship.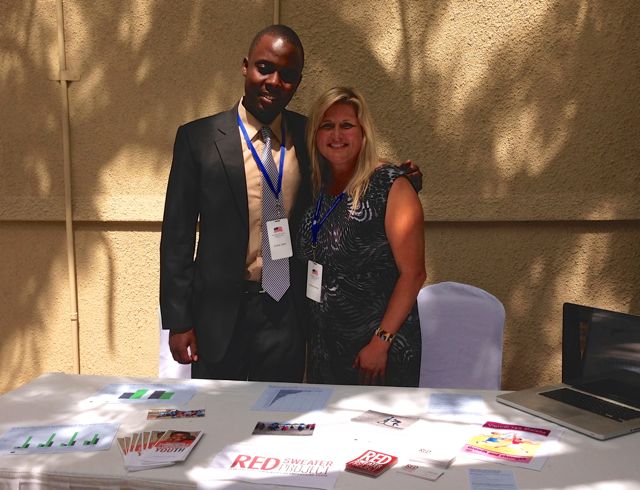 Red Sweater Project Networking Village presentation.

On his three-country tour of Africa at the same time, President Barack Obama's visit to Tanzania focused on partnerships in energy, business development and efforts to encourage more private American investment in Africa. Though each president had different agendas while visiting the country, one thing is becoming quite clear: when it comes to development in Africa, Bush and Obama are on the same team. When commenting on the success of the President's Emergency Plan For AIDS Relief (PEPFAR), President Obama said, "Because of the commitment of the Bush Administration and the American people, millions of people's lives have been saved." Similarly, Deputy National Security Advisor for Strategic Communications Ben Rhodes added, "We think it sends a very positive message that both political parties in the United States share a commitment to this continent."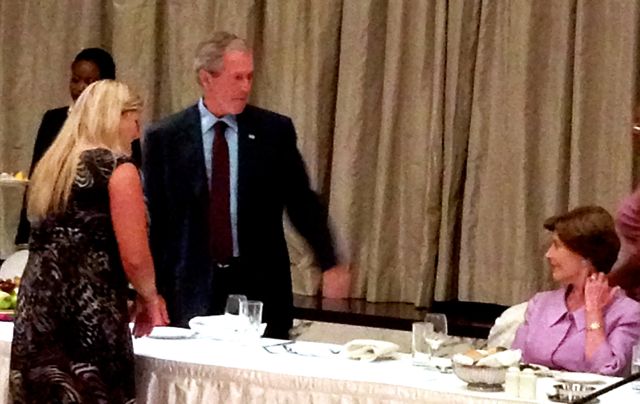 Founder Ashley Holmer shares the RSP story with Presidents Bush
and Jakaya Kikwete and is also introduced to Mrs. Bush.
Indeed, much has improved in the areas of health and educational development in Tanzania and Africa in general, but there is still much to do. Whether due to childhood marriage or lack of financial ability, 83% of girls are still not graduating on to secondary school in a country with a population of 45 million. As Africa boasts the youngest population of any continent, investment in youth services is critical if we are to see the true success of investment in business and infrastructure.
In recognition of the timing of the simultaneous visits of the U.S. presidents, Tanzania's President Jakaya Kikwete responded to a question regarding his excitement in having the presidents visit Tanzania, "We have the President and former President in Tanzania at the same time. It's a blessing to this country."