Click to view this email in a browser

One More Sunday of Love Without Pain
Join Us! - Only $15 Drop-In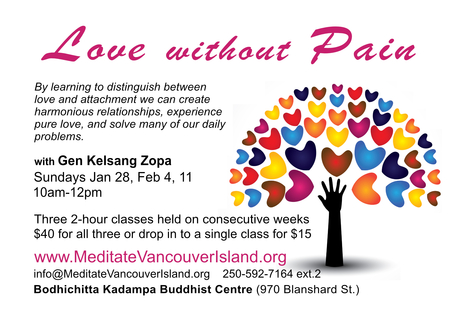 Drop in and Join us this Sunday, Feb 11 at 10am
Everyone Welcome!
---
Sunday, February 25th. Half-Day Course on the profound practice of Taking and Giving.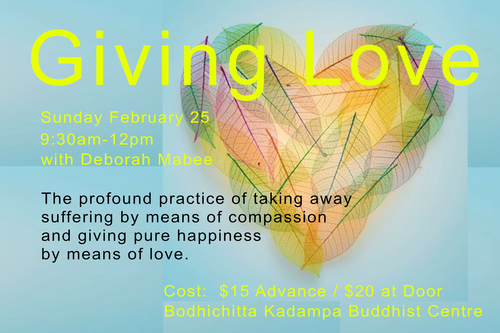 Everyone is Welcome!
---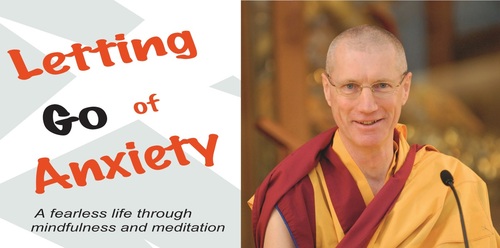 Gen-la Kelsang Khyenrab will give a public talk on Letting Go of Anxiety at the Victoria Conference Centre on Tuesday, March 6th at 7pm. This is a very special opportunity to receive teachings on a timely topic from an internationally renowned meditation teacher and Buddhist monk. Online Advance Tickets discounted to $15 are available now through February 27th.
Special Opportunity - Tell all your Friends
Everyone is Welcome!
---
Upcoming Chanted Prayers @ Our Centre
Everyone Welcome. No Charge.
Wishfulfilling Jewel (without tsog)- Every Wednesday @ 5:30pm
Heart Jewel - Every Thursday @ 4:30pm
Buddha Tara Practice "Liberation from Sorrow" - Thursday, Feb 8 @ 9:45am
Offering to the Spiritual Guide

- Saturday, Feb 10 @

9:30am
Powa Prayers for the Recently Deceased - Sunday, Feb 18 @9:30am
Prayers for World Peace - Sunday, Feb 18 @ 11:00am
"Chanting is very helpful for us. It helps us develop a happy mind of appreciation and faith."
---
Don't miss this opportunity for being part of the larger community and receiving the empowerment of Vajrapani, which will help you dispel any obstacles to your practice.
March 2-4 in Vancouver
---
---
If you no longer wish to receive these emails, please reply to this message with "Unsubscribe" in the subject line or simply click on the following link: Unsubscribe
---
Bodhichitta Kadampa Buddhist Centre
970 Blanshard Street
Victoria, British Columbia V8W 2H3
CA


Read the VerticalResponse marketing policy.