It's that time of year again! Slow Food in the Tetons'
6th Annual
Locavore's
Night
Out
is on Friday, April 20th, 5-9pm
in Victor, ID at the Wildwood Room
.
And we want you there! (so does Rose Brown Cow)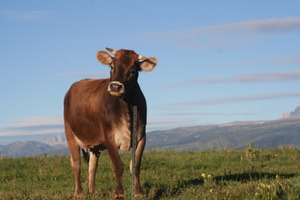 WHAT'S NEW: This year's event is already shaping up to be something amazing, and a little different. Idaho's Bounty, an online coop serving the Wood River Valley, Magic Valley, Treasure Valley and Stanley Basin areas is attending and looking to bring your product into their catalog. I have been working with Idaho's Bounty for over a year now trying to link the eastern corridor of the Snake River Plain to the Idaho's Bounty route. And it looks like we're finally there!

There will be a networking hour from 4-5pm before

Locavore's

opens to the public to discuss 89ranges/Idaho's Bounty to ensure everyone has some face time with the

out

of area distributing and marketing bodies which also include Idaho Preferred, Quality Foods, Muir Copper Canyon, Sun Valley Harvest Festival and regional retailers from Montana, Idaho, Wyoming and Utah. In order to coordinate a networking hour for producers, chefs and wholesale accounts, we will need everyone set up by 3:45pm on Friday. We will also be tenting the outdoor space to accommodate more vendors and dining tables for attendees.
ABOUT THE EVENT: We average 400-500 attendees for this event. This regional producer trade show features free tastings to attendees, local ingredient dishes and beverages available for purchase as well as a phenomenal raffle which has included everything from to Grand Targhee passes to CSA shares to regional product. Vendors may sell product at the event. The idea is to create face to face time for producers and consumers, and networking time for producers with retailers and restaurants for the summer season. All benefits raised go to support Slow Food in the Tetons programming. The event is free to attend with a suggested donation of $5.
BOOTH INFO: A vendor booth is $35 and you can register online at:http://tetonslowfood.givezooks.com/events/locavore-s-

night

-

out

. If you would prefer to pay by check, please email me. If your business would like to be a sponsor for this year's event, please contact me to discuss our different opportunities, including banner placement, press releases, social media outreach and promotion through our national Slow Food network. We will provide all booths with one 6 foot table and a table cloth. Use of the Wildwood Room kitchen, grill and storage area is available. Please contact me with these special requests to make arrangements. Registering for a booth will give you a $10 credit towards your registration in Slow Food in the Teton's First Annual Regional Food Guide.
ABOUT US: Slow Food in the Tetons is the only Slow Food Convivium in the Northern Rockies and we work with producers through

out

the Greater Yellowstone Watershed and Snake River Plain.

Slow Food in the Tetons

seeks to create dramatic and lasting change in our local food system. Through education, events, and initiatives we reconnect with the people, traditions, plants, animals, fertile soils and waters that produce our food. We seek to inspire a transformation in food policy, production practices, and market forces so that they ensure equity, sustainability, and pleasure in the food we eat.
PLEASE SHARE:If you know of a producer or value added producer who's trying to break into the Greater Yellowstone/Snake River Plain marketplace, please share this great opportunity with them. And likewise if you're a chef or wholesale account looking to broaden your regional product selection, please plan on attending this wonderful evening. Anything food and food production related is invited, including regional cookbooks, warm houses and food related art.
Please do not hesitate to contact me with your questions, victoria.e.plasse (at) gmail.com. I am looking forward to another successful evening and to working with all of you. Let's get your growing season off to a running start!
Cheers,
Tibby Plasse