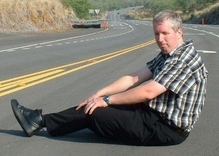 This month we are honored to have Aaron Stene as our guest columnist. Stene has lived on the Big Island his entire life. He has a strong interest in transportation infrastructure, especially roads and highways. That interest blossomed when he started following the Saddle Road project back in 2004. Nowadays he follows all new roads and highways on Hawaii Island.

In this month's feature article (click here) Stene recalls the various phases of the project that transformed Saddle Road from a rural road to a modern highway. We have also included a technical brief (click here) with links to articles about the various phases of development.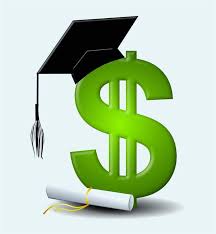 We are pleased to announce our first annual Hawaii Asphalt Paving Industry Scholarship. The goal of this scholarship is to assist college students pursing a degree in civil engineering, construction management, construction engineering, and other degrees related to the design and construction infrastructure improvements.

Award: 2 - $1,000 scholarships to 4-year university students
2 - $500 scholarships to community college students

Click here for additional information and application form. Applications are due by October 15, 2018.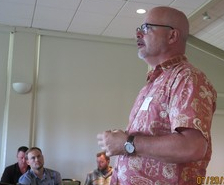 At our July lunch meeting, members and guests were provided an overview of FHWA Hawaii Division by its administrator, Ralph Rizzo. Rizzo described his organization and shared information about two programs: 1) Every Day Counts (EDC) and 2) State Transportation Innovation Council (STIC), which recently got started in Hawaii. Click here for photos and additional information about the FHWA Hawaii Division and the two programs.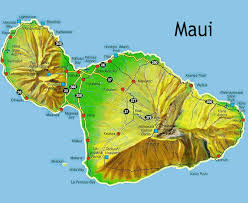 On the subject on lunch meetings, we are planning for a HAPI lunch meeting on Maui. The meeting will be opened to members and guests. It is tentatively scheduled for either October 12th or 19th. Additional details are forthcoming in our next newsletter and on HAPI's social media forums.

UPCOMING LOCAL TRAINING OPPORTUNITIES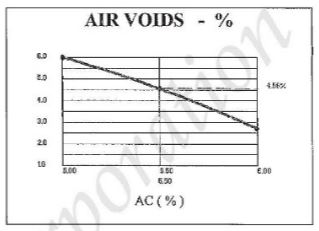 The Understanding a Job Mix Formula (JMF) Submittal workshop will be conducted on September 20th at the HAPI office. This 2-hour workshop will discuss: 1) basics of asphalt pavement mixes 2) production of asphalt pavements, and 3) how the JMF submittal relates to the project specification. Click here for additional information and to register.

Save the Dates!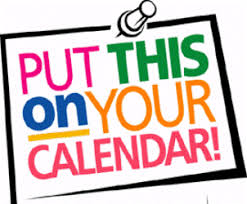 Mark your calendar for our upcoming training workshops. For a description of the workshops, click here to visit our HAPI Training Program website. Times and locations of the various workshops will be provided in future newsletters.
​The Use of Geosynthetics for Asphalt Pavements workshop returns to Oahu on October 9th and to Hilo on October 11th.
The inaugural session of the Airport Pavement Maintenance workshop will be held on November 2nd.
Your opportunity to take the AASHTO TSP•2 Preservation Treatment Certification Exams will be on November 14th.
Closing out the year will be our PaveXpress/PaveInstruct workshop on November 15th.
The Daniel K. Inouye Highway (DKI), also known as Saddle Road (Route 200), is the most direct cross-island route between east and west Hawaii Island. People use the road for business travel, transport of goods and services, tourism, recreation, shopping and daily commuting. It also provides the only paved access to the Department of Army's Pohakuloa Training Area (PTA). Taking this route saves 30 to 45 minutes in drive time as compared to any other alternative cross-island routes.





The genesis of the improvements to the Saddle Road project began in 1987. The US Army started to explore the possibility of improving access to the PTA. In 1989, 13 miles of the existing roadway between mile marker (MM) 28 and MM 41 was certified as critical to the national defense under the Defense Access Road Program. This certification, along with Senator Daniel Inouye's strong support and vision, allowed the planning of these improvements to proceed over the next decade. These efforts culminated in the release of the Saddle Road Improvements Final Environmental Impact Statement (FEIS) in 1999.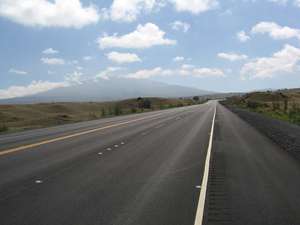 Once a rural road, Saddle Road has been transformed into a modern highway through a series of multiple projects. Portions of the road were realigned, which required separate phases for grading and later paving. Other segments were reconstructed. By the end of the project, the entire road had new pavement.

In February 2004, the first phase of the Saddle Road improvements started with grading work to realign the road between MM 28 and MM 35. Completed in May 2007, this was the culmination of earthwork construction largely done by Kiewit Pacific Company (now Kiewit Infrastructure West Company).

Goodfellow Brothers Inc. (GBI) was awarded in May 2006 the $59.1 million contract for work between MM 19 and MM 35 in May 2006. This work included roadway reconstruction between MM 19 and MM 28 and paving the previously graded MM 28 to MM 35 segment. The reconstructed portion of this phase was dedicated in December 2008. Jas. W. Glover Ltd. (JWG) supplied the hot mix asphalt from a portable batch plant at PTA using aggregate material produced from a quarry on the military base, and Grace Pacific LLC (GP) did the paving.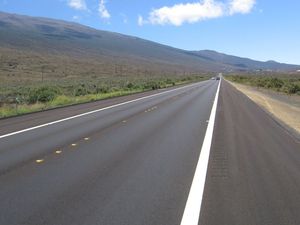 The next phase of the Saddle Road project entailed realigning the existing highway between MM 35 and 41. Earthwork on this new segment of highway began in 2005 by Kiewit Pacific Company between MM 37 and MM 40. Goodfellow Brothers was awarded the follow-up contract in October 2007 to complete the earthwork for this segment.

GBI was awarded the next phase to pave the MM 35 to MM 41 segment on October 2008 ($34.6 million dollars). It was opened to the public less than a year later in August 2009. The paving subcontractors were the same as previous paving phase. JWG again produced the hot mix asphalt from a portable batch plant at PTA and GP did the paving work.

The Federal Highway Administration (FHWA) awarded this phase of work with an honorable mention for excellence in highway design in the rural highway division in 2010. The award recognized the excellent efforts of the contractor, Central Federal Lands Highway Division (CFLHD), and the project's design consultant, Okahara & Associates Inc.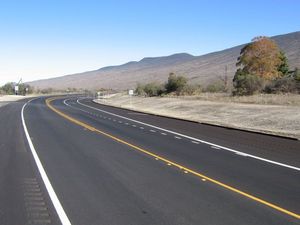 In late 2009, Road and Highway Builders, LLC (RHB) was awarded the next phase to reconstruct and repave Saddle Road between MM 11 and MM 19 ($32.9 million). It took RHB roughly two years to improve this segment of highway, which was dedicated for public use in October 2011. RHB did the pavement reconstruction, hot mix asphalt production, and paving in-house. They staged a portable asphalt batch plant at PTA to generate asphalt like the previous phases.

The groundbreaking for earthwork on the final west side segment between MM 41 and MM 51 occurred the same day the previous segment (between MM 11 and MM 19) was dedicated. Kirkland Construction (KC) was awarded the work in August 2011 and was able to excavate 1.2 million cubic yards of material using specialized excavation equipment shipped in from the mainland. As a result, they were able to wrap up the 9.6-mile earthwork phase six months ahead of schedule in November 2012.

GBI was awarded the following phase for paving the newly graded segment on September 2012 ($30.8 million). The paving portion of this project, which was done solely by GP, only took nine months to complete. Part of the cost of this section of new highway was defrayed by a $13.5 million-dollar FHWA TIGER grant that was awarded in 2011. As a result of the expedited work by the various contractors, and subs, this new segment of highway between MM 41 and MM 51 was opened to the public on September 7, 2013. GBI, KC, and the various subcontractors were able to complete this new section of highway in less than two years.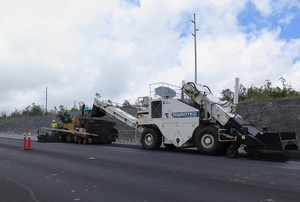 The final phase of work between MM 6 and MM 12 (aka Saddle Road East Side), was awarded to RHB in January 2016. The project involved the construction of a new realigned 6-mile section of Saddle Road. The unpredictable weather was one of three challenges RHB faced, along with Rapid Ohia Death, and saturated volcanic ash sub grade issues. The frequent rainy weather impacted paving operations, which RHB did in-house, again, but not enough to significantly delay the completion of the project. The CFLHD, and the Hawaii Department of Transportation (HDOT), held a dedication ceremony that opened the new highway to the public on October 10, 2017.

"The completion of the Saddle Road East Side project provides a safe, efficient, cross-island route with access across Hawaii between Mauna Kea and Mauna Loa," said FHWA's Central Federal Lands project manager Mike Will. "In addition, the use of the Pohakuloa Training Area quarry resources is estimated to have saved approximately $20 million of state and federal funding."

The HDOT and the CFLHD are working on finalizing a FEIS for the final west side Saddle Road segment between Mamalahoa Highway and Queen Kaahumanu Highway. The Saddle Road Extension is estimated to cost between $60 and $80 million dollars. This proposed 10.5-mile highway extension remains unfunded at this time.