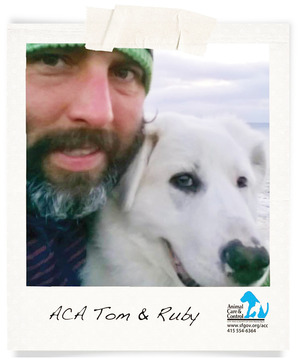 ---
Selfie by Animal Care Attendant, Tom, who adopted Snowball (now Ruby). One question...Is she surfing yet?
Dear Friends,

March was a busy month for adoptions and rescue operations at ACC. St. Patrick's Day was a special holiday for the 12 Chihuahuas that were flown from SFO to NYC on Virgin America's 6th Operation Chihuahua. A shortage of small dogs in New York City has created a demand that ACC and partner Virgin America are happy to meet. ACC Volunteers and staff escorted the lucky dogs on the flight and were given the green carpet treatment all the way to NYC. Wearing "Lick Me, I'm Irish" t-shirts, the pups were met by ASPCA reps and are now in new homes.
Spring is here and dry and warm as it's been the shelter is anticipating kitten season, the time of year when cats breed and unwanted or orphaned litters are brought to the shelter. ACC always needs fosters to help care for underage kittens. Foster volunteers attend regular volunteer orientation and then specialized kitten training. Sign up you'll be on your way to bottle feeding and sleepless nights in no time!
Spring is also a great time to welcome a new family member (nonhuman) into your home. Kids have a break from school, the weather is perfect for walks in the park, or lounging with a cat (or a bunny) on your lap. Several adoption events are happening in SF this month. Grateful Dogs Rescue hosts an adoption day Saturday April 4 in West Portal, and the always entertaining Dogfest (8th season!) happens April 18 in Duboce Park (see events).
Come and check out ACC's wonderful animals too, especially the All Star Dogs—adopt one of these dogs and you'll receive free training class, thanks to a generous donation by our community partner, Pawsitive Tails. Woof!

Thank you for all you do for animals.

Jane Tobin
Lisa Stanziano
Co-Presidents, Friends of SFACC
---
Shelter Hero—
Shari O'Neil, DVM, MPH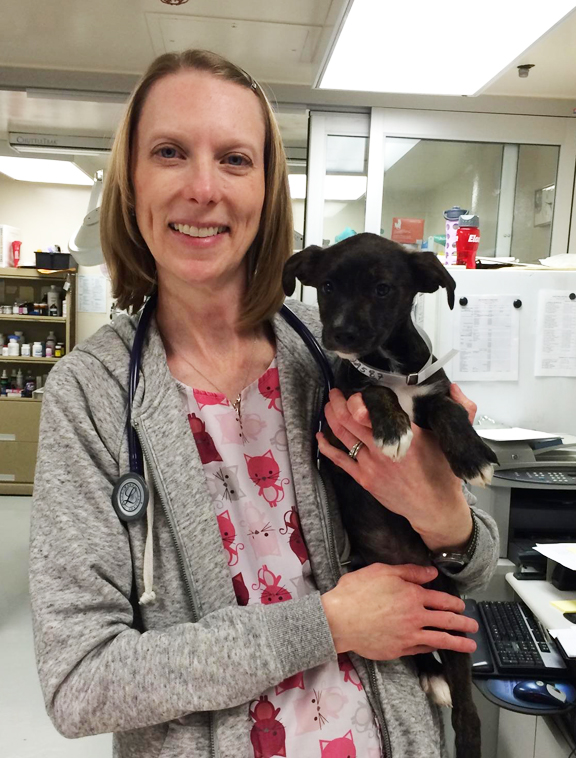 by Lisa Stanziano
Where were you born and raised, and how did you end up in SF at ACC?
I was born and raised in Lexington, Kentucky. I attended the University of Kentucky for my undergraduate studies, and graduated from Auburn University's College of Veterinary Medicine in 1999. I practiced small animal medicine in a private practice setting in Atlanta, GA and Colorado before moving to San Francisco in 2002 when my husband was accepted to the University of San Francisco's School of Law. While I continued as a private practitioner in the City, I earned a Master of Public Health degree from the University of Iowa and my board certification in Preventive Medicine in 2011. My master's practicum project involved disaster preparedness for the SF veterinary community, in which I worked with ACC staff and other stakeholders to educate other vets in private practice on the City animal disaster plans. During this time I also participated in the Disaster Animal Response Team (DART) volunteer training program administered by ACC and the Disaster Preparedness Coalition for Animals representatives from the SFVMA, PAWS, VetSOS, SF/SPCA, and (formerly) Pets Unlimited. During my time as a Commissioner on the Animal Care and Welfare Commission, we often discussed the need to support ACC given the many roles and responsibilities of the organization as the City's open door municipal shelter. Although shelter medicine was not something I had considered in my early career, joining the staff at ACC seems the natural transition to moving toward my interests in population medicine, public health, and animal disaster planning.
What do you do at ACC?
As one of the three vet staff at ACC, I am responsible for the medical care and treatment of the animals at the shelter. This includes emergency care for animals brought in by the ACOs, treatment of sick or injured animals in the shelter, humane euthanasia when medically necessary, and pre-adoption exams for potentially available animals. I support the ACOs in cases of abuse or neglect. I also field questions from the public, volunteers and fosters.
What do you like most about your job?
I have only worked at ACC since January as a shelter vet, but have worked with some of the ACC staff through DART training prior to this. Everyone has been incredibly warm and welcoming (and patient) as I'm working toward getting settled in to my new roles and responsibilities. I am amazed everyday by the dedication and compassion that I see from the administration, staff and volunteers. I am most impressed with my colleagues in the vet department who have been managing all of the medical needs of the shelter between the two of them.
What do you do in your off hours?
When I'm not working at ACC or participating in organized veterinary medicine, I enjoy spending time with my family and young daughter (and our Border Terrier "Peggy"). Keeping up with a toddler and being a preschool room parent keeps me pretty busy but I aspire to get back to tap and ballet classes at some point!
Have any experiences/cases made an impression on you at ACC?
I only have a few weeks of experience at ACC but thus far what's made an impression on me is the wide variety of species that come through the door. In that short period of time, I've seen pigeons, chickens, hummingbirds, bearded dragons, skunks, opossums, raccoons, a coyote and a duck- not to mention all of the bunnies and rats that are up for adoption. I never imagined I'd be taking x-rays of a skunk- or that someone would be willing to foster him!
Do you have any hopes, dreams, or ideas for ACC?
I have many hopes and dreams for ACC! I hope that with the transition in leadership and the addition of new staff we can continue to improve on the services we provide for all of the animals and wildlife in SF. I hope to see an increased public awareness and appreciation for what ACC does for the community by increasing the department's visibility and outreach opportunities (I've tried to help with this by inviting Sgt. Hicks from the VDD Unit and Capt. BonGiovanni to the SF Veterinary Medical Association meetings to speak about their jobs and how the private practitioners can support their efforts). I hope that the DART program will be revitalized. I also have a dream that we would have the means to provide the same type of care to our shelter animals that they would get in private practice—after all they deserve nothing less and they all deserve a second chance.
Guinea Pigs Rescued in Dolores Park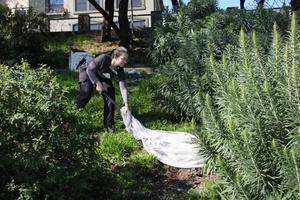 Officer Frog Gilmore manipulates a net.
A family of guinea pigs—a mother and three babies—who were undoubtedly pets were found in the park and rescued by a team of Animal Control Officers in Feb. As reported on SFGate by reporter Amy Graff, "The family was first spotted by the Dolores Park lead gardener, who prefers to go by just Michelle, on Wednesday morning. People frequently dump unwanted pets in the park and in the past Michelle has called Animal Control to pick up chickens, rabbits and kittens. She assumes the guinea pigs were abandoned by a negligent owner."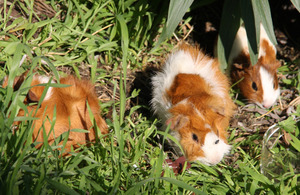 While a herd of guinea pigs living in Dolores Park might sound like a fun idea, the animals are completely vulnerable, with no water or food source and in danger of being attacked by predators—dogs or possibly raccoons. The rodents also multiply quickly and like to dig underground burrows that cause soil erosion. Lucky for them, the guinea pigs were brought to ACC and made available for adoption. Hooray for the ACOs!!
Animal Control Officer Appreciation Week is April 12-18.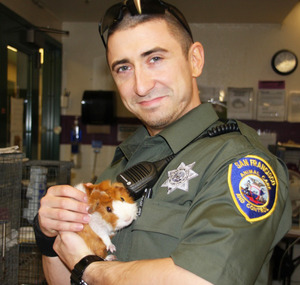 Officer Joe Majeski holds one of the pigs.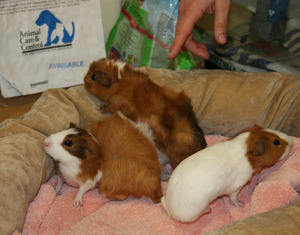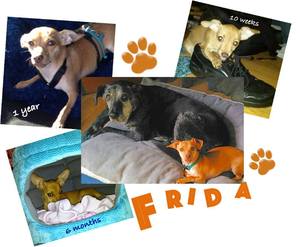 FRIDA - A LOVE STORY
by Laurel Rose
I adopted Frida in March of 2014 when she was 2 months old. I did not plan on getting a puppy but when I saw Frida, my heart melted. The ACC staff understandably had some concerns about my other dog, a 13-year-old Lab mix and asked me to bring him in the following day for the behaviorist to observe around the puppy. Once she saw how mild mannered my other dog was she gave her approval. Before we left, the shelter rep suggested the name Frida, and I loved it!
This was my first experience raising a puppy and having a small breed. The first few months were a lot of hard work trying to adjust to such an itty bitty pup and keeping her from upsetting my very calm & mellow senior dog. After three months I felt like we still had not bonded because when I'd call her she still would not respond. It really worried me that she had no recall so I decided to hire and work with a private trainer. It was the best decision I've ever made and worth every penny!
Frida is still a rambunctious puppy but she is also very well behaved and only chews up an occasional shoe or roll of TP when a forgetful human leaves it out for her. She has rock solid recall thanks to her awesome trainer Dianne Morrey and I feel very closely bonded with her. My older dog loves to cuddle with Frida. She makes me laugh and smile every single day, and I cannot imagine life without her!
Dog of the Month: Poppy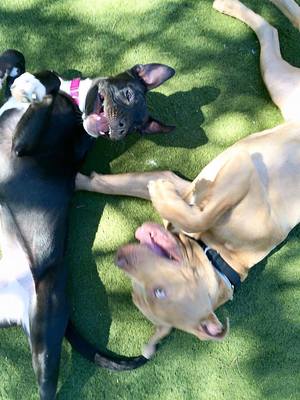 Poppy (left) playing with her buddy Bo (who is now available at SFSPCA)
On January 14th ACC dispatch received a call from a concerned citizen who noticed a bleeding puppy tethered to a scooter in the SF SOMA neighborhood. When officers arrived they found the man who had reported the puppy crying because he was so upset about the situation. The puppy was between parked cars partway down a filthy alleyway, tethered to a scooter and sitting in a pool of her own blood. She was lethargic but as the officers approached she stood up and started wagging her entire body. She curled into an officer's arms as she was picked up and placed into an ACC van.
The puppy was taken to the emergency vet where she was given a poor prognosis. Parvo Virus was strongly suspected though she tested negative upon intake. She was weak, with little interest in food, and had ongoing vomiting and diarrhea. She received intensive care and was retested. A second test also came back negative though her condition was worsening; then suddenly, she bounced back! Poppy is a total sweetheart and full of joy. She loves other dogs and snuggling after a walk. Like all puppies, Poppy will need to attend puppy classes, get socialized to people and dogs, and have a ton of love in her young life. Come and meet Poppy (A366209) you'll understand why she's a staff favorite.
Watch her VIDEO and see Poppy play in the park and walk in the neighborhood!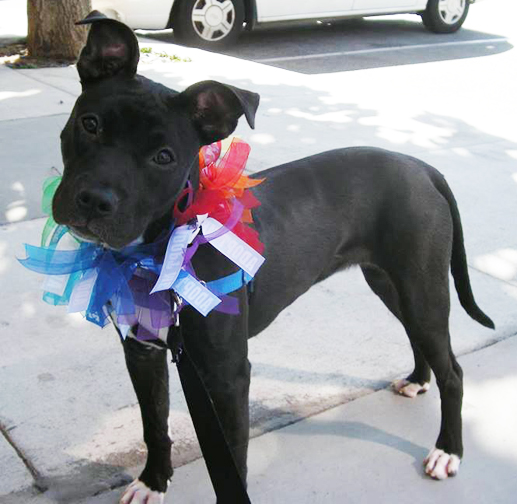 Dogs like Poppy can have significant medical bills. If you can provide assistance, please consider donating to the Friends of Animal Care & Control's Emergency Medical Fund at
www.helpacc.org
.
More Happy Tales...
Recent Adoptions and Updates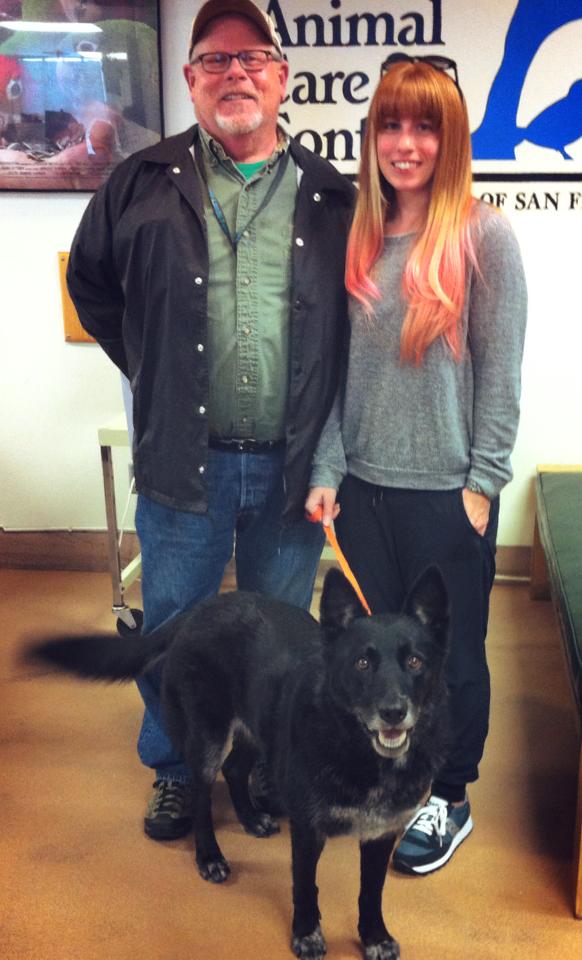 Buddy goes home!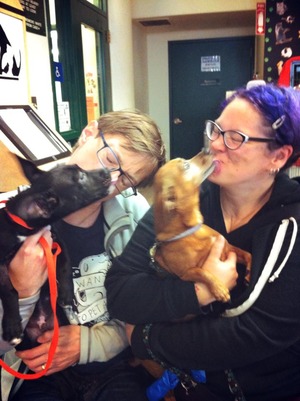 Mason (L) with his new bro Taco.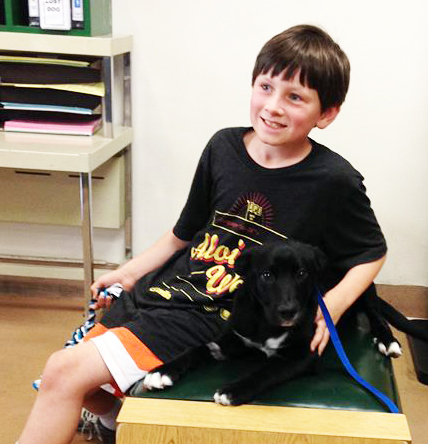 Badger with his new buddy.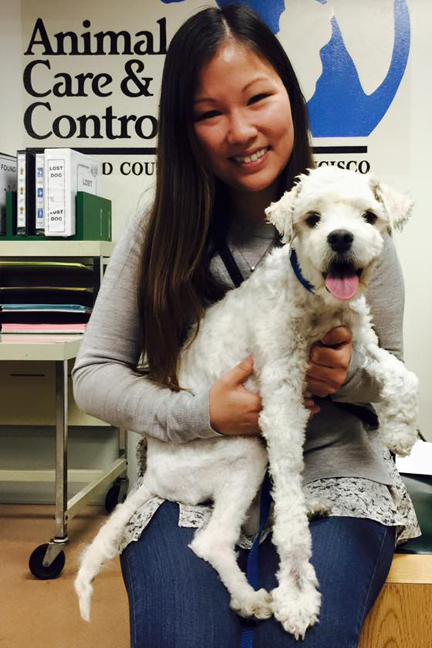 Chaucer with his new mom.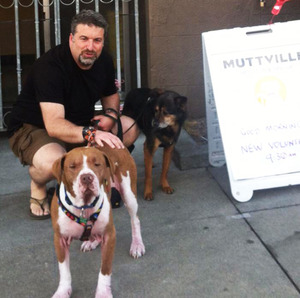 Thank you Muttville for finding Charleston a great new home!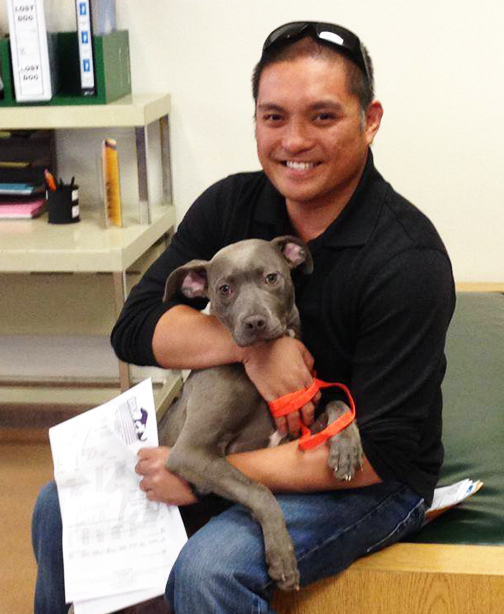 Faith is a lucky pup!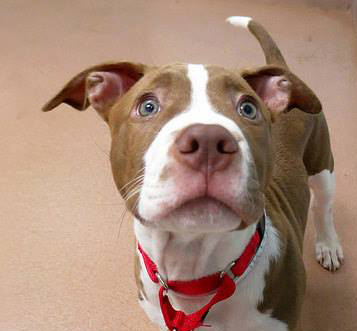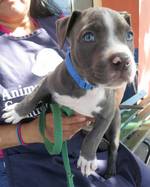 Bam Bam and Pork Bun were adopted!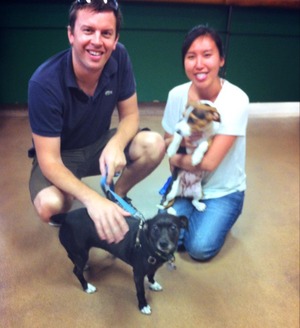 Petunia was adopted by the family who adopted Olive from ACC!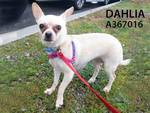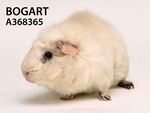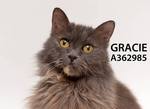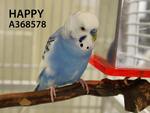 Dahlia, Bogart, Gracie, and Happy: all adopted!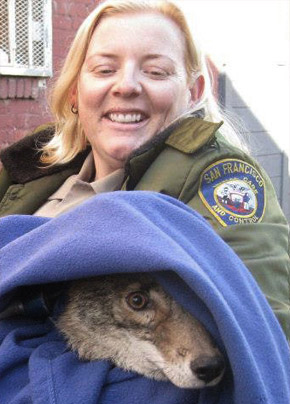 Sgt. Ellie Sadler holds an adolescent coyote that she rescued from a carport in the Mission District.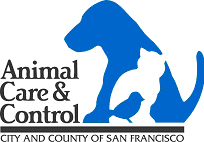 News/Events
& Ongoing Outreach
---
Upcoming Events
---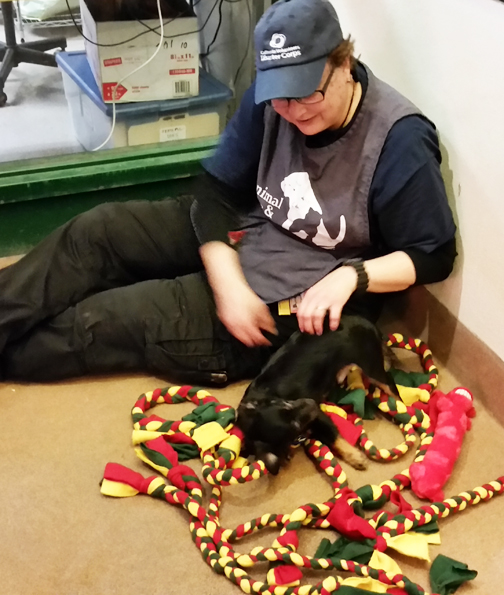 New Volunteer Orientations
Next session:
Saturday, April 4
Pre-registration is required. Please call (415) 554-9414 to sign up. All sessions are 10:00 am-noon.
2015 New Volunteer Orientation Dates:
April 4 (Sat.), 18 (Sat.)


May 2

(Sat.), 16 (Sat.)
The animals (and staff!) LOVE all of our volunteers. You can walk and train dogs, socialize cats, and pet bunnies and guinea pigs to enrich their lives at the shelter and increase their chances for adoption. Learn how to foster a kitten or puppy! Or help out at outreach events to spread the word about ACC. Volunteers must be at least 18 years old & commit to volunteering 2 hours a week for a minimum of 6 months. The first step to becoming an SFACC shelter volunteer is to attend a New Volunteer Orientation. Call (415) 554-9414 to register.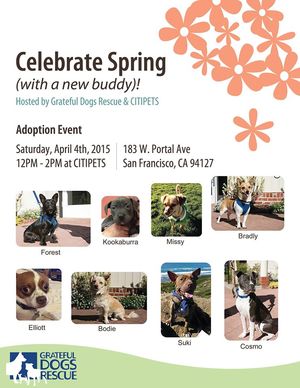 GO NUTS! FREE Pet Fixes Every Month




@ ACC Every 3rd Thursday

1200 15th St, SF, 94103.
Next Spay/Neuter Clinic:

April 16, 8:00 am
Pets owned by SF residents are eligible. The mobile clinic is provided by Peninsula Humane Society. Accepting pets from 8-9 am on a first come first served basis. One pet per family; dogs and cats only; no dogs over 80 lbs and no pets over 8 yrs old. For details, including pre-surgery instructions, call (650) 340-7022 x387.

VetSOS Project Homeless Connect
Next clinic is Friday, April 17, 2015
Bayview - Warm Water Cove Park, 24th and Illinois. Accessible by MUNI T Line (exit at 23rd St.). Services begin at 10:00am
.
VetSOS
is a volunteer-based project providing free veterinary care for homeless San Franciscans. Clients/patients are seen on a first come-first served basis. For info. about clinic dates and locations, please call (415) 355-2248
.

DOGFEST
ACC will participate in the 8th Annual Dogfest held at Duboce Park on Saturday, April 18, from 11am-4pm. Admission is FREE. Please come visit our SFACC exhibit in the Rescue Zone to meet staff, volunteers, and adoptable dogs from ACC. DogFest is a celebration of dogs and kids benefitting SFUSD McKinley Elementary. The festival offers something for dogs, kids, and parents of both breeds.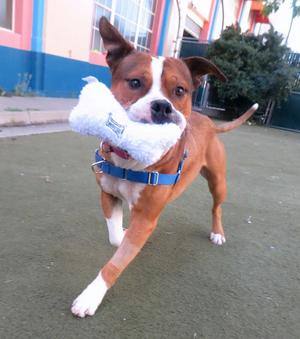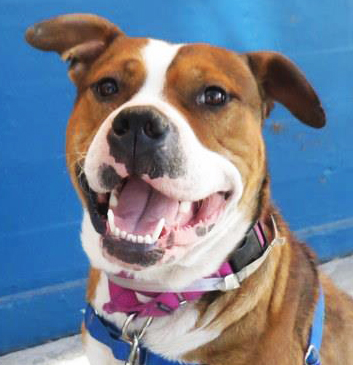 Buddy
(A365678) is a sweet boxer-mix boy who fancies himself as a lap dog—and who would tell him otherwise? He is a happy, friendly, and handsome dog that likes to meet new people and is very interested in the world around him. Buddy is looking forward to class to bond with his new people. Is that you?
Check out this
video of Buddy
rolling and playing in the park.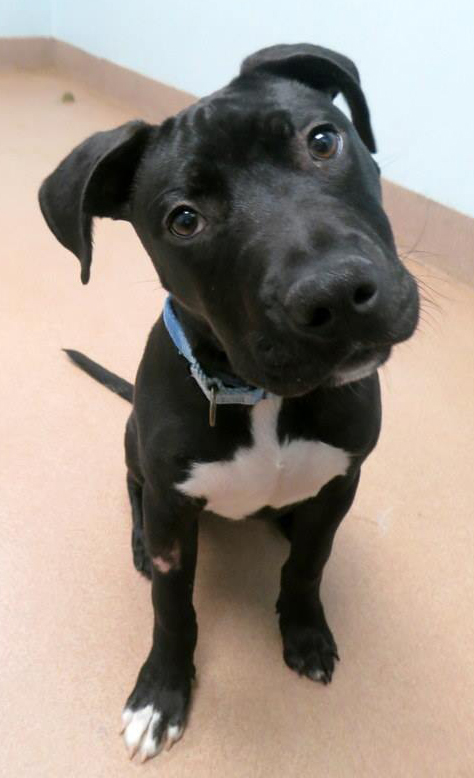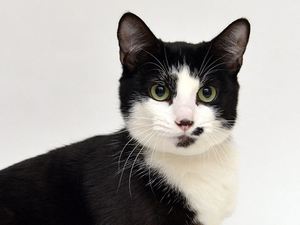 Potter
(A
367309) (L) and
Greta
(
A368970
- also known as "Cindy Clawford" with her cute beauty spot)

are

exceptionally handsome and lovely, and available for adoption at ACC.
Low-cost Rabies and Free* Microchips
for Dogs and Cats at ACC
Next session: Sunday, June 14, 2015 10am-1pm*
Microchip ID and collar tags are the most effective ways to identify your dog or cat if they are ever lost. All clinics (except PPDay) are held at SFACC, 1200 15th Street @ Harrison. *All clinic services are administered on a first come, first served basis.
2015 clinic dates:
Sunday, June 14, 2015
Sunday, September 13, 2015
Sunday, October 25, 2015 (at Pet Pride Day, Sharon Meadow, Golden Gate Park, 11am-3pm
Sunday, December 13, 2015
*Microchips are FREE for San Francisco residents with licensed dogs. Dog licenses are sold on site at the shelter (
fees vary
). Microchips are $20 for those outside San Francisco. Rabies vaccinations are $6 and are required for the license. Sponsored by Friends of SFACC & SFVMA.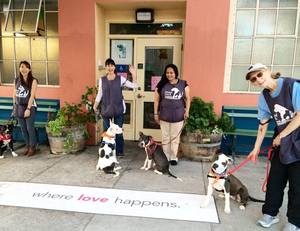 Watch the group walk video!


Classes for Dog Volunteers


Note: These classes are for current volunteers who have been through basic training.
April classes TBD. Dog volunteers, look for an email from the Behavior & Training staff.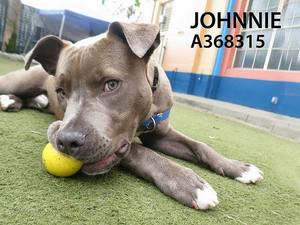 Johnnie loves to romp and fetch toys (tennis balls are the best!).
This sweet, sensitive soul is looking for a gentle, loving and experienced adopter to build up his confidence and share lots of fun play time and walks around town. Experience with shy dogs is a plus! Johnnie already knows "sit" and can't wait to go to reward based training classes to learn more. Johnnie's Adoption includes FREE Training Classes thanks to a generous donation by our partners at PAWSITIVE TAILS.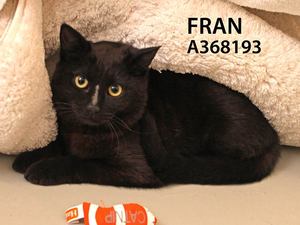 Fran
(
A368193) Sweet Fran is a beautiful little teenage kitten that is ready for a home full of love. Fran is a bit of a shy girl but is sweet and gentle, and ready for her forever home. Fran has a lovely round face and luscious short fur. She also has an odd scar on the bridge of her nose which gives her a look all her own. Come meet this sweet dainty girl and help her blossom into a secure and loving cat.
See more of our fabulous felines on the ACC website
!
ACC Outreach at Pet Food Express
on Market @Dolores St. in SF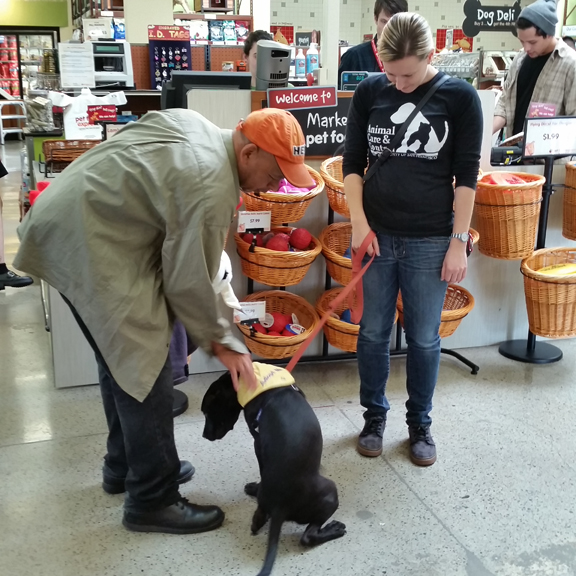 Small Animal Awareness 11am-2pm. Share information about small animals (rabbits, guinea pigs, rats, hamsters, birds) the shelter often has for adoption. Note: We need more volunteers to continue this outreach. Please contact

Deb Campbell

if you're interested.

Meet ACC Available Dogs 1 pm-3 pm, every third Saturday near the Cat Adoption Center inside the store. (April 18 outreach cancelled due to Dogfest on the same day; back in May!)
***The Cat Adoption Center at the 1975 Market St. PFE store has CATS and RABBITS for adoption every day. Over 550 cats (!) and 28 rabbits have been adopted there since the satellite site opened in 2012.
(415) 431-4567.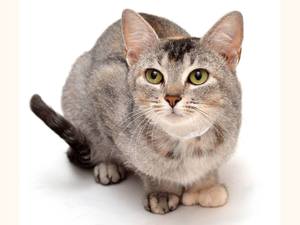 Amazingly gorgeous and loving Alice (
A366642
) has one of the most unusually colored coats of any cat (possibly part Abyssinian) and she also has extra toes (polydactyl) on her front feet! This loving little cat was recently in a foster home while she just raised two wonderful kittens. Alice is now ready for a home of her own. Come meet this petite and lovely girl!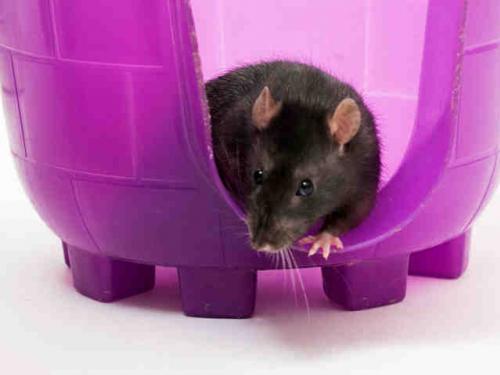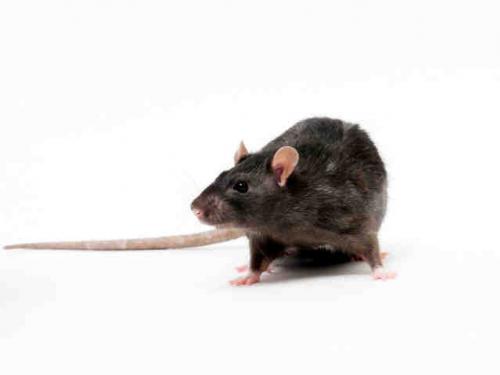 Dynamic Duo Ready for a Home
Eli (left, A

364476

) and Whit (
A364473)
are two nice and handsome dark brown rats with little white socks. They'd love to go home together with an adopter who will continue to spend lots of time with them and help them blossom. Come meet them and see if this is the rattie duo for you.
ACC has LOTS of cute friendly rats available for adoption.
They are smart, affectionate, and make great first-time pets.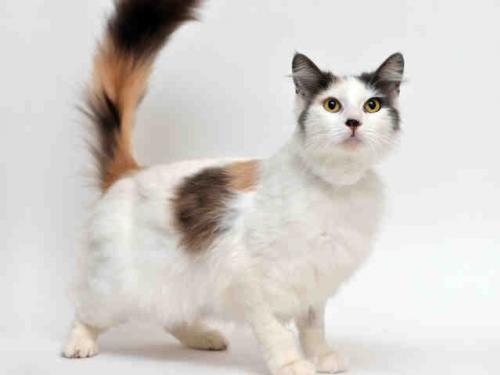 Miss Bigelow (A368167) Miss Bigelow is beautiful, loving cat. She was abandoned by her people when they moved away without her. Miss Bigelow made a bee-line for our laps while we were trying to take her photos and was super good natured when we put her back on the paper time and again. Come meet this sweet beauty and see if she is the one. She is now available for adoption at Pet Food Express Adoption Center, 1975 Market Street, San Francisco, CA 415-431-4567.
---
Maddie's® Pet Adoption Days
May 30 – 31, 2015
SAVE THE DATE

---
Community Partners Help ACC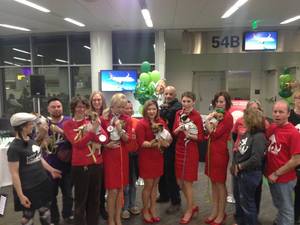 Operation Chihuahua Flies Again
Thanks again to Virgin America, ASPCA, NY, & all the crew (staff and volunteers) from ACC who helped make this possible! On March 17, 12 Chihuahuas walked the St. Paddy's Day green carpet onto a plane (with volunteer handlers) and were flown by Virgin America to NYC, where the ASPCA was ready to receive them. In NYC there's a shortage of small dogs and California has a surplus of Chihuahuas. This year was the 6th annual flight. Over 70 dogs have been flown from SFO to NCY since 2010. The event was broadcast on Good Morning America, as well as other news sites.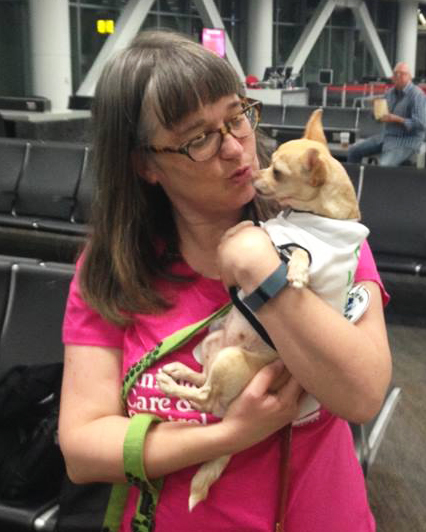 ACC Volunteer Kelly Winquist (L) and the Chihuahuas bound for NYC.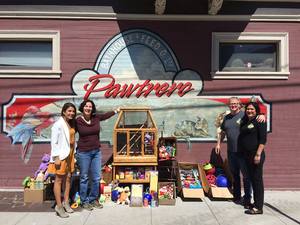 Pawtrero Toy & Treat Drive


Super Purrs and woofs go to Ray and Shireen at Pawtrero Hill BathHouse & Feed Co., one of ACC's generous community partners. During February and April, both Pawtrero stores (Potrero and South Beach neighborhoods) offered 20% off all purchases for SF/ACC donations. They collected towers of toys and treats for ACC's shelter animals. Thanks also to Friends board member and ACC adopter Patricia Aleman for coordinating this amazing toy drive with Pawtrero.
Community Cat Spay/Neuter program: Feral and free-roaming cat S/N, with traps available (free w/deposit).

Free spay/neuter for pit bulls and pit mixes owned by SF residents.

Find out more

.

For animals other than feral cats or pit bull mixes, SPCA offers free or deeply discounted S/N surgeries for low-income San Francisco residents. For info., visit the

Spay/Neuter Clinic page

or call the hospital at 415 554-3030.
---