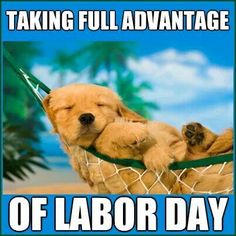 ACC is closed to the public on

Monday, Sept. 7

. HOWEVER, Volunteers are welcome that day and needed. Dog Volunteers,

8:30am to 6:00pm;

Cat & Small Animal Volunteers,

11:00am to 6:00pm

. Field-trip-trained dog volunteers can take available dogs on a field trip anytime between 8:30am and 5:45pm. All volunteers must exit the shelter by

6:00pm

.
---
Dear Friends,
As Labor Day approaches (volunteers welcome!) we want to fill you in on some big events coming up this month and in October, and share interesting tales and a few good rescue stories (a penguin?). One ACC volunteer spent his summer vacation helping dogs in a French shelter (tre bien!) and shares his experience. And speaking of sharing, please remember that we share the City with coyotes, including families protecting their young. It's coyote pupping season and that means coyotes will be venturing out of their dens with their pups. A few tips for avoiding conflicts if you encounter a coyote appear in this issue. Be especially careful if you walk your dog in the parks.
Congratulations are in order to two new Animal Care Officers: Officers Murphy and Kersten were recently sworn in, adding their talent and dedication to an incredible Field Service team (this month's profile honors Officer Martinez, sworn in last month).
As always, we share happy adoption photos and sneek peeks at some wonderful adoptable ACC animals.
Last but not least, its not too early to think about your dog's costume (and yours) for ACC's 22nd Annual Pet Pride Day held at Sharon Meadow in beautiful GGPark—mark your calendar for Sunday October 25th (see Events). How many Doggone Trumps will there be?

Enjoy the last gasp of summer. Thank you for all you do for the animals!
~Friends of SFACC
---
Shelter Hero—
JuanCarlos Martinez, ACO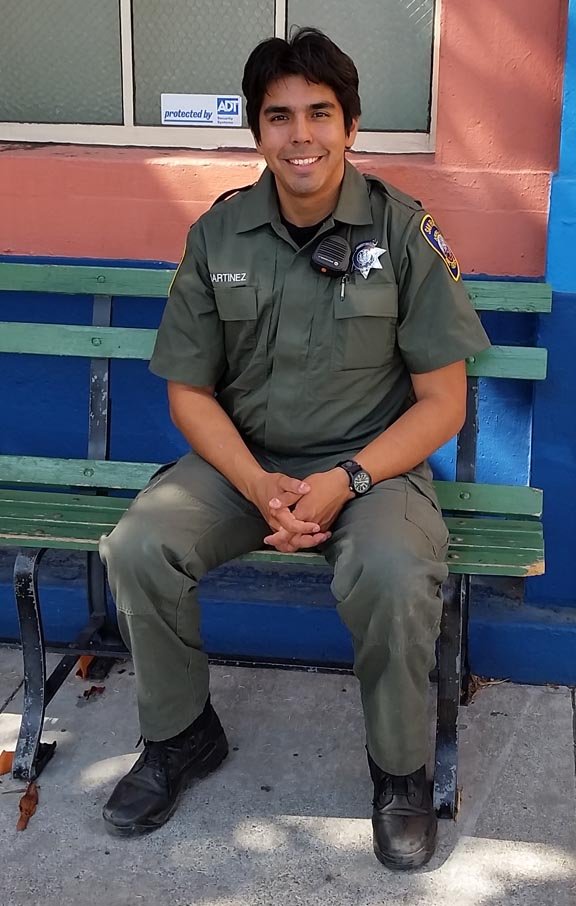 by Lisa Stanziano, ACC Volunteer
Officer Juan Carlos Martinez has become the ACO poster boy for ACC's Facebook page. Followers can see the good work of the ACOs in action in the frequent photos of all the ACOs including Officer Martinez as he rescues crows, seagulls, pigeons, (birds seem to be his specialty). He is undoubtedly a hero to the animals he's rescued in the City. Recently sworn in (July of this year) Juan Carlos is now a full-fledged Animal Care Officer and able to participate in trickier rescues that might lead to law enforcement (i.e. cruelty charges), which distinguishes officers in training from "official ACOs."
A Bay Area native, Juan Carlos was born in Walnut Creek and grew up in the East Bay with two dogs and two parrots (and humans). He attended U.C. Davis and worked for the Peninsula Humane Society for 2 years before coming to ACC. He absolutely loves working in San Francisco. "The spontaneity of the job is one of the best things about it. You never know what each day will bring. I thrive on that. And the problem-solving for each case is a fun challenge." He also enjoys educating the public about animal-welfare laws and questions about wildlife, which he says are frequent. The most common questions are what to do about raccoons and skunks around one's home. "Many people forget that though we're in an urban environment, it's completely normal for wildlife to live near homes, even if you can't see them—which is also why keeping pets up to date on vaccinations is so important."
When the ACOs are out on rescue missions, they frequently collaborate with other City departments-- police, the City jail, EMT, and especially the SF Fire Dept, which the call often for ladders and other specialized equipment ACC doesn't always have access to. Occasionally a private company, like PG&E becomes involved. For example, turning off power when animals (birds mostly) need rescuing from a high-voltage area. They respond quickly."
Officer Martinez shares his home with Phoebe, his Dachshund/terrier girl. Outside of work, he spends time with friends, family, and Phoebe. He also enjoys rock-climbing, golfing, singing/playing music, and an admitted guilty pleasure: puzzle/strategy board and video games. Downtime is needed to alleviate stress from dealing with some more difficult calls—like emotional owner surrenders, potentially dangerous rescues, aggressive animals, and rescuing/transporting sometimes clearly suffering animals. But ACO Martinez is also energized by the mission of the ACOs and looking forward to investigative work. "We give a voice to the animals." While stories of cruelty and neglect can be heart-breaking, he believes in the value of publicizing stories that "encourage people to be more aware of what's going on around them, and to be accountable and act responsibly. If they see things, report them to ACC (or the police). No tip is unimportant."
The Field Services (ACO dispatch) line is (415) 554-9400.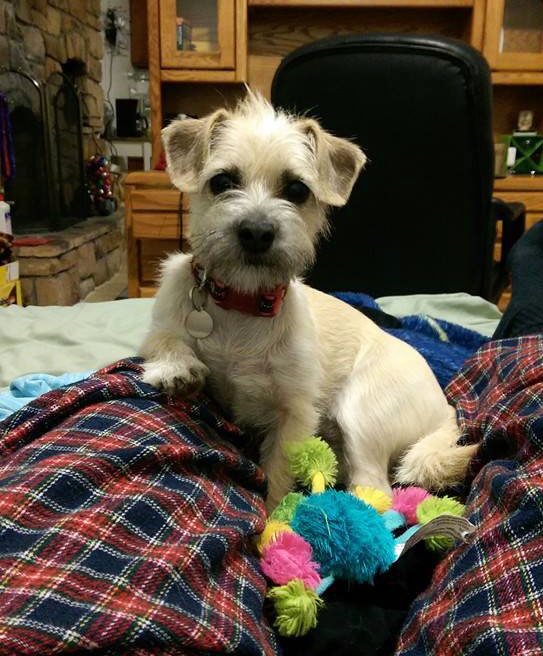 Phoebe relaxing at home with ACO Martinez.
Adopt a Classic American Dog at ACC


These wonderful dogs will give you exercise, fun, and unconditional love. What more would you want in a best pal? Note: Jason Lee is now available at All Fur Love.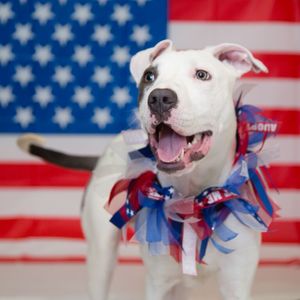 Rohan (A371703) has super start style and charm.
He
is a fun, sweet 9-month old who loves to romp and play, especially with other dogs. He has amazing eyes and is a friendly fellow who will love you unconditionally.

Mugsy (A375267)
Boxer/Pittie mix cutie Mugsy went on a field trip to Golden Gate Park with one of our excellent voluteers, where he enjoyed the new and exciting smells. What did he enjoy the most? The car ride!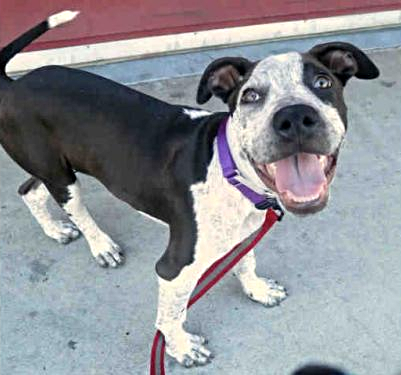 Adorable puppy boy Cassidy is friendly, active and full of fun! This darling bounces with joy when meeting new people and playing with toys. Cassidy is working on learning `sit` and can't wait to learn more at training classes. Check out this YouTube video of Cassidy!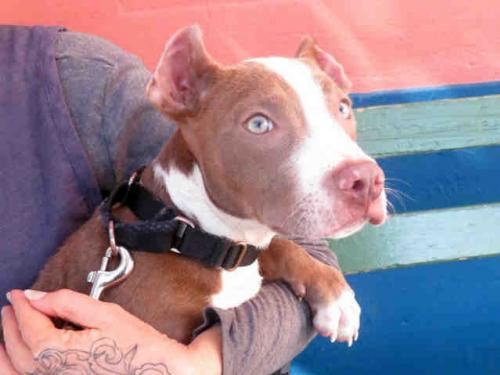 Little Murphy is a 4-month old sweet, smart and loving freckle-nosed pup! This adorable girl can't wait to go to puppy class, learn about the city and meet new dog and human friends by your side!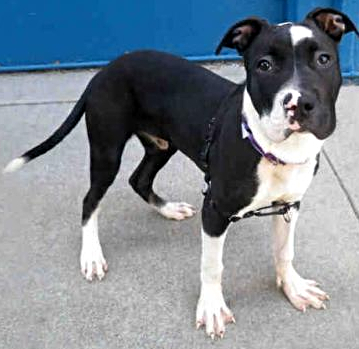 Onyx (A376203) is a wiggly, bouncy, playful bundle of youthful fun: he's a puppy delight! This ridiculously adorable sweetheart loves playtime and cuddles and is an excellent leaner. Onyx already knows `sit` and can't wait to learn more at reward based training classes.
ACC Dog Volunteer Goes to the Dogs—in France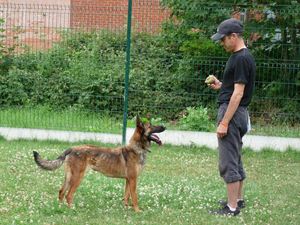 by Lisa Stanziano, ACC Volunteer
Sometimes I wonder what animal shelters are like in other countries. Recently at ACC, I ran into Brandon Fine, a dog volunteer who works with the Fetch dogs, and he told me he spent his summer vacation volunteering with dogs at a rural shelter in northern France. Brandon loves dogs and loves France, so why not combine the two? So in February he contacted the SPA (Societe Protectrice Des Animaux), sending letters to all 56 shelters in the network. One shelter responded—St. Omer, in a rural town on the Belgian border. Brandon packed a bag and off he went.
The small staff of about 10 takes care of 80 dogs and about 200 cats, plus 40 ferals! The ferals walk past the dog kennels, which instigates loud continuous barking. But ce'st la vie.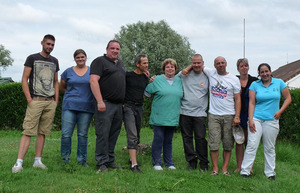 The St. Omer shelter is part government agency, part contracted services, similar to ACC before 1989, when it contracted with the SFSPCA. The staff was glad to have Brandon's help. He had shared, in his letter, his years of experience working with dogs at ACC and the SFSPCA where he's a volunteer trainer. They were delighted to have a volunteer with experience working with large dogs and when Brandon arrived at the shelter, another volunteer showed him the ropes, and he began immediately walking some of the "behavior cases" near the property along a canal off the AA River.
The first question I asked about the dogs was: how many pitbulls? The answer: One. In France, pitbulls, Rottweiler, and Doberman breeds are controlled and people who own them must register them as a special class as well as muzzle them in public. Many of the big dogs at the St. Omer shelter are shepherd mixes. Some of the smaller dogs are in play groups (most days) in the five outdoor grassy runs on the property. The dogs get a lot of exercise and socialization but little training, unless a volunteer takes them out and works with them. That's exactly what Brandon did, 7 hours a day, for 19 days. There wasn't much nightlife in St. Omer but Brandon enjoyed relaxing at the café in town after a long dog day. He stayed in a hotel (paid for by the SPA) next to the train station on the edge of town.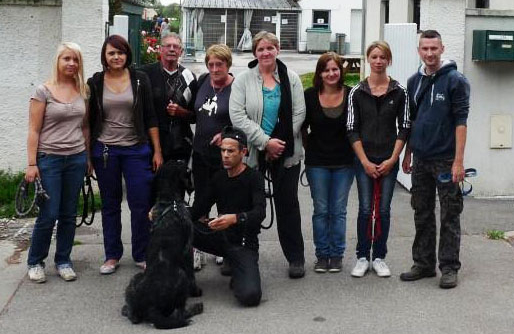 When I asked Brandon what he enjoyed most about his stay, he didn't hesitate: "Working with dogs one-on-one in France!" He also found the staff very welcoming and appreciative. And they have challenges. No volunteer coordinator or training program, limited kennel space and equipment (no harnesses), no marketing to speak of, and one vet...but they are a close group. "The shelter director Peggy and her husband Richard, who also works at the shelter, live on the property. She started volunteering there at the age of 9 and never left, working her way up to running the place. Two other couples are full time employees—it's quite a family of animal lovers. With very French manners. As is customary, people greet each other with a kiss on each cheek, and the shelter staff and volunteers did the same every day. Brandon found this a bit tiresome, time-consuming, and not too practical while walking reactive dogs! So he started his own custom for greeting: a nod and a spoken "Bizou Bizou" (kiss kiss). Much faster. The staff teased him for his American efficiency. Maintaining that other notorious French tradition of dog poop on the sidewalks of Paris, Brandon noted that although the kennels were clean, the lovely green dog runs were FULL of poop because no one is in the habit of picking it up. He spent a lot of time at the beginning of his shift scooping poop. "The funny thing is, the kitchen has a big sign: 'Please pick up poop' but no one does. After Brandon set an example, things improved a little. But he was working against an established cultural norm, to say the least. "I once asked the president—an older gentleman who doesn't run the daily operations but frequently visits with the cats—about the poop problem in the dog runs. He laughed and pointed in the direction of the village,"Well, there's plenty of poop in town." Some cultural traditions die hard.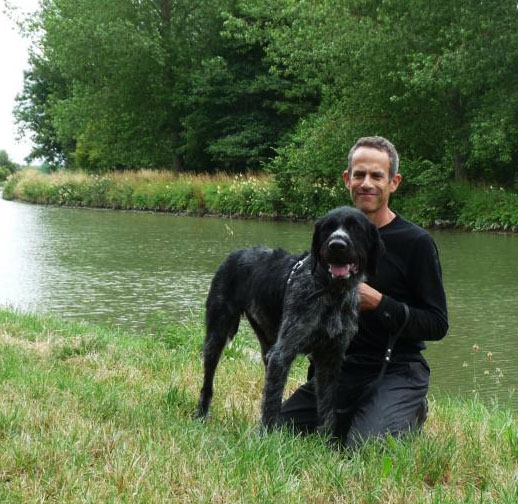 Brandon with Eclair
ACC Field Services Rescues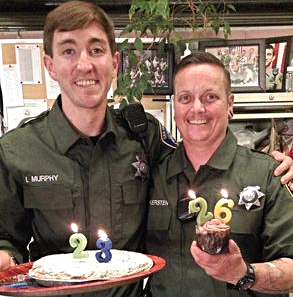 C
ongratulations to ACC's two newly sworn Animal Control Officers! Welcome Officer Kersten, Badge #26, and Officer Murphy, Badge #23!
An ACC Facebook follower was also pleased to hear the news: "Officer Kersten came out on an early morning call last week to help with an injured raccoon in my yard. I was so, so impressed with Kersten's empathy and the care taken with the animal- it was clear to me that Kersten cares a lot, and I'm so glad this popped up in my feed so I have the chance to say thanks. Thank you and congratulations!"
And now, Officer Kersten demonstrates how to remove a yogurt container stuck on a skunk's head:
Step 1: Approach cautiously.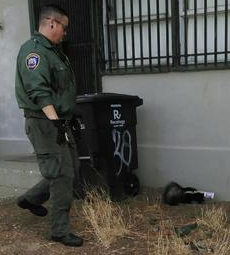 Step 2: Remove gently.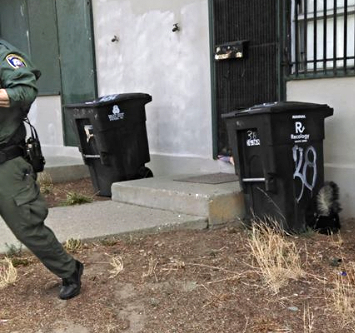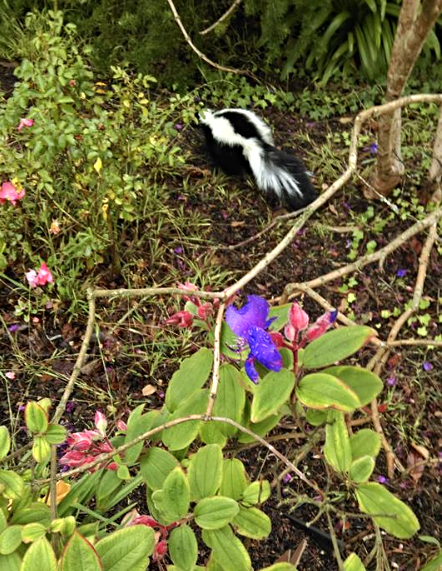 Step 3: Run quickly!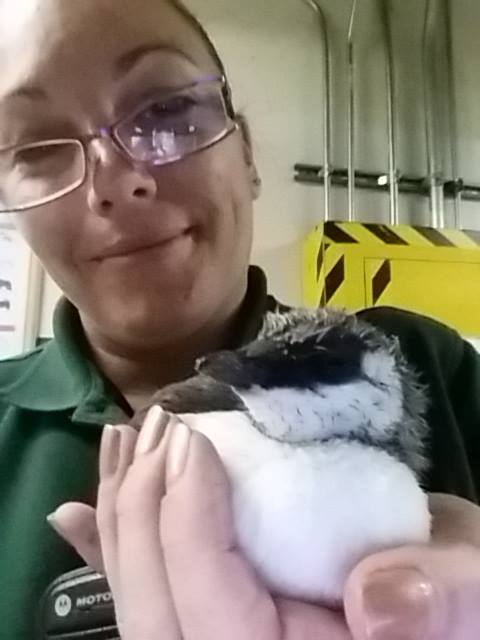 Would you believe...a baby penguin?!
---
What to Do If You Encounter a Coyote While Walking Your Dog
(excerpt from The Natural History of the Urban Coyote)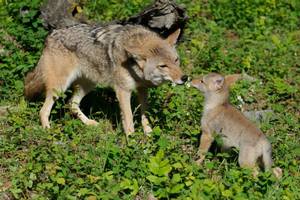 By far, the biggest source of conflict between urban coyotes and humans centers around pets. Many urban residents see coyotes or have interactions with coyotes while out walking their dog. Coyotes are rarely interested in humans, but add a dog to the mix and their interest is piqued. Larger dogs may be viewed as competition or threat, while smaller dogs may be viewed as potential prey.
Four basic rules for walking dogs in coyote territory:
1. Keep your dog on a 6-foot leash.
2. Avoid areas known to have coyote activity, especially during breeding and pupping season.
3. Stick to trails and open paths.
4. Avoid walking your dog at sunrise and sunset hours. Coyotes are naturally active during the day, though urban coyotes usually switch to nocturnal behavior.
What to do if you encounter a coyote:
1. Leash your dog. Pick up and carry small dogs. It is important to have full control over your dog so that they do not run toward, away from, or otherwise engage the coyote.
2. Stand tall and assertive. Coyotes are wary of humans and your presence is usually enough to drive off a coyote. Maintain eye contact. Do not turn your back on the coyote and do not run.
3. Frighten off the coyote by yelling, stomping your feet, shaking a jacket or noise maker.
4. Report overly brazen coyotes. If a coyote comes too close, follows you for too long, acts overly assertive or does not respond to hazing, report the coyote to city authorities.
Read more
...
This YouTube video, Coyotes as Neighbors is super informative, and includes Spanish and Mandarin versions.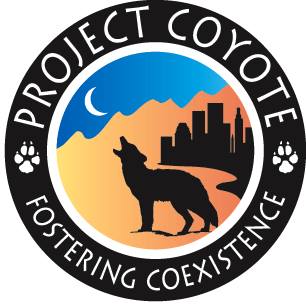 Happy Tales...
Adoptions & Updates
Happy news from Elizabeth Young of ACC's rescue partner, Palomacy Pigeon and Dove Rescue...Pat & Snowberry were formerly housed in your lobby cage (from March through August). They are now fostered in the brand new aviary that we crowdfunded specially to help King Pigeons in partnership with farm sanctuary Animal Place.
They are very happy!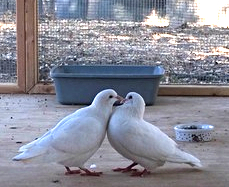 Honor and Swift and pigeons that were housed upstairs in the Smalls room from April through August. They are now a married couple and fostered in a new aviary in Oakland with Claire, a youth counselor whom we met through the East Bay SPCA's summer camp program.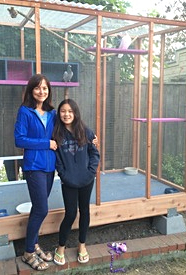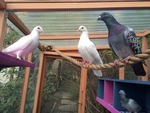 Thank you ACC for helping Pat & Snowberry & Honor & Swift on their long journey to get home!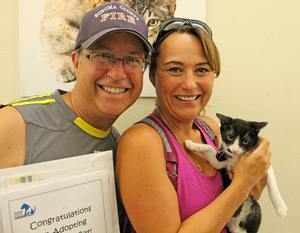 Jetson with his new family!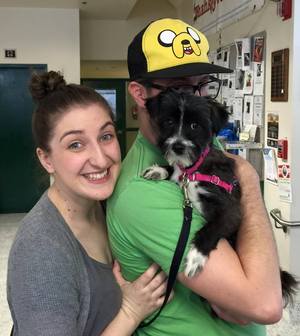 Lil' Foot adopted. His new mom is so happy!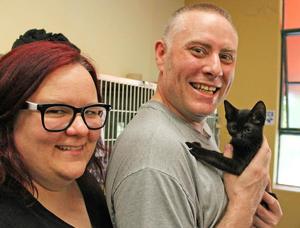 Jupiter goes home.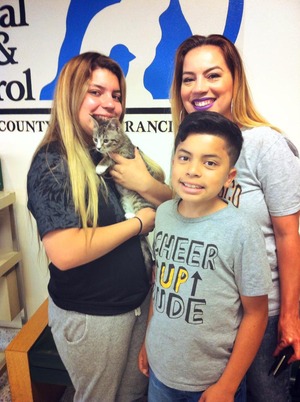 A lucky kitten adopted by 3 humans!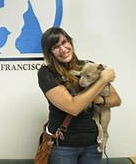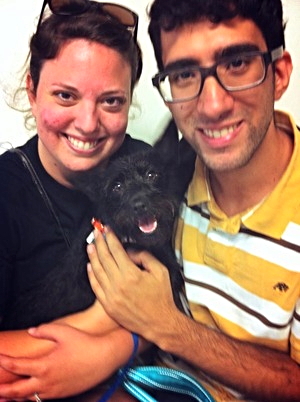 Darla (L) and Percy (R) adopted.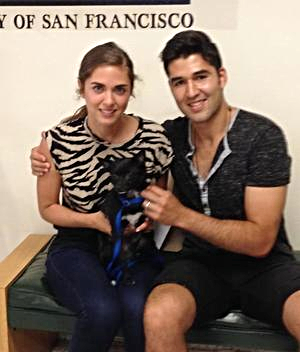 Bizou and new family.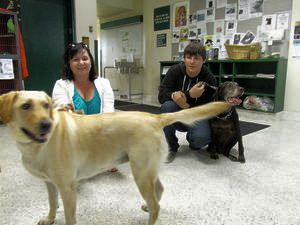 Nala adopted with a new brother.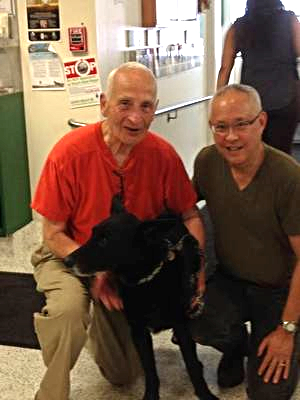 Dudley was adopted by his family in 2002
and recently came in for a visit!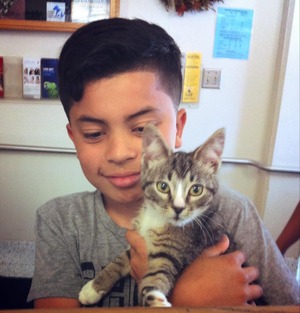 A happy day for these two.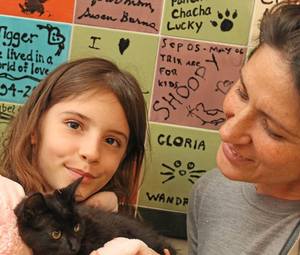 Thalia, the kitten found in the middle of the Bay Bridge and saved by a couple who stopped their car and picked her up.
She's in good hands now!
---
---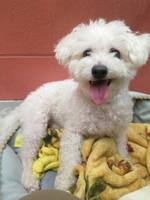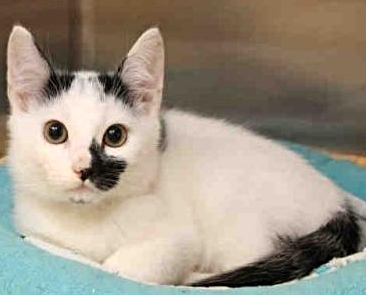 Jack
(L) and

Posey
are

available for adoption.
Low-cost Rabies and Free* Microchips
for Dogs and Cats at ACC
Sunday, September 13, 2015 10am-1pm. Microchip ID and collar tags are the most effective ways to identify your dog or cat if they are ever lost. All clinics (except PPDay) are held at SFACC, 1200 15th Street @ Harrison.

All clinic services are administered on a first come, first served basis. SERVICES ARE LIMITED TO 80 ANIMALS.
Additional 2015 clinic dates:
Sunday, October 25 (at Pet Pride Day, Sharon Meadow, Golden Gate Park, 11am-3pm)
Sunday, December 13
*Microchips are FREE for San Francisco residents with licensed dogs. Dog licenses are sold on site at the shelter (
fees vary
). Microchips are $20 for those outside San Francisco. Rabies vaccinations are $6 and are required for the license. Sponsored by Friends of SFACC & SFVMA.
---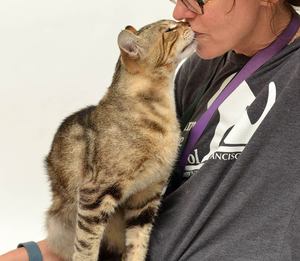 You could be getting kisses from Luke...become an ACC volunteer!
New Volunteer Orientations
The first step to becoming a volunteer is to attend a New Volunteer Orientation. Call (415) 554-9414 to sign up.

Pre-registration is required.

All sessions are Saturdays, 10am-12pm. Upcoming 2015 sessions:
September 19
October 3 & 17
November 7 & 21
December 12
The animals LOVE all of our volunteers. You can walk and train dogs, socialize cats, and pet bunnies and guinea pigs to enrich their lives at the shelter and increase their chances for adoption. Learn how to foster a kitten or puppy. Or help out at outreach events to spread the word about ACC. Volunteers must be at least 18 years old & commit to volunteering 2 hours a week for a minimum of 6 months.
---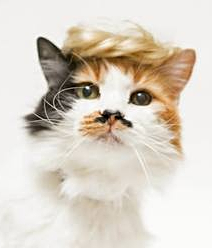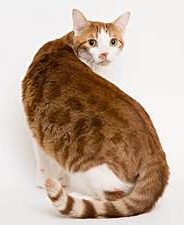 Baily has been trumped! Toby saw the whole thing!
---

GO NUTS! FREE Pet Fixes Every Month




@ ACC Every 3rd Thursday

1200 15th St, SF, 94103.
Next Spay/Neuter Clinic:

Sept. 17, 8:00 am
Pets owned by SF residents are eligible. The mobile clinic is provided by Peninsula Humane Society. Accepting pets from 8-9 am on a first come first served basis. One pet per family; dogs and cats only; no dogs over 80 lbs and no pets over 8 yrs old. For details, including pre-surgery instructions, call (650) 340-7022 x387.
---

VetSOS Project Homeless Connect
VetSOS
is a volunteer-based project providing free veterinary care for homeless San Franciscans. Clients/patients are seen on a first come-first served basis.
Services begin at 12:30 pm
No clinics in August or September
,
however the SPCA provides vaccine clinics on the 2nd and 4th Saturday of every month
August 8 and September 12 - Willie Mays Boys & Girls Clubhouse, 195 Kiska Road
August 22 and September 26 - Calvary Baptist Church, 5655 Mission St. at Whittier St.
For more information, please call 415-522-3539
For VetSOS clinic dates and locations, Call (415) 355-2248 or email vetsos@sfccc.org.
---
October Events...Save the Dates!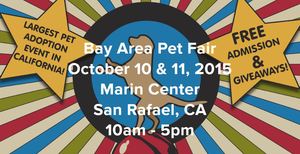 October 10 & 11, 2015 (

Sat/

Sun.

)

10am to 5pm

Pet Food Express BAY AREA PET FAIR at the Marin County Fairgrounds.
http://www.bayareapetfair.org/

Sunday, October 25 in Sharon Meadow, Golden Gate Park. 11am-3pm. Join SFACC for our 22st annual celebration of pets at
Pet Pride Day 2015
.
Festivities kick off with the pet parade, costume and pet trick contests, working dog demos, vendors, rescue groups, and fun activities for kids!
ACC Volunteers needed to help with animal handling and other fun tasks. email ACCVolunteer@sfgov.org.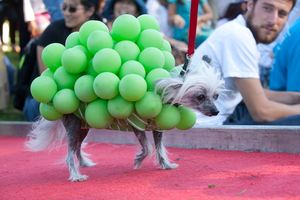 ---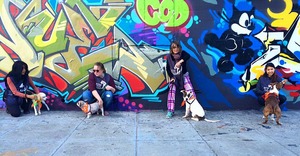 Watch a group walk video!


Classes for Dog Volunteers


Note: These classes are for current volunteers who have been through basic training.
September classes TBD. Dog volunteers, look for an email from the Behavior & Training staff.
---

Doxie gent Carter (A376040)
is a delight! This adorable, wiggly fellow loves making new friends and loves to play, especially fetch with squeaky toys. Carter's adopters should have experience with the breed.
---
ACC Outreach at Pet Food Express
on Market @Dolores St. in SF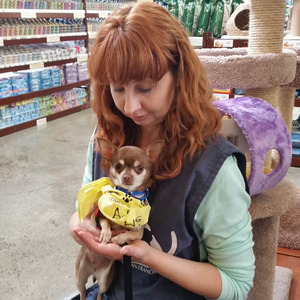 ACC dog volunteer Gerry at PFE with an ACC pup.
Small Animal Awareness 11am-2pm.

Share information about small animals (rabbits, guinea pigs, rats, hamsters, birds) the shelter often has for adoption.

Note: Volunteers needed to continue smalls outreach. Please contact

Deb Campbell

if you're interested.

Meet ACC Available Dogs 1 pm-3 pm, every third Saturday at the Market Street PFE. Dog handlers wanted. You must be field trip trained. Contact ACC B&T to find out more.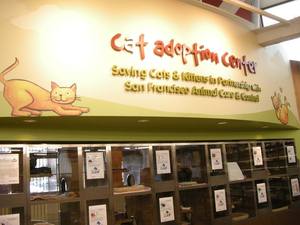 Visit the ACC Cat Adoption Center at the 1975 Market St. PFE store. Over 700 cats and 28 rabbits have been adopted there since the satellite site opened in 2012. (415) 431-4567.
---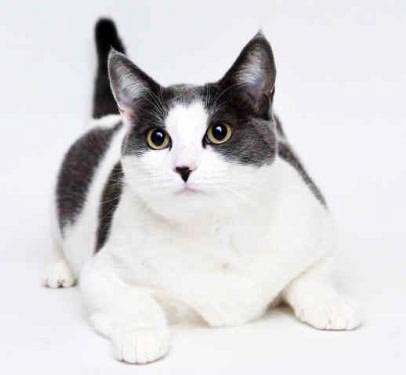 Hazel (A371754) is available at Pet Food Express.
---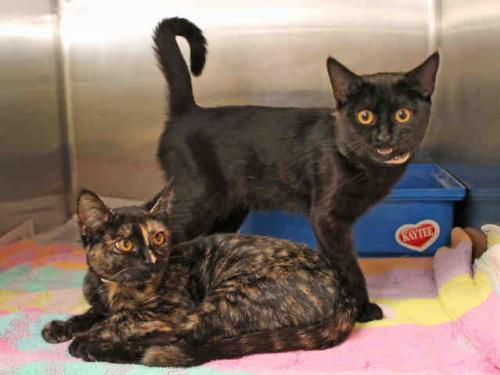 Coco and Chanel
—adopt the 4-mo sisters together!
CATS...
The dog may be wonderful prose, but only the cat is poetry. ~French Proverb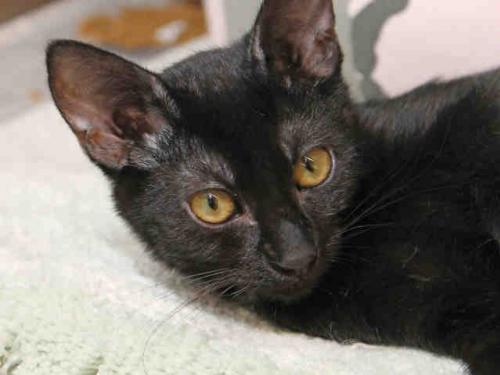 Chekov (pictured), Romanoff, Trotsky & Mikhail are four friendly and loving kittens. They were in a great Toni's Kitty Rescue foster home while getting big enough for adoption. Come meet this FAB FOUR and take your pick! It would be wonderful if they could go home in pairs.

Everything I know I learned from my cat: When you're hungry, eat. When you're tired, nap in a sunbeam. When you go to the vet's, pee on your owner. ~Gary Smith
ACC has over 80 cats and kittens for adoption! Why not come down and meet some of them? Cats and kittens are also available at ACC's SFACC satellite Adoption Center located inside the Pet Food Express store, 1977 Market Street @ Dolores. 415-431-4567.
See more of our fabulous felines on the ACC website
!
We have loads of cats of all ages.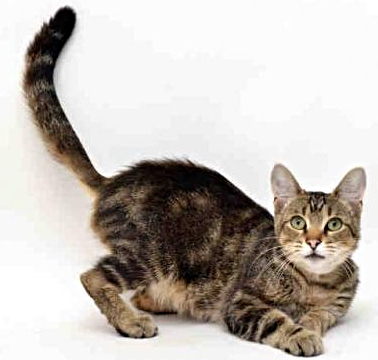 Jackson (A375576) is a handsome fellow who is as the shelter because his people moved and did not take him along - they abandoned him and a good neighbor brought him to the shelter to get a new home. Be the one to give Jackson a secure and loving forever home.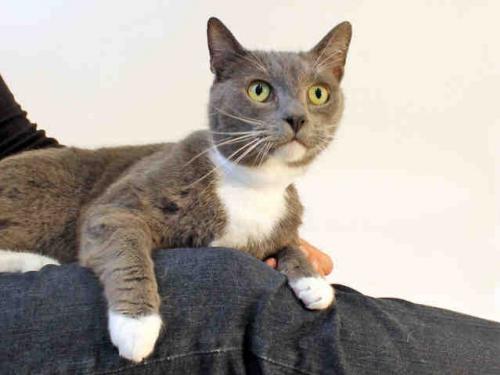 Sweet Pete is friendly, affectionate, playful, mellow and super handsome in his gray tuxedo. He ressed to be ADOPTED! Sweet Pete is FIV+ but can live a long and healthy life. Come meet him and see why life will be sweeter with Sweet Pete!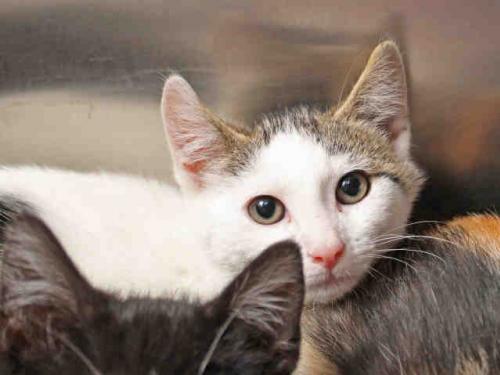 Grace Kelly, Mickey (pictured), & Rooney are 3 adorable kittens now available for adoption. Please consider adopting kittens in pairs (or triplicate!)

If there were to be a universal sound depicting peace, I would surely vote for the purr. ~Barbara L. Diamond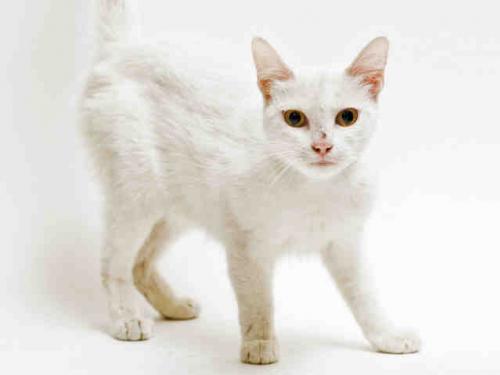 Snow White (A374765) is a super sweet and petite cat and a total gem. She came in as a stray and is a loving and affectionate purr machine ready for her forever home. She has vivid yellow-orange eyes and the sweetest little face. Snow White is also most likely deaf and will need to be an indoor only cat. Come meet and adopt this special girl today.
---
Community Partners Help ACC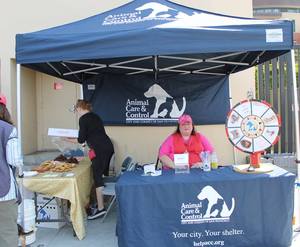 Clear the Shelters Day
On August 15, ACC joined Rescue Row partners (Family Dog Rescue, Muttville and San Francisco SPCA) for a special nationwide ADOPTION event,
Clear the Shelters
, sponsored by NBC Bay Area and Telemundo. 20 Animals were adopted that day at the shelter, including little Merida (below).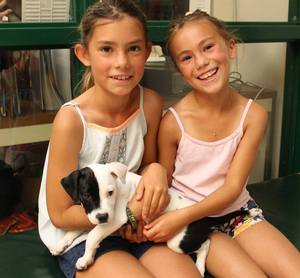 ---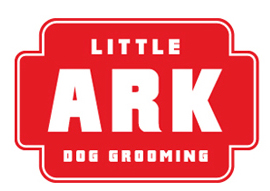 Re-Use for Rescues
Little Ark Dog Grooming at 748 14th Street in SF is collecting and donating dog-related items for ACC. This is an ongoing drive in the store, where customers can donate new or gently used dog items. "It's our pleasure to support ACC. We are the longest running grooming shop in San Francisco, so we feel strongly that we should support the community and be leaders in ensuring dogs have a safe and happy home." Little Ark Dog Grooming is the longest-running grooming shop in San Francisco (they opened in 1976)! Thank you Little Ark owners Kim McCormack and Yuri for supporting animals in our community!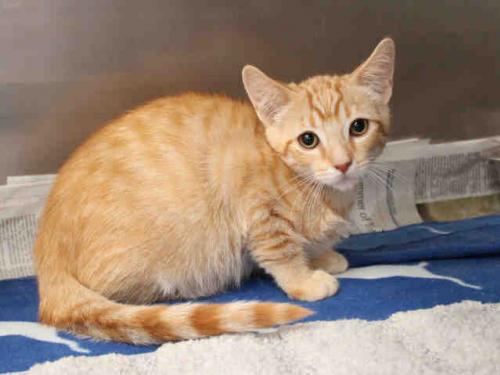 Dolly and her brother Miro are adorable and sweet orange tabby kittens ready for their forever home - how about together?
---
Cassidy (
A376440
) is a fun 5-month-old Australian cattle-dog-GSH pointer mix. Rusty and Zoe speak for themselves.
Free and Subsidized Spay & Neuter
Services at the SFSPCA
To reduce unwanted pets and feral cats in the city, ACC's partner, the SFSPCA, offers spay/neuter services for SF residents:
Community Cat Spay/Neuter program: Feral and free-roaming cat S/N, with traps available (free w/deposit).

Free spay/neuter for pit bulls and pit mixes owned by SF residents.

Find out more

.

For animals other than feral cats or pit bull mixes, SPCA offers free or deeply discounted S/N surgeries for low-income San Francisco residents. For info., visit the

Spay/Neuter Clinic page

or call the hospital at 415 554-3030.
---

Community Vet Clinic at PFE
VIP Petcare has opened a walk-in community clinic at the Pet Food Express store at 1975 Market St., SF. No appointments are necessary for routine veterinary care including physical exams, cat & dog vaccinations, anal gland expression, ear cleaning, eye exams, nail trim, microchip pet ID, medications, and more. All cats must be in carriers and all dogs must be on leashes. Monday-Thursday, 2:30-7:30pm
.
---
Ongoing Need for Fosters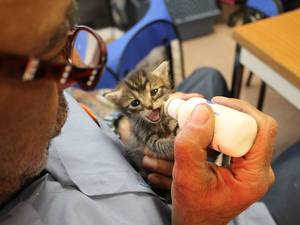 ACC is in need of fosters for underage puppies and kittens.
Toni's Kitty Rescue (TKR) is a nonprofit organization that partners with SFACC to find, train, and oversee fosters for ACC kittens until they're ready to be adopted. The first step to becoming a foster is to attend an SFACC New Volunteer Orientation. Pre-registration is required. Call
415-554-9414
.
---
Fall for a Small Animal or a Bird!
ACC has beautiful, adoptable
rabbits
.
We have also have some very friendly rats, guinea pigs, and birds for adoption. Kiwi was adopted last month, along with many of ACC's other rabbits.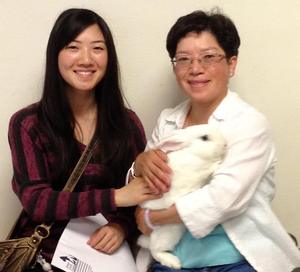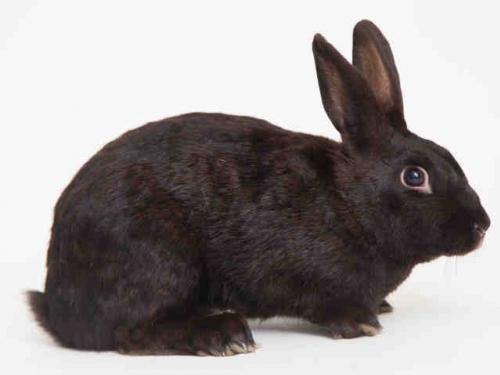 Merida is a very pretty, very nice rabbit. She can be a bit shy at first but is friendly and curious and sweet. She is easy to handle and waiting for a home to call her own.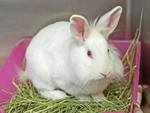 Pearl
is a gem of a bunny. And she has a great hair-do -- check out her little lion-head like top and her awesome sideburns. She is friendly and happy especially when out of her cage when she will come up for petting. Pearl is curious and active and is ready for a home of her own.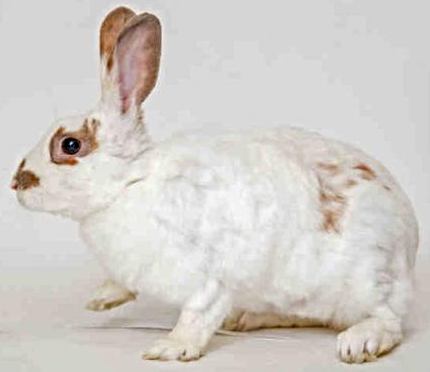 Annabelle is an active and curious rabbit ready for adoption. She can be a bit timid but is becoming more and more social each day as she spends time with the stellar ACC volunteers. Annabelle is a lovely rabbit with sleek white fur and pretty brown spots. She was found as a stray in a cardboard box with a sign that said "Please take me. Someone is trying to eat me." Come meet Annabelle and be the one to give her a forever home.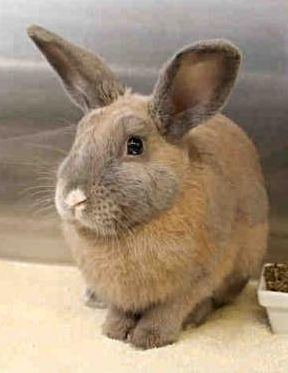 As soft as soft can be Sweetie is a super cute, nice, young (6 month-old) rabbit ready for his forever home.
---
ACC has three cute 3-month-old boy rats for adoption. Rats are intelligent, friendly, and active during the day. They make great first-time pets!
---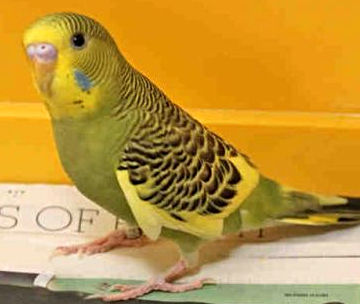 Jeanette is a beautiful parakeet with a lovely olive green and yellow feathering. She is friendly and nice and ready for a forever home. Jeanette is at the shelter because of landlord issue. Give her a new start!


ACC also has a beautiful canary for adoption. (A376337) Add music to your home!
---

Be sure to regularly check our SFACC Facebook page for other onderful photos & posts!
And check out more of ACC's animals for adoption (dogs and cats) on the
shelterme.com
website.