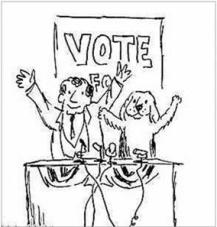 ---
Dear Friends,
Last Sunday, ACC hosted the 22nd annual Pet Pride Day, a well-loved celebration in Golden Gate park, Sharon Meadow. Thank you to all the participants, sponsors, vendors, rescue groups, and the dogs (and one cat we saw on the meadow) who endured uncomfortable costumes. This year's well-attended festival was a big success—creating awareness, fundraising, and fun for pets and their people families. Thank you for coming out in support of pets and ACC! Check out photos and the results of the photo contests (Events).

Now we'll get into dog politics. It's election month after all! Two greyhounds, Mila and Lucca, are locked in a runoff for 2016 Dog Mayor of San Francisco. The Facebook community is invited to vote for their favorite candidate, who will take over from Frida the Chihuahua as Dog Mayor of San Francisco, and be sworn in by the Mayor's Office on December 1st, 2015. Mila, one of two greyhounds running for next year's SF Dog Mayor was seen recently at PPday, and she had this to say...
"My dear Canine Constituents, Since earning our parties' respective nominations, my brother Lucca and I are locked in a battle for the Mayorship of our fair city. Mayor Frida, a spunky Chihuahua, has represented San Francisco well at numerous events including the SF St. Patrick's Day Parade (adopt-a-rescue contingent), and monthly SF Chihuahua Meetups in Stern Grove. She also served as an official chaperone for Operation Chihuahua, Virgin America's airlift of 9 dogs to their new homes in NYC.
While Lucca and I both want to carry on Frida's woofderful legacy, we have different ideas about how to make America's Dog Friendliest City great again. I support more free treats, and fewer nail clippings, while Lucca is more of a "bath & spend" candidate. What can I say? Sometimes the apple falls far from the fire hydrant.
One thing we can agree upon, however, is that pets should be adopted, not bought. San Francisco Animal Care & Control, our city's only open-admission shelter, is in need of your support. Please choose your next pet at a shelter, and if you're not currently in the market for another furry friend, please donate your time, resources, or money to benefit needy animals. Adopt, Volunteer, or
Donate
. Who knows? One of these eligible rescues may be your next Dog Mayor! I want to "Make Pawmerica Great Again" and you can help. The voting begins November 1, 2015. See ACC's
Facebook
page for details.

May the best pup win!

Pawsitively Yours,
Mila the Greyhound

*Paid for in bones by the Mila for Mayor SUPERPAC of Hounds.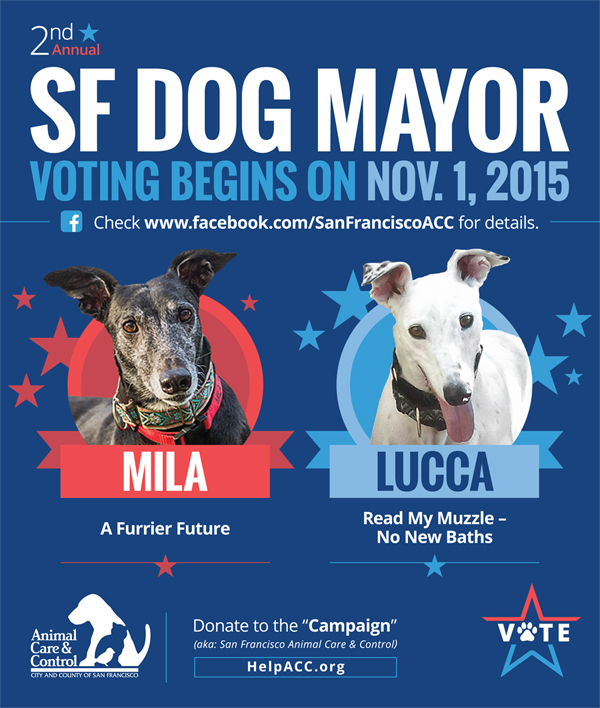 ---
We're Grrrateful for Volunteers!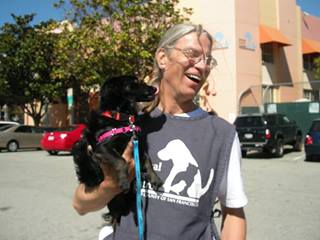 Volunteer Brian gets a smooch from Marcel
ACC relies on our volunteers to socialize the animals, often improving their behavior from scared, shy, or unruly pets to more confidant, adoptable pets. The opportunities are varied—besides walking dogs and playing with cats, volunteers can work with small animals (rabbits, rats, birds), help with shelter chores like folding laundry, transport pigeons to wildlife facilities, and help out in the vet room. Volunteers also help with special outreach events or fundraising. There's something for everyone. Get involved—attend a Volunteer Orientation! (the next one is November 7).
This month highlights some dog volunteers, but the cat and small animal volunteers are up next. ACC is grateful for all volunteers!

Neil Moser (dog socializer, GDR boss)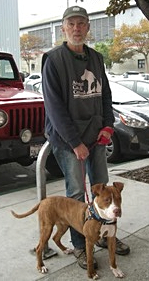 Some of the other dog walkers at ACC call him "the dog whisperer." Neil Moser and his wife Carol have volunteered for many years at SFACC. Neil is also a liasion with Grateful Dogs Rescue, so he not only works with the shelter dogs available for adoption, he helps find homes for those who are not available, due to medical or behavioral issues. Neil has an uncanny ability to communicate with dogs—and also calm them—that is apparent when you see him with one. Here he is with Riley, who is behaving like a perfect lady.
Kelly Winquist (dog socializer & social media queen)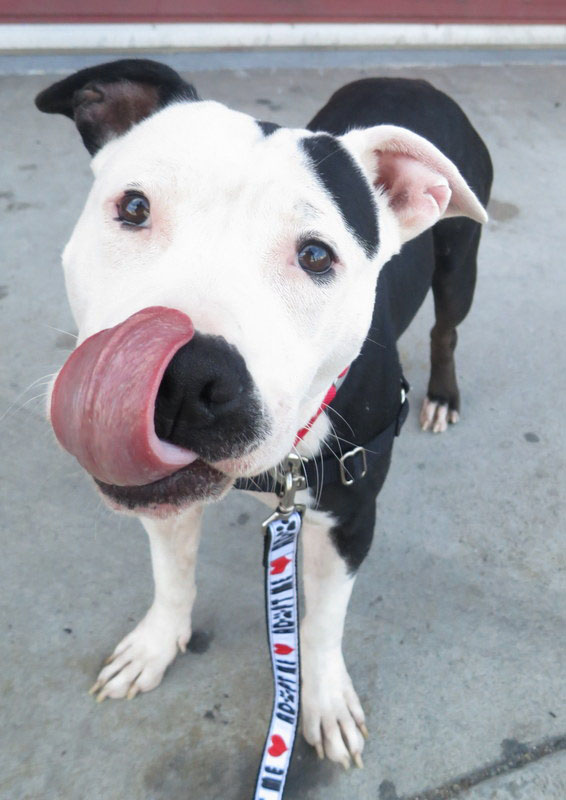 This is not a picture of Kelly; this is Brenda, the dog Kelly adopted from ACC and who is quite a popular girl in her neighborhood park!
Now in her 10th year at SFACC, Kelly Winquist is one of those extraordinary volunteers that animal shelters dream about. Besides her dedication to making sure the shelter dogs get adequate walks and play time, she also is involved in a bigger way, seven days a week. Kelly has a dog-given talent for the creative things that help get dogs adopted: she is a gifted wordsmith and has a talent for taking beautiful and charming photos of the shelter dogs. Both of these abilities are put to use daily as she manages SFACC's Facebook page and takes snaps of the dogs looking for homes. SFACC's dogs are truly lucky to have the support of a fabulous volunteer like Kelly. (credit: Bay Woof, November 2015)



Mitch Dalition (foster dad and dog walker)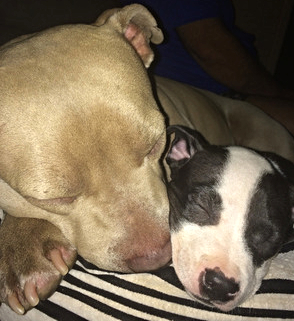 Mitch's dog Pork Chop, with foster pup Maddie. Mitch tells us what it's like to foster a puppy...

Honestly, what could be better than puppy love? I strongly encourage anyone who has even a slight interest in fostering to look into it. I have fostered six puppies over the last couple of years, three of them at a time (ok that was a bit stressful). Even so, I missed the little ones

—

Scout, Atticus, and Beau

—

terribly when they returned to the shelter. There is nothing better than knowing you've not only helped save their lives but also helped them become the amazing dogs they can be.
For an underage and developing puppy, the first couple of weeks in a house are key to the success of raising a well-adjusted pet. You don't have to be with them 24/7; but it's best not to leave them alone for more than 3-4 hours. The setup is easy because you can keep them in a puppy playpen most of the time. Puppies sleep a LOT. In fact, they're likely to sleep 85% of the day! The love and play interaction that you provide them when they're NOT sleeping is crucial to their development and happiness. If you have an adult dog that gets along with puppies as I do, then fostering is a bit easier. Porkchop, my dog (adopted from ACC), is wonderful with puppies and she corrects them when they are being naughty. Puppies learn boundaries from each other and especially from an adult dog like Porkchop. She also gives them dog love; I have witnessed her cleaning and playing with them as if they were her own. It is truly beautiful to watch.
One of my fosters, JD, was about 6 weeks old when he came to live with us. Unfortunately, after 2 weeks with me, he was diagnosed with a severe heart murmur and could not be made available for adoption at ACC. After a waiting period at ACC, Grateful Dogs Rescue rescued (adopted) him and I stepped in as foster to give him another chance for a home. He was adopted after about a month by a wonderful couple in Napa and I continue to see him from time to time. In fact, he was at my house recently playing with my newest foster, Maddie. I truly feel a fantastic sense of accomplishment when I see him now, about 60 pounds of love living a fulfilled life.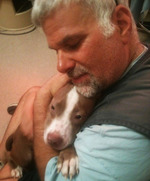 To find out about fostering underage dogs at ACC, email acc.behaviortraining@sfgov.org.
Marty Rosenthal and Carri Lucas (vet room helpers)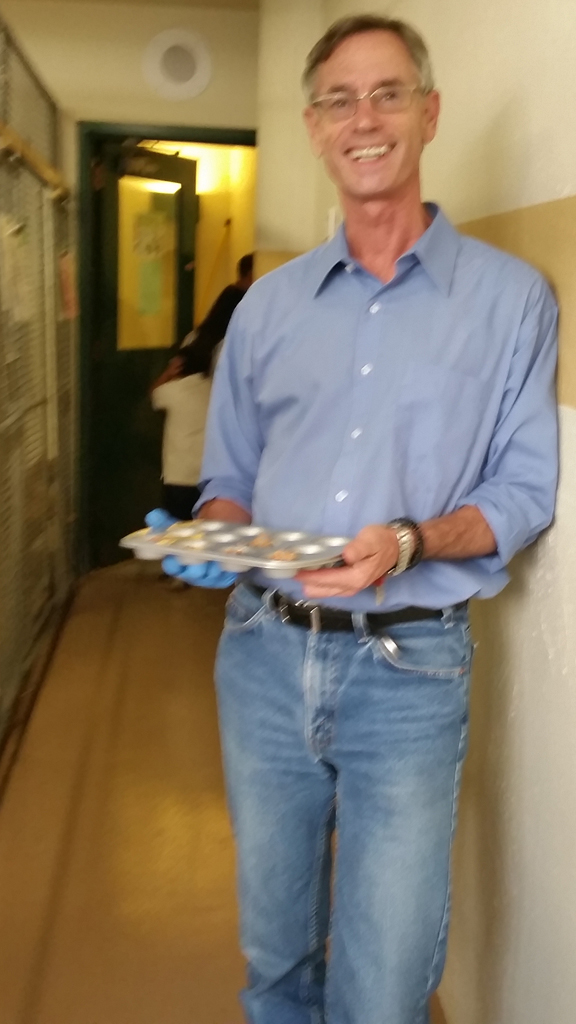 by Marty Rosenthal
I have loved animals my entire life, and when I found time to volunteer in the mid 1980's I joined "Pets are Wonderful Support." At first I assisted in delivering food and kitty litter to the ill and elderly clients.
Some years later, I began volunteering in the "Animal Assisted Therapy" program at the SFSPCA. I was mostly involved in socializing a variety of animals including bearded dragons, corn snakes, rabbits and chinchillas.
In April 2014 I began volunteering at Animal Care & Control walking and socializing dogs. I enjoyed that for about a year when I learned that the Veterinarian's office needed volunteers. I was interviewed by Dr. Chris Anderson and when she heard that as a teenager I took care of horses in Upstate New York as well as volunteered for other animal agencies, she agreed to give me a chance to help the vet staff, joining long-time volunteer Carri Lucas, who also helps out in the vet room.
My duties include administering medication to all of the animals, restocking supplies, cleaning and sterilizing surgical equipment, and general cleaning duties in the vet office and X-ray room on the second floor.
I really enjoy working with Drs. O'Neil and Albright and Vet Tech Jill Walsh. What amazes me constantly is the overwhelming compassion for every animal that comes through our department.
Additional volunteers are always needed and appreciated in this fast-paced, professional, and super friendly atmosphere, and it is a very rewarding way to volunteer.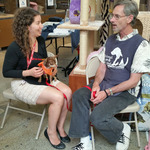 In addition to the vet room, I participate in the dog outreach (Meet & Greet) at Pet Food Express every third Saturday. This monthly two-hour event provides a great outing for the dogs, raises awareness for our shelter and is many times successful in getting dogs adopted, as well as recruiting new volunteers for ACC. Thank you Marty and Carri!
---


Give Thanks & Give a Home to One of America's Dogs
In November, adopt a pit bull from ACC and receive 1/2 off the adoption fee plus a FREE training class at Pawsitive Tails in SF. Below are just a few of the wonderful pups available for adoption. Check out all of ACC's dogs!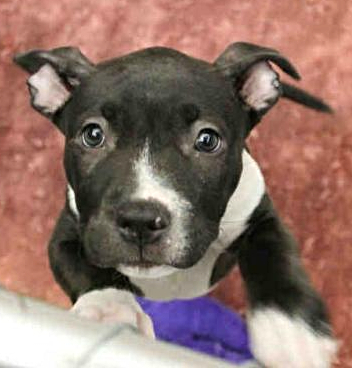 Scrumptious Andouille
(
A376816) is a delightful little pudge with an eager-to-please, happy-go-lucky attitude. This sweet pup is an excellent cuddler, loves making new friends, and is looking forward to puppy class.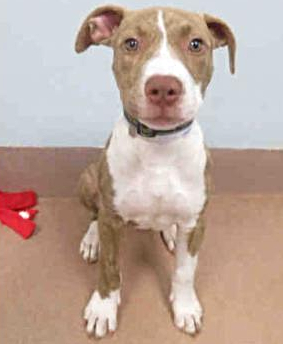 Happy, bouncy goofy 3-mo pup Aries (
A377207)
is an adorable delight! This active, fun and friendly boy loves toys and enjoys exploring the world. Aries already knows 'sit' and can't wait to learn more in puppy classes. Check out this video of Aries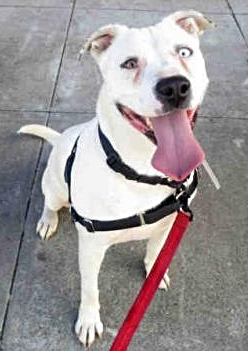 Hachi is a beautiful, 2yr.-old who loves cuddles, training, and nice long walks. This affectionate, happy sweetie with David Bowie eyes is sure to make a great BFF for some lucky person! Will it be you?
Ridiculously cute pup Haden (
A377202) l
oves everyone he meets! This vivacious and playful chap can't wait to go to puppy class and grow into an adult urban canine!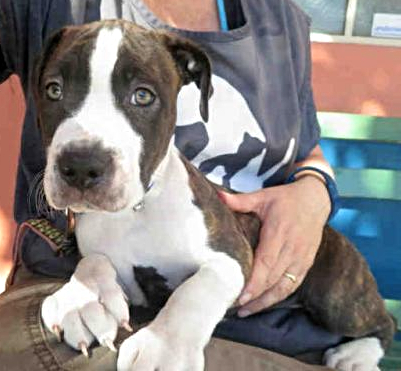 Knute (
A378671)
is a goofy 2mo pup who trips over his own feet and loves to give sloppy kisses (and share his delicious puppy breath)! This super cute brindle and white boy loves to cuddle and play and will make a great addition to your family. Knute may not look like he is part poodle, but the person who surrendered him reported that his parents are a poodle and pit bull.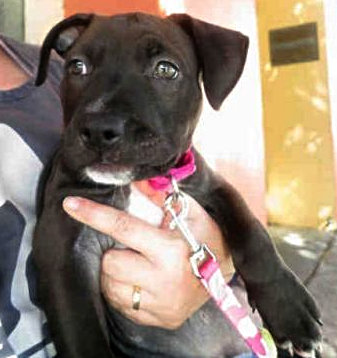 Louie (A378306) is a cutie with delicious puppy breath and an irresistable puppy belly! This scrumptious poopenheimer is fun and frisky and loves to romp and play. Like all puppies, Louie is looking for a home where he'll get structure, time, training and lots of love.

Mugsy (A375267), a

Boxer/Pittie mix cutie
went on a field trip to Golden Gate Park with an ACC voluteer, where he enjoyed the new and exciting smells. What did he enjoy the most? The car ride! Hurry and adopt this cutie pie.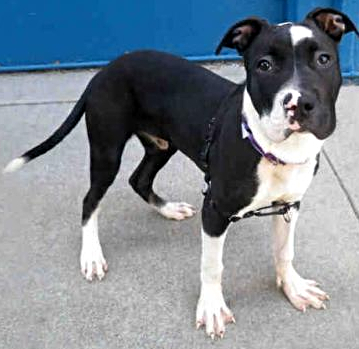 Onyx (A376203) is a wiggly, bouncy, playful bundle of youthful fun. He's a puppy delight who loves playtime and cuddles and is an excellent leaner. Onyx already knows "sit."
Watch his video on the ACC Facebook page.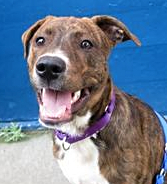 Wiggly waggy pup Patrick is quite the social butterfly. This adorable brindle boy loves meeting people and is always ready to go in for a lean, get a belly rub or climb into a lap (he thinks he's a lap dog). Patrick already knows "sit" and can't wait to learn more in training classes.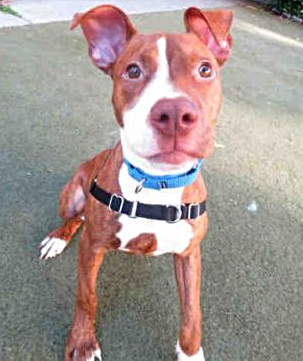 Sweet and silly Miss Riley (
A377524)
is a wiggly waggy ball of puppy fun. She's attentive and enthusiastic and sure to be a star in classes. Be ready for lots of fun and love.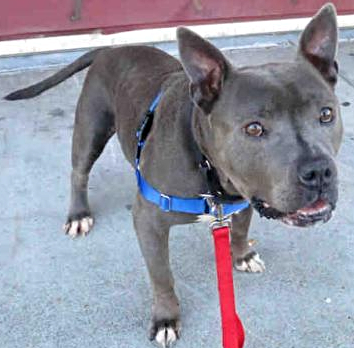 Wonderful Mr. Wobbles (A374028) is a uniquely adorable charmer. This 7-yo gent is a special medical adoption due to a congenital lumbering gait. This doesn't bring him down; he's the nicest guy, plus an excellent cuddler, and enthusiastic kisser. Wobbles loves his toys and will proudly carry them around for your admiration and praise. See Wobbles's video!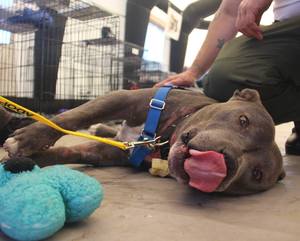 Wobbles relaxing at the Bay Area Pet Fair.
---
Find a BreedFF at ACC

...
ACC often has purebred pets, like Dwight, Bolt, and Madagascar. If you are set on a certain type of pet, whether for allergies or lifestyle, you can also check petfinder.com to search shelters and rescue groups for your preference. Adopt, don't shop!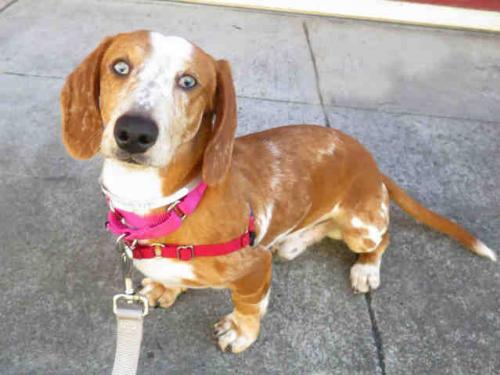 Bouncy Doxie boy is a very active, playful and silly boy! This long-bodied, blue-eyed cutie loves to chase toys, romp in the park and go for walks on leash. Dwight also loves making new friends and is always ready with a kiss for his new buddies.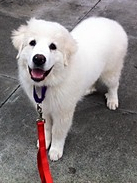 Big beautiful fluff ball
Bolt
is a delightful Great Pyrenees pup. (A379046)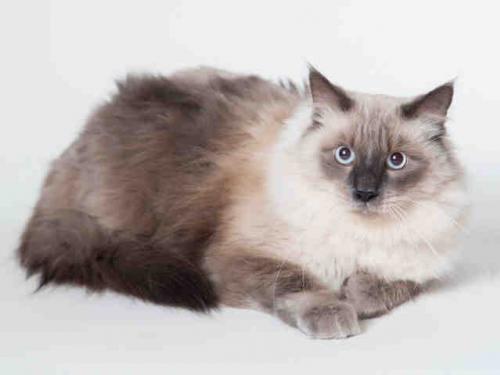 Madagascar (A377849) is a 4-year-old Himalayan cat, a gentle giant.
---
Happy Tales...
Adoptions & Updates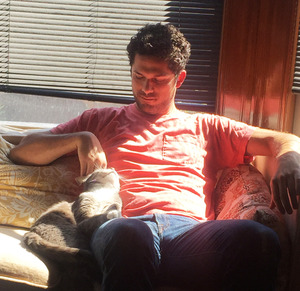 A letter from Jasper's (formerly Jedd Boy) guardian...
"Hi Ketzia,
I know I promised you success story photos and I'm so sorry it's taken this long to send them! It literally took us until now to choose a new name for him and I wanted to be able to share his new name with the photos.
I'm happy to report that Jasper (formerly Jedd Boy) has come a long way from the shy, scared kitty we adopted from the shelter at the end of August. He's very well adjusted in his new home and has blossomed into a happy, social, (very) talkative boy.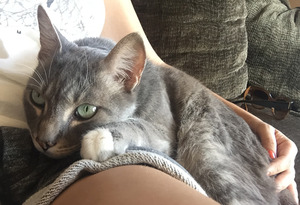 He sleeps on his little blanket on our bed every night and loves to sit and look out the window and attack/chase rubber bands around the house. He is very sweet and loves to sit right up next to us on the couch.Thanks again for all your help and support!
Andrea"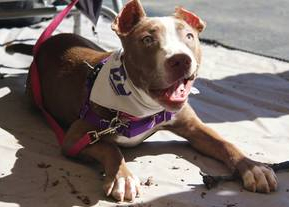 More super happy adoptions: Murphy (above), parakeets (below, adopted at the Bay Area Pet Fair in Marin last month).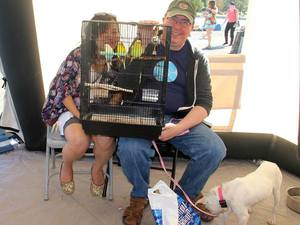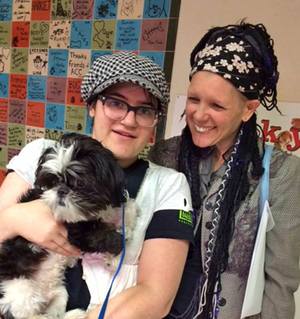 Bellamy adopted!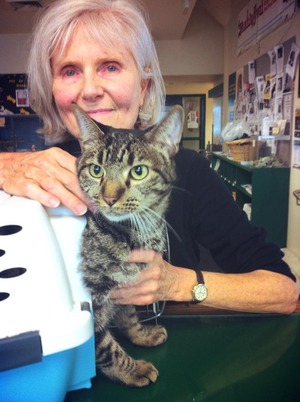 Butch is going home, yay!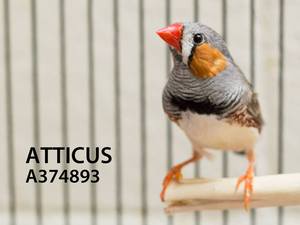 Atticus the finch, adopted!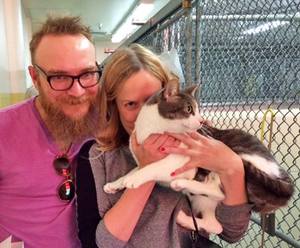 Tikal is on his way to his forever home.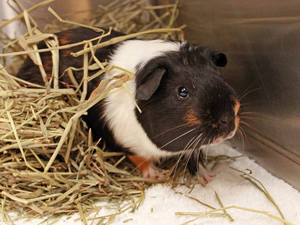 Skittles has left the building!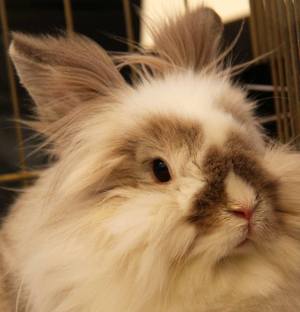 Rabbit Rapunzel let down her hair at the Bay Area Pet Fair...and was quickly adopted.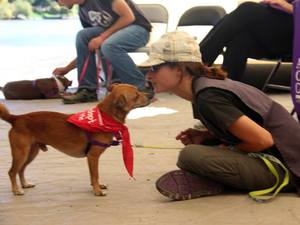 ACC received an excellent update of Curly Sue, the CH kitten, 3 months after she was adopted...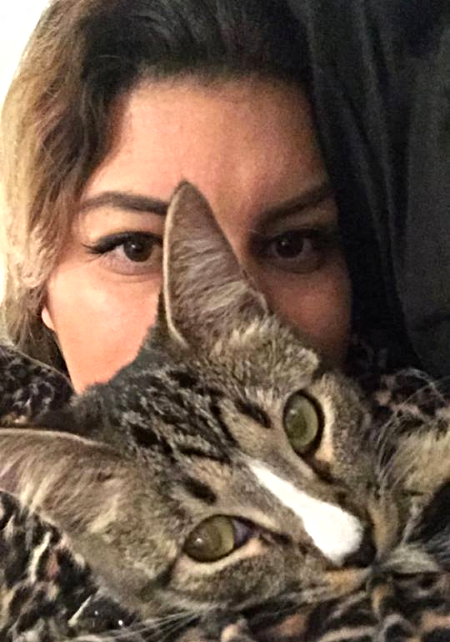 "Curly Su has been such a great addition to our family, and we love her to bits and pieces, she is the princess of the house. She loves wearing her fashionable dresses and wrestling with her three brothers. She also loves to cuddle and has become such an outgoing kitty who proves that CH doesn't phase her.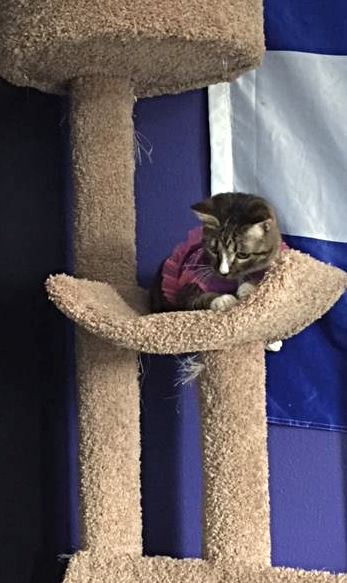 Curly Sue climbs the cat post at home (which is not something most CH cats can do), she also recently learned to climb over our doggie gate after seeing her brothers jump over it. Curly Sue's walking has improved greatly since we've adopted her. When we first brought her home she would fall after about every third step and now she only falls when she gets really excited. Curly sue loves to play with all sorts of toys, and go out on adventures, especially when it's a trip where she gets to try out new cat beds and watch my soccer games. Thank you guys so much for everything you've done for her and giving me a chance to see how great CH cats are!"
---
LOOK AT THEM NOW! These 2 fabulous cats, Flint and Surry, are
Tonis Kitty Rescue
graduates adopted from ACC SF in June 2014. Here is their baby photo and their grown up photos.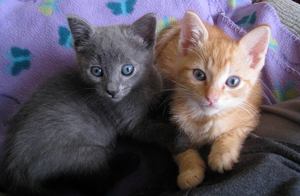 They are reported to still love each other very much and are clearly loved! Here is what their adopter wrote: "My two wonderful boys! Not only do they warm my feet at night, they warm my heart at all times. Surry is my Sumo. rough and tough and all muscle and boy. While Flint is my gorgeous boy. My show cat with a slick intellect that often beats Surry's sumo brute force. They are my boys. And I love them with all my heart. Thank you!
Really, thank you!!"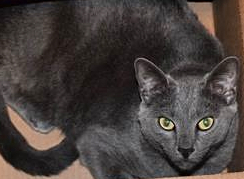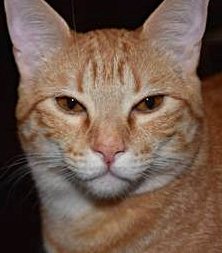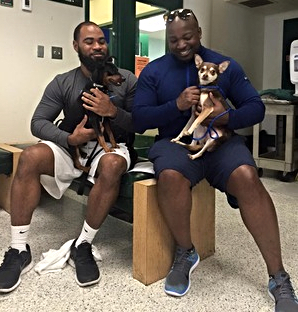 Mateo (R) goes home with his new forever family and brother Gunnar, who was also recently adopted from ACC!! We love repeat clients!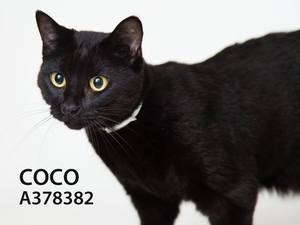 Coco adopted!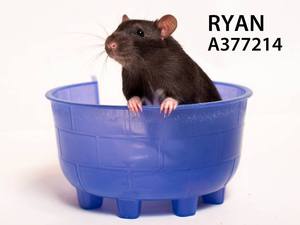 Ryan and his brother Owen were adopted. Yay!
---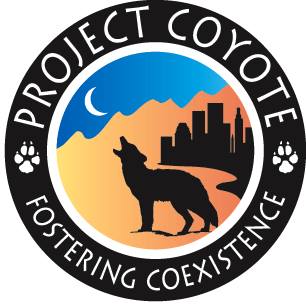 Four basic rules for walking dogs in coyote territory:
1. Keep your dog on a 6-foot leash.
2. Avoid areas known to have coyote activity, especially during breeding and pupping season.
3. Stick to trails and open paths.
4. Avoid walking your dog at sunrise and sunset hours. Coyotes are naturally active during the day, though urban coyotes usually switch to nocturnal behavior.
More
...
This YouTube video, Coyotes as Neighbors is super informative, and includes Spanish and Mandarin versions.
---

Be sure to regularly check our SFACC Facebook page for other wonderful photos & posts!
And check out more of ACC's animals for adoption (dogs and cats) on the
shelterme.com
website.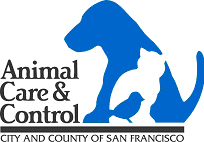 News/Events
---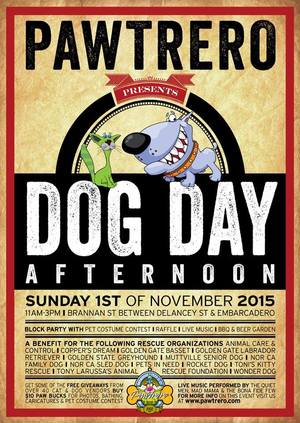 PAWTRERO presents the annual
DOG DAY AFTERNOON
: SUNDAY, NOV. 1ST, 11am-3pm.

Admission is FREE to this fabulous, "FUN"d raising event. This year, 14 cat & dog rescues including our SFACC shelter & Toni's Kitt

y Rescue are participating and will benefit from 100% of the proceeds. Come meet some great animals for ADOPTION, and learn how you can get involved by Fostering or Volunteering.

For more details, see
Pawtrero
's website
---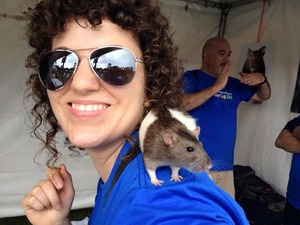 New Volunteer Orientations
Next session: Saturday, Nov. 7
The first step to becoming a volunteer is to attend a New Volunteer Orientation. Call (415) 554-9414 to sign up.

Pre-registration is required.

All sessions are Saturdays, 10am-12pm. Upcoming 2015 dates:
-November 7 & 21
-December 12
The animals LOVE all of our volunteers. You can walk and train dogs, socialize cats, and pet bunnies and guinea pigs to enrich their lives at the shelter and increase their chances for adoption. Learn how to foster a kitten or puppy. Or help out at outreach events to spread the word about ACC. Volunteers must be at least 18 years old & commit to volunteering 2 hours a week for a minimum of 6 months.
---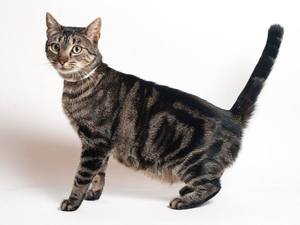 Kendall is a friendly and loving 4yo cat. He is also a super handsome fellow with a nice and mellow personality. Come meet Kendall and give him the FOREVER home he deserves. (A315229)
---
Hop to Bunny Day Outreach Nov. 14 -
New!
What:
Bunny Day @ the SF SPCA
When: 2nd Saturday of each month, 11am-3pm
Where: San Francisco SPCA Adoption Center Lobby
(Pictured: Freddie at ACC,
A377180
)
. SaveABunny, in partnership with the San Francisco SPCA and
San Francisco Animal Care & Control
will showcase adoptable rabbits looking for their forever homes. SaveABunny staff will be on hand to answer all your questions about companion rabbits. Typically, the featured bunnies are available at SFACC and occasionally foster rabbits from SaveABunny. Come to this "bunderful" event!
---

GO NUTS! FREE Pet Fixes Every Month




@ ACC Every 3rd Thursday

1200 15th St, SF, 94103.
Next Spay/Neuter Clinic:

NOVEMBER 19, 8am
Pets owned by SF residents are eligible. The mobile clinic is provided by Peninsula Humane Society. Accepting pets from 8-9 am on a first come first served basis. One pet per family; dogs and cats only; no dogs over 80 lbs and no pets over 8 yrs old. For details, including pre-surgery instructions, call (650) 340-7022 x387.
---
Cat in the Box!
Lulu, Daisy, Peach & Maria
are delightful kittens ready for their forever homes. It would be great if they could be adopted in pairs.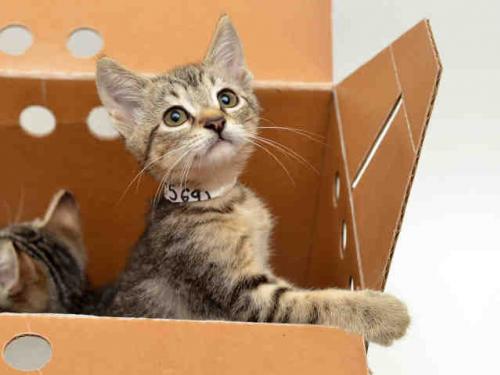 ---

VetSOS/Project Homeless Connect
VetSOS
is a volunteer-based project providing free veterinary care for homeless San Franciscans. Clients/patients are seen on a first come-first served basis.
Friday, November 13, 2015 - Bay View
Warm Water Cove Park - 24th and Illinois St.Accessible by Muni T-Line (exit at 23rd Street) Services begin at 11:30 am
Wednesday, December 16, 2015 - Project Homeless Connect
Bill Graham Civic Auditorium (99 Grove St). Accessible by Civic Center BART station. *A PHC wristband will be required for all participants, but it does not guarantee Vet SOS Services.
For more information, please call 415-522-3539 or email vetsos@sfccc.org.
---
---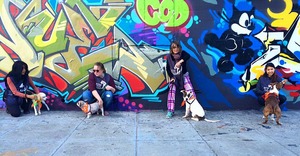 Watch a group walk video!


Classes for Dog Volunteers


Note: These classes are for current volunteers who have been through basic training.
November classes TBD. Dog volunteers, look for an email from the Behavior & Training staff.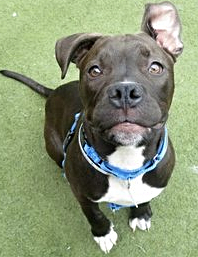 I am Mugsy...Look deep into my eyes. you WILL adopt me!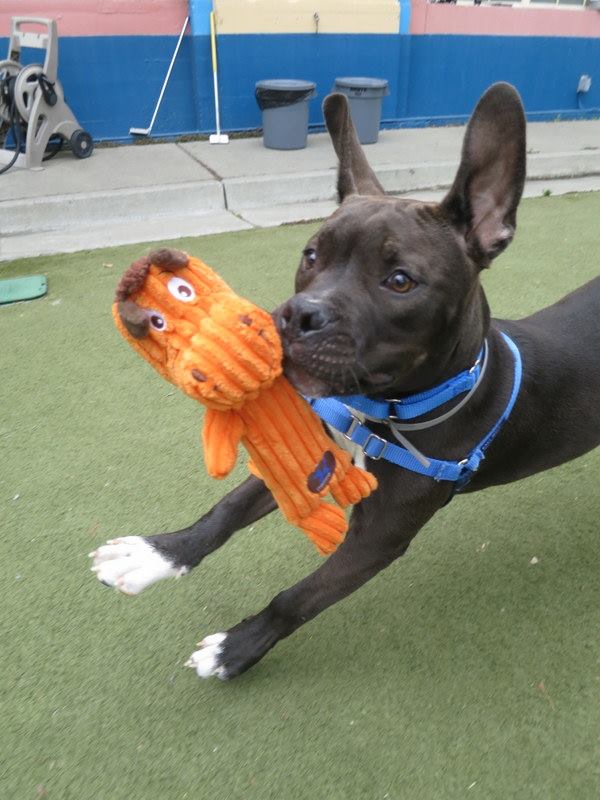 ---
ACC Outreach at Pet Food Express
on Market @Dolores St. in SF—EVERY THIRD SATURDAY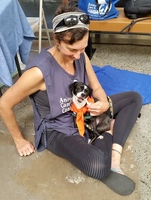 Meet ACC Available Dogs 1 pm-3 pm, every third Saturday (next session is Nov. 21) at the Market Street PFE. Dog handlers wanted. You must be a current dog volunteer who is field trip trained. Contact ACC B&T to find out more.
Volunteers needed to continue smalls outreach and to help coordinate the monthly dog outreach. Please contact
acc.volunteer@sfgov.org
if you're interested.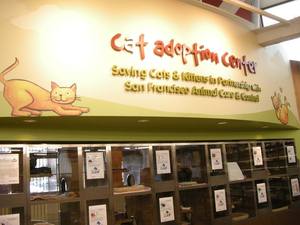 Visit the ACC Cat Adoption Center at the 1975 Market St. PFE store. Over 700 cats and 28 rabbits have been adopted there since the satellite site opened in 2012. (415) 431-4567.
---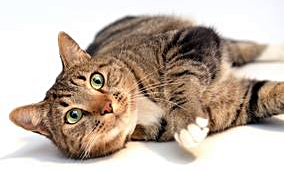 Trace is a super great cat. This friendly three-legged boy just couldn't be nicer. He is affectionate and loving and just a gentle fellow. He is at the shelter because his person was evicted and Trace was left behind. Luckily a good neighbor brought him to the shelter so he can get a FOREVER home.
---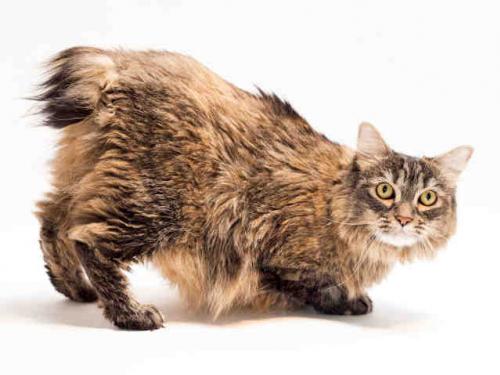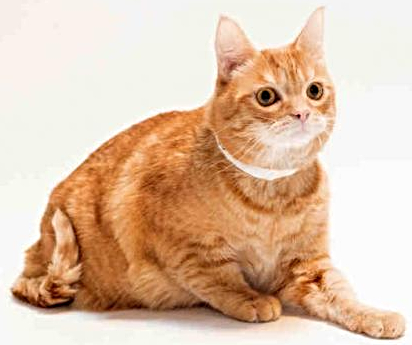 Fluffy and Sharky are a wonderful pair of cats that love each other and are very loving to people. These sweeties were surrendered to the shelter when their person's fiancée realized their allergies were too severe for them to all live together.
Sharky has pretty orange fur, a fabulously round face and a winning personality. Fluffy is equally charming and has a beautiful wild-cat look even down to her stumpy tail. Come meet these great cats and give them a home TOGETHER.
Encore cats n' quotes...
"'Meow' means 'woof' in cat." ~George Carlin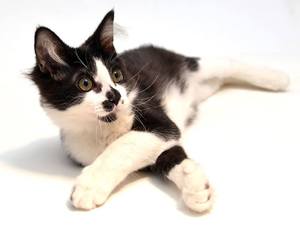 Picasso (A375999) is a "to die for cute" kitten who is ready for his FOREVER home—hopefully with another kitten. He is friendly and playful in a great way and definitely wins for best "ear fluff." How can you resist?
ACC has many cats and kittens for adoption. Why not come down and meet some of them? Cats and kittens are also available at ACC's SFACC satellite Adoption Center located inside the Pet Food Express store, 1977 Market Street @ Dolores.
See more of our fabulous felines on the ACC website
!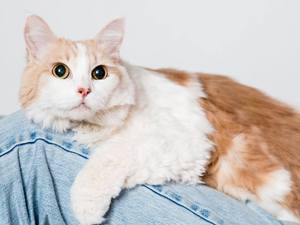 Adopt Cream Puff. Seriously sweet! This super handsome cat was sadly surrendered to the shelter when his person lost their job and home and had to move in with a relative that can't live with a cat due to health issues. He had lived with his person since he was a kitten and had a cat buddy that recently passed.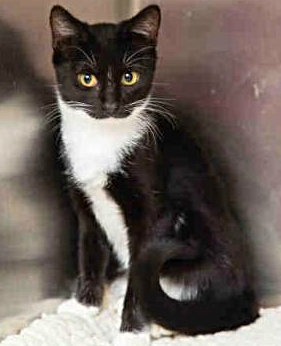 SWEET! Licorice, Frosty & Taffy are super cute and ready for their forever homes. They are super fun and active and love to play with each other.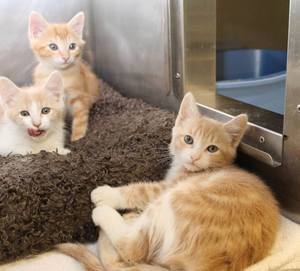 Hugh, Harry & Francis are 2-month old available kittens that you will quickly fall in love with and the hard part will be deciding which ones go home with you. Make it easy on yourself and adopt all three redheads. (A377799

, A377797 & A377798)



"One day I was counting the cats and I absent-mindedly counted myself."
― Bobbie Ann Mason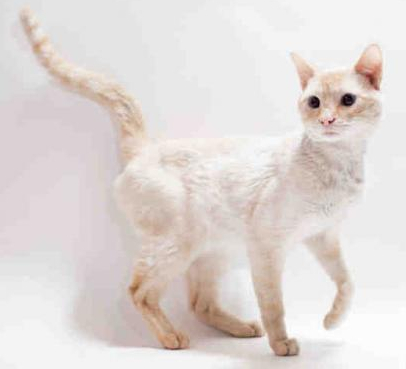 Special Medical Adoption: Jesse James (
A378358)
is a nice, nice 3-yo cat who came in as a stray and it is odd that nobody came to claim him. He appears to be blind and so will need to be an indoor only cat with extra attention paid to that. It does not seem to bother him much. Friendly and affectionate—not at all the renegade of his namesake—this Jesse James will steal your heart.
---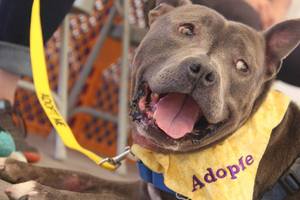 Wobbles is available at ACC.
Low-cost Rabies and Free* Microchips
for Dogs and Cats at ACC
Next clinic: Sunday, December 13
Microchip ID and collar tags are the most effective ways to identify your dog or cat if they are ever lost. All clinics (except PPDay) are held at SFACC, 1200 15th Street @ Harrison.

All clinic services are administered on a first come, first served basis. SERVICES ARE LIMITED TO 80 ANIMALS.
*Microchips are FREE for San Francisco residents with licensed dogs. Dog licenses are sold on site at the shelter (
fees vary
). Microchips are $20 for those outside San Francisco. Rabies vaccinations are $6 and are required for the license. Sponsored by Friends of SFACC & SFVMA.
---
Community Partners Help ACC
---
Pet Pride Day Was Awesome!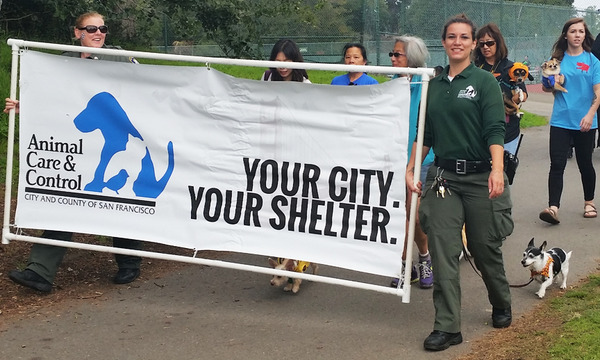 To all the vendors, sponsors, and participants who made this year's 22nd Pet Pride Day a splendid success: THANK YOU!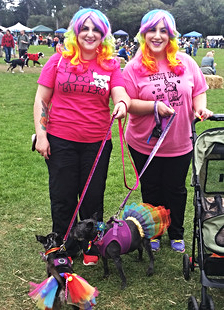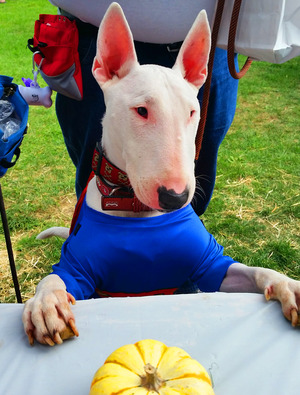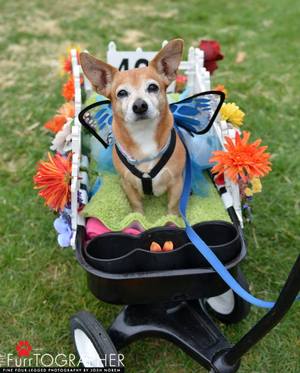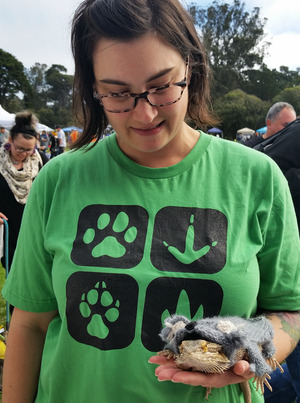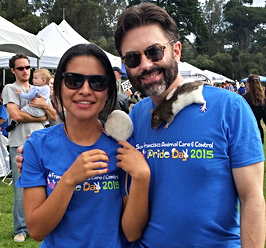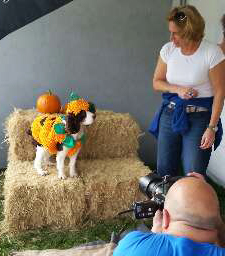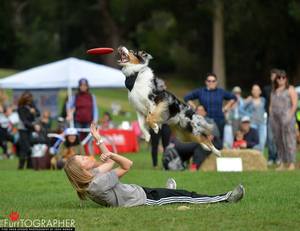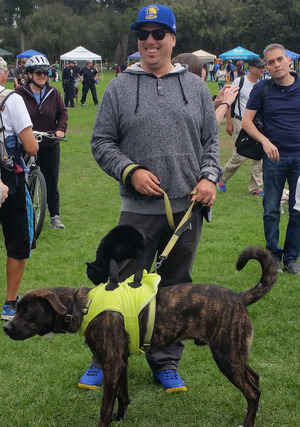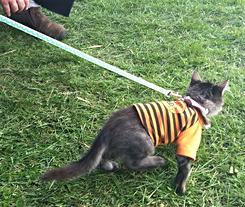 wha??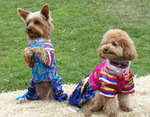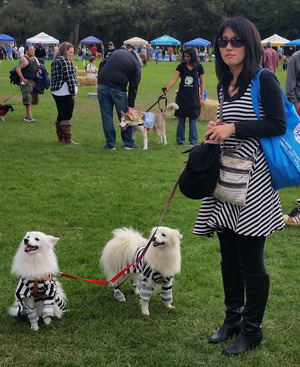 ---
Congratulations to the Pet Pride Day Costume Contest Winners!


Thank you to all of our entrants. You may not have won a prize, but you stole our hearts with your brilliantly creative costumes. Drum roll, please!! And the winners are...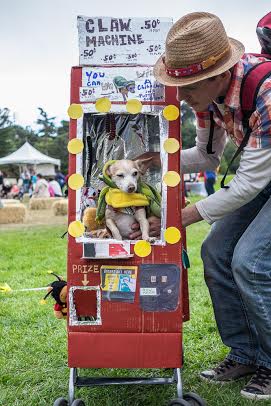 1st Prize: The Claw Machine
2nd Prize: Geisha and Samurai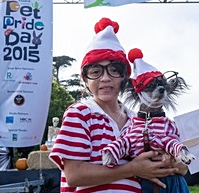 3rd Prize: Where's Waldo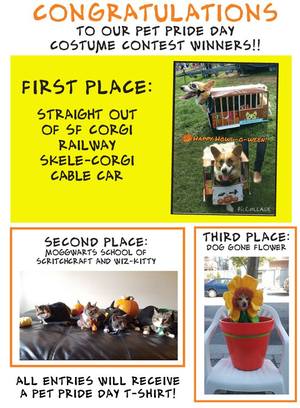 ---
SPECIAL THANKS to our Pet Pride Day 2015 Sponsors:
Woofs, meows, and chirps to... Bay Woof, NBC Bay Area, SF Rec & Park Dept., Virgin America Airlines, and Josh Norem,
The Furrtographer.
---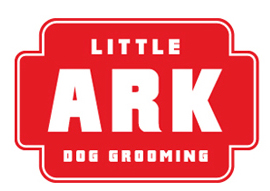 Re-Use for Rescues
Little Ark Dog Grooming at 748 14th Street in SF collects and donates dog-related items for ACC in an ongoing drive in the store. Customers can donate new or gently used dog items. Little Ark Dog Grooming is the longest-running grooming shop in San Francisco (they opened in 1976)! Thank you Little Ark owners Kim McCormack and Yuri for supporting animals in our community!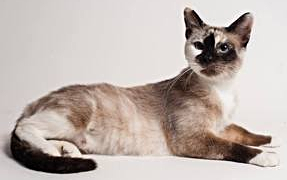 Sweet and friendly Emily (A376233) is a one-of-a-kind beauty with her unique tortie and Siamese markings and her bright blue slightly crossed eyes. She came to the shelter after having a run-in with a raccoon and her owner surrendered her. She is doing great and is ready to find her fur-ever home.
---
Community Cat Spay/Neuter program: Feral and free-roaming cat S/N, with traps available (free w/deposit).

Free spay/neuter for pit bulls and pit mixes owned by SF residents.

Find out more

.

For animals other than feral cats or pit bull mixes, SPCA offers free or deeply discounted S/N surgeries for low-income San Francisco residents. For info., visit the

Spay/Neuter Clinic page

or call the hospital at 415 554-3030.
---

Community Vet Clinic at PFE
Monday-Thursday, 2:30-7:30pm
.
VIP Petcare has opened a walk-in community clinic at the Pet Food Express store at 1975 Market St., SF. No appointments are necessary for routine veterinary care including physical exams, cat & dog vaccinations, anal gland expression, ear cleaning, eye exams, nail trim, microchip pet ID, medications, and more. All cats must be in carriers and all dogs must be on leashes.
---
Ongoing Need for Fosters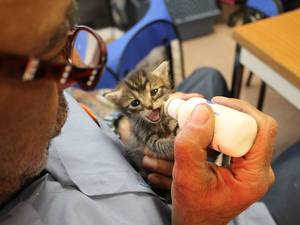 ACC needs fosters for underage puppies and kittens.
Toni's Kitty Rescue (TKR) is a nonprofit organization that partners with SFACC to find, train, and oversee fosters for ACC kittens until they're ready to be adopted. The first step to becoming a foster is to attend an SFACC New Volunteer Orientation. Pre-registration is required. Call
(415) 554-9414
.
---
Small Is Beautiful
ACC has beautiful, adoptable
rabbits and small animals
.
We have also have some very friendly rats, hamsters, and birds for adoption.
A few of ACC's HOT bun buns...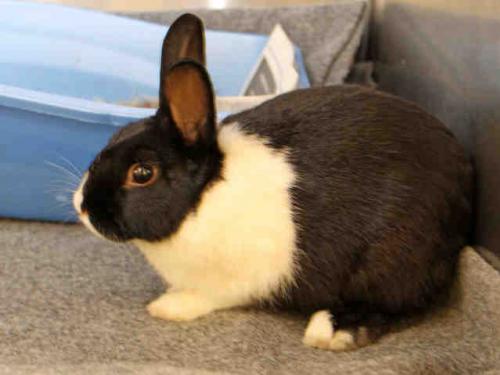 Benji (A378125) is a nice easy to handle rabbit. He is also super handsome.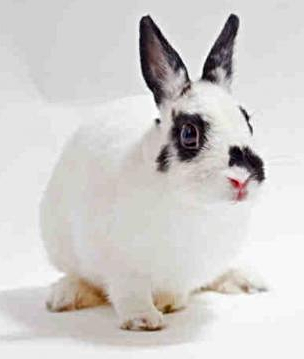 Cher (
A377442)
is a sweet pretty bunny with bright eyes, a super soft wonderfully spotty coat and tiny ears. She would be a good bun for a first time rabbit person.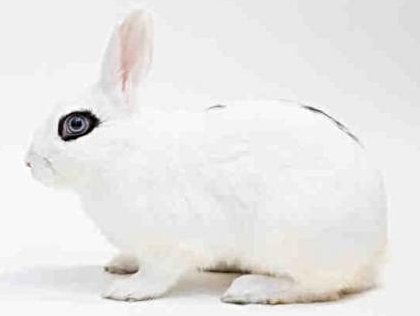 Chuck (A376885) is a sweetie who is easy to handle and loves being petted and interacting with people. Curious and playful, he's quite a cutie with his blue eyes and eye "patch."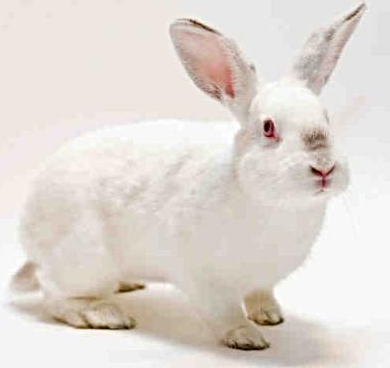 Echo is a good boy bun. A dwarf Hotot, he is curious, playful, easy going, and easy to handle. Echo is ready for his FOREVER home.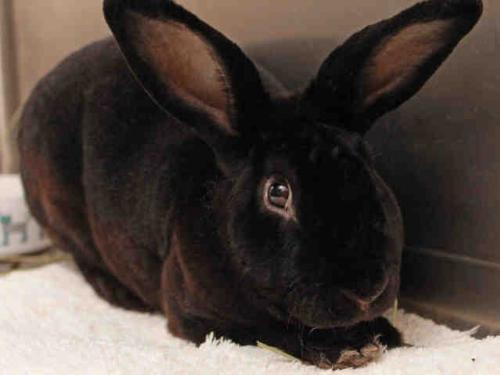 Freddie is a young (8 mo) super sweet, super soft bun. This handsome bun is ready for his fur-ever home.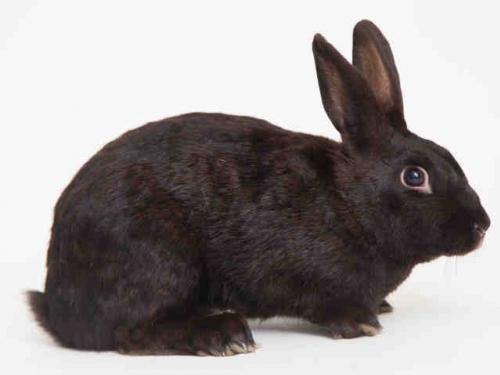 Fudge
(A376604) is a sweet treat of a bunny. This cute young fellow is curious and active. Fudge was found as a stray in Golden Gate Park.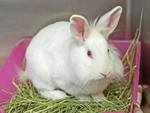 Pearl
(
A374317)
is a gem of a bunny with a great hair-do. Check out her little lion-head top and her awesome sideburns.




Sir Lancelot is a fun and curious little bun. This petite fellow with tiny ears and bright blue eyes is super cute and a nice guy. Come meet Sir Lancelot and see if this little bun is your knight is shiny white fur.
---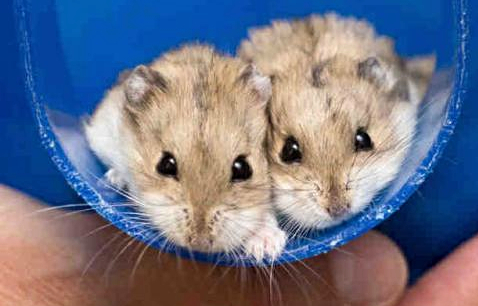 Bernie and his siblings are dwarf hamsters—sweet, fun, and easy to handle. They are active and curious and looking for FOREVER homes: 4 girls and 3 boys.

Meet Lady Gaga (L) and the Parakeets! Come to ACC and adopt them!