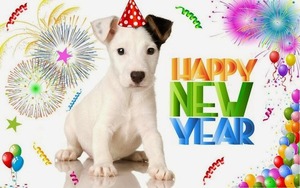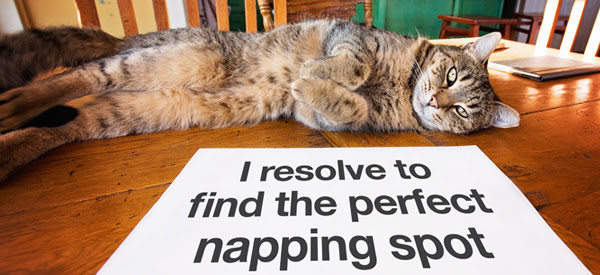 ---
Dear Friends,
As the new year begins, we reflect on 2015, a transitional time for ACC and Friends of SFACC. ACC gained a new director, Virginia Donohoe, and experienced significant staff changes, including the retirement of beloved senior managers, Eric Zuercher and Orlando Versosa.
The Friends of SFACC—the nonprofit that helps support shelter programs—gained new board members, led by Interim Chair Michelle Watson. Rolling with the changes, the staff and volunteers continued their outstanding work this past year, dedicated beyond words, keeping SF's wildlife and pets safe, helping people find lost pets, giving orphans new homes, and spreading the word about the good work of the shelter through outreach and fundraising events in the community.
Change, like New Year's resolutions, can be challenging but also energizing and exciting. We embrace the new ideas, perspectives, and faces that will come to ACC in 2016. An exciting prospect this year is the possibility of a bond measure to fund a new building for SFACC. Please read the Director's message and whether you are a San Francisco resident or not, voice your support to the SF Board of Supervisors, who will vote in February whether to include a new shelter on the November ballot.
We are so thankful for your support and compassion for animals in need throughout the past year. On behalf of the Friends of SFACC, we wish you a wonderful 2016!

~The Friends of San Francisco Animal Care & Control
---
Message from the Director: ACC Needs a New Building—Make Your Voice Heard!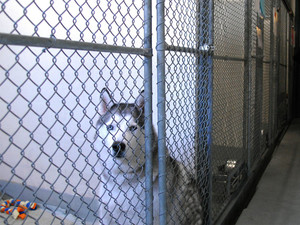 Photo credit:

Evan Ducharme/2013 S.F. Examiner
Friends and supporters of ACC,
If you volunteer, work, or have ever visited ACC, you know the great need for a new shelter building and you can help make it a reality. In the next few weeks, the 2016 Public Health and Safety Bond will be presented to the Board of Supervisors. One of the projects included in the bond package is a new animal shelter, but the board has many competing priorities and needs to hear that a new shelter is one of yours.
San Francisco needs a new municipal animal shelter building and here's why:
In the event of a major earthquake the shelter must be self-sufficient for 72 hours, both to protect the animals and workers inside and to be able to take in people and animals who are displaced from their homes. We do not expect the current building to be able to meet that standard.
The shelter is crowded, with animals in smaller enclosures than is healthy for them.
Veterinary facilities do not meet modern standards of care.
The current building has only one outdoor yard for more than 100 dogs.
ACC staff is unable to properly isolate sick animals in the current shelter, which leads to diseases spreading throughout the population.
While it can be argued that with limited resources, the City should focus on meeting human rather than animal needs, particularly for those who are homeless or mentally ill, we would emphasize that Animal Care and Control (ACC) serves both people and animals. For example, one of the major lessons learned from Hurricane Katrina is that people will jeopardize their own safety and refuse to evacuate unless they know their pets will be cared for. Hence, federal law was amended in 2006 to require state and local emergency preparedness plans to include provisions for people with pets. We need to be prepared to be available to the public in an emergency, and the current building does not meet modern standards for disaster preparedness.
Here's how ACC helps humans:
Last year, ACC cared for more than 300 people, most of whom were homeless or mentally ill, who found themselves temporarily unable to care for their pets for a variety of reasons including being hospitalized, evicted or incarcerated. ACC stepped in and took custody of the pets until their guardians were able to care for them again.
ACC operates a SAFE program for victims of domestic violence, caring for their pets until they are able to leave a shelter and move into stable housing.
ACC partners with VET SOS, providing vaccines and medical transportation, for pets with homeless guardians.
ACC accepts donated pet food and supplies and ensures it is distributed to those in need.
The shelter has performed amazingly well, considering its history. Built in 1931, it was originally used as the City purchaser's warehouse. In 1988 when the SPCA announced that it was turning animal control activities over to the City, the warehouse was emptied and converted into a shelter in time to begin operations on July 1, 1989, when 200 animals were brought across the street from the old SPCA building.
Much has changed in the last 26 years, and it's time for the building to be replaced as well. Please let your district supervisor know how you feel before February 1 by writing, calling, or emailing them in support of a new ACC shelter.
Thank you for all you do for ACC!
Sincerely,
Virginia Donohue
Director, SF Animal Care & Control
---
Editor's note
: Read animal advocate and former member of the SF Commission of Animal Control and Welfare, Sally Stephen's article in the SF Examiner, "
Helping Animals Actually Helps People
."
Even if you don't live in SF, you may have friends or family who do and you can support a new shelter on their behalf. In this city that has always been a haven for humans, let the supervisors know we must protect and care for SF's animals as well as its residents. Contact the
SF Board of Supervisors
.
---
Volunteer Star - Loretta Kelly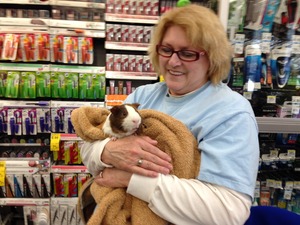 Volunteer Loretta Kelly holds an adoptable guinea pig at a Walgreens outreach event.

I started volunteering with the small animals at ACC in January 2004 and it has been one of the joys of my life in so many ways. When I first started, I was almost always alone and the serenity of room 225 was a wonderful escape from an all too hectic life. No matter what was going on in my personal or professional life, I forgot it when I was with the little ones. Some weeks, I was the only volunteer who worked with the smalls. Now, our small animal team has grown and most weeks we have volunteers every day. At this point, all of our volunteers were trained by me or trained by someone who was trained by me… I am really proud of that.
Both of my daughters have also volunteered and one of them fostered some underage kittens for Toni. That was fun!
I also love working at special events.
A number of years ago, I (at my husband's suggestion) asked the then-Director if it would be possible to have some time in the yard dedicated to the rabbits. So now, we have two hour-long sessions when we take the rabbits to the yard and let them run free and be rabbits. I don't know who has more fun, them or us. I have adopted a number of rodents from room 225 and they have all brought joy to my life.
Another rewarding aspect of volunteering is the wonderful humans I have met. We are all there for the animals and I treasure the time I spend with them.
---
Congratulations, Boss!
Orlando Versosa is honored by City Administrator Naomi Kelly in the lobby of ACC. Orlando, Assistant Supervisor of Animal Care, retired from ACC at the end of December, after 26 years of service (and 10 years at SFSPCA before that). He has been at ACC since the beginning. We wish him well on his next journey!
---
Give a Pittie Pal a Forever Home

*
Adoption Fees Waived in January*
The shelter has many wonderful pit-bull mix dogs, ready for their forever homes. Some, like Mugsy, have been at the shelter a while, and although they get love and exercise from ACC volunteers, there is no place like home.
In January, adopt a pit-bull mix dog from ACC and the adoption fee will be WAIVED (for qualified homes), plus you'll receive a FREE training class at Pawsitive Tails in SF, plus a Welcome Home Gift Package with toys, treats, and a sweater. Below are just a few of the wonderful pups available for adoption. Check out all of ACC's dogs!

Beppo (A380389) is a very sweet and friendly boy who will liven up your life with his playful personality. This social wing-man is also super cute and proudly carry his own toy while walking by your side.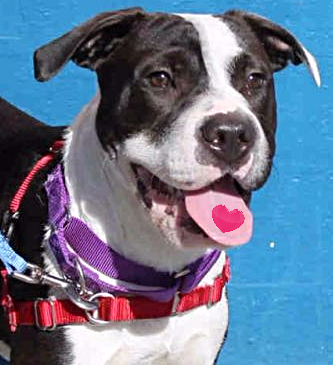 Brooke (A379395) is sweet as pie and downright beautiful, too. She is a 7-mo shy girl who will waggle her whole body in joy after she meets you twice. She will do best in a quiet, steady home.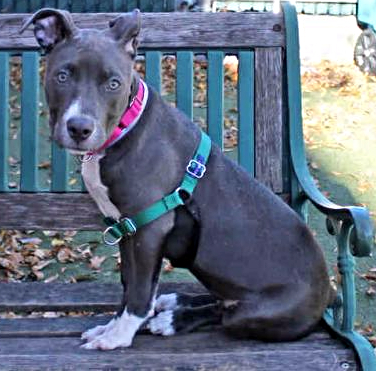 Cleo (A381136) is a gorgeous 7-mo
gregarious
pup, surrendered because of her owner's health. Chloe is ready to meet a family to share her affection and other endearing qualities. A quick learner, she is sure to be a STAR in her training class and will make a great partner on any & all adventures.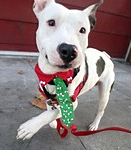 Deacon (A378895) This cuddly boy wants to be in your lap as much as possible. He's a big ol' snoopy who is waiting to meet you!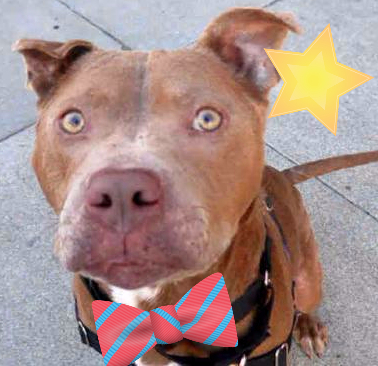 Denver (A378200) is the sweetest, most affectionate dog you'll ever meet! This lovely 3-yo gent is an excellent cuddler & kisser & very attentive; he can be a bit shy at first but warms up very quickly. Denver is good with other dogs, and likes to walk with the little ones.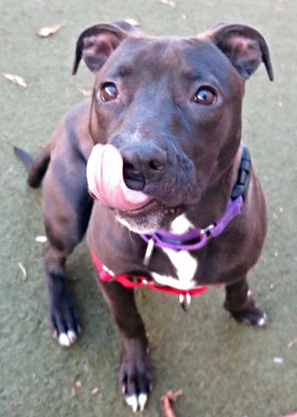 Donovan
(A379048) is the sweetest, mushiest boy who delights in meeting people and will cover you in kisses and affection. This Sunshine Superman loves to romp and play and is sure to light up any rainy day!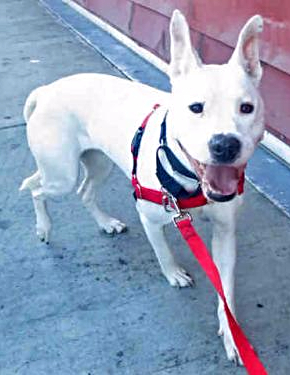 L
ovely Miss Jasmine (
A295782)
is an affectionate & truly tender gal who's looking for her new forever family. Jasmine is beautiful 5-year old girl who loves to be close to people. She will sit by your side while you read an entire book and be content. Jasmine lived with other dogs and is comfortable around them.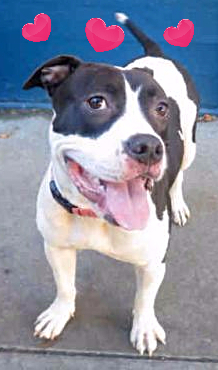 Lovely young lady Lola (
A378671)
is a lovely girl with soulful eyes who is affectionate, full of fun, energy and joy! This athletic beauty will thrive in a home where her family will provide her with daily exercise and lots of indoor activities too including cuddles & snuggles! Lola loves people and thinks she's a lap dog.

M

ugsy
(
A375267), a

Boxer/Pittie mix cutie

went on a field trip to Golden Gate Park with an ACC voluteer, where he enjoyed the new and exciting smells. What did he enjoy the most? The car ride! Hurry and adopt this cutie pie.
He's been waiting patiently here at our SF ACC shelter for his Forever Family to find & ADOPT him and we're mystified that no one has fallen for his handsome face and other endearing attributes including his unique, super-soft sable-colored coat and general smarts.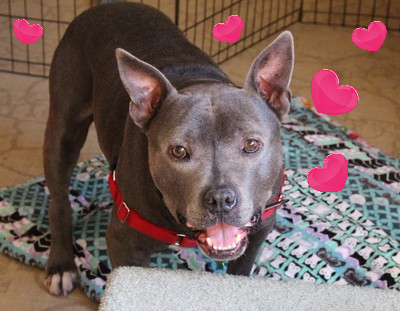 Papa Wobbles is now available at Muttville!
---
Greyhounds and Kittens
Take Over SF City Hall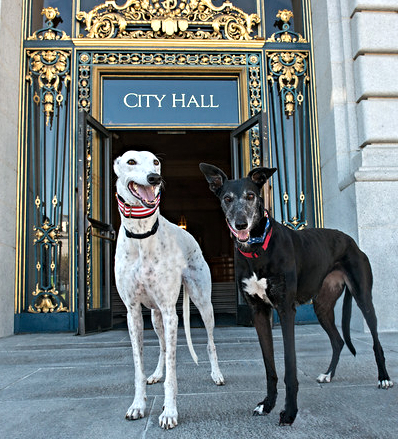 Mayor Mila (R) and Lucca (Deputy Dawg Mayor)
San Francisco's 2016 Dog Mayor was sworn in during an SF Board of Supervisors meeting at San Francisco City Hall on December 1, 2015. Mila met with the outgoing Mayor Ed Lee, and he wished her well in her upcoming role. Next the Board of Supervisors officially recognized Mila's status as Mayor, and presented her owner Teresa King with an official certificate.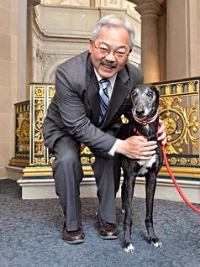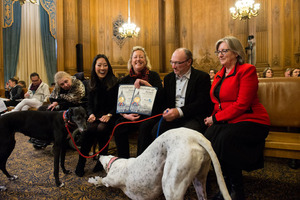 Supervisor Katy Tang, who read the commendation, also hosted a reception in her office for Mila the Dog Mayor, Lucca the Deputy Dog Mayor, and KITTENS from ACC (See 12 Days of Kittens"). Virgin "Greyhound" cocktails and mini cupcakes were served. Josh Norem, ACC's Furrtographer, captured the historic event on camera... "For the second year in a row I've been lucky enough to be able to photograph an event that could only take place in San Francisco—the swearing in of a dog as Mayor! We began the day with a tour of San Francisco for both greyhounds, and ended at City Hall so that Mila could be sworn into office." Here are some of the photos I took of this amazing day – I hope you enjoy them!"
12 Days of Kittens...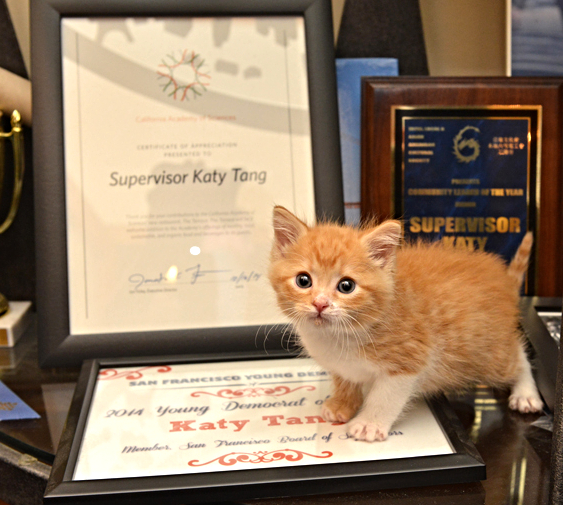 (photo credit: Josh Norem)
Three years ago, SF Supervisor Katy Tang brought cats from Animal Care and Control to City Hall to encourage adoption from the city agency. Tang's family adopted their dog, a Maltese, from ACC and she is a strong advocate for ACC in her district (4) and on the Board of Supervisors.
"Our entire office, all of our staff, are animal lovers," she said, holding a 4-week-old calico kitten. "We started this (event) to spread more awareness about animal care and control, which is where my family adopted our first dog. ... We are hoping more people will learn to adopt rescue animals versus purchasing them through breeders." The 12 Days of Kittens celebration happened Dec. 1-Dec. 11 and wrapped up with a party in her offices at City Hall. About three to five of the felines are adopted from the litter in Tang's office each year. Take a look at this lovely article and adorable video.
---
Happy Tales...
Adoptions & Updates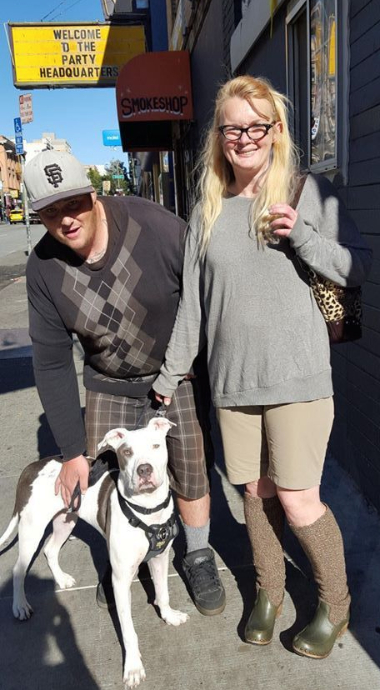 Rohan's adopters shared they have "about a thousand" photos of him and that ROHAN plays nicely with other dogs. "If there are little dogs, Rohan will actually lie down so they won't be afraid!"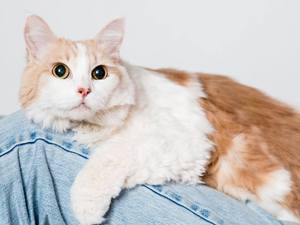 Cream Puff has been adopted!
---
Joey (formerly Potter) was adopted through Rocket Dog Rescue. His new parents sent this message...
"Season's Greetings and hope you are all well!
Well, time got away from us and we didn't make holiday cards, so here is a glimpse of Joey's first Christmas with us. He got to run around the countryside in Newcastle, CA, made a new best friend (Dyno), wore ugly holiday sweaters around the bonfire, and was basically the life of the party!"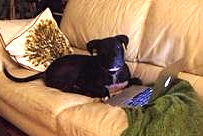 Joey with Pal (Top) and reading email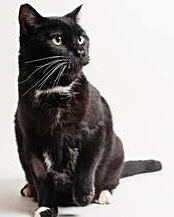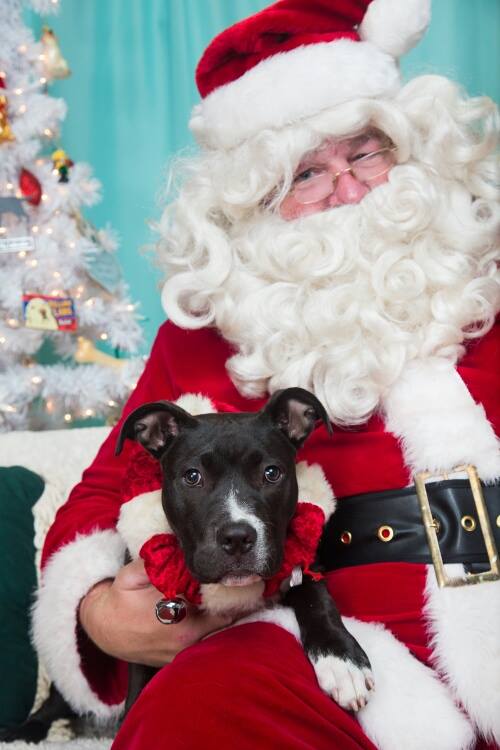 Bootsy adopted (L); Andouille with Santa; sometimes naughty, mostly nice!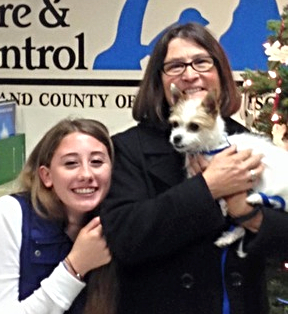 Daisy was adopted in December.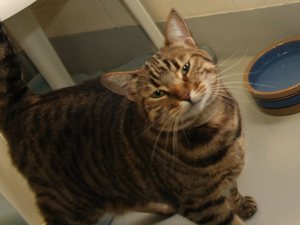 Bandit, happy in his new home.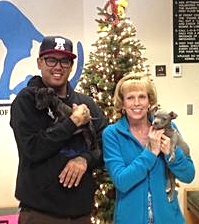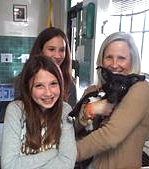 Dancer and Prancer (L): adopted! Quiggly (R)
---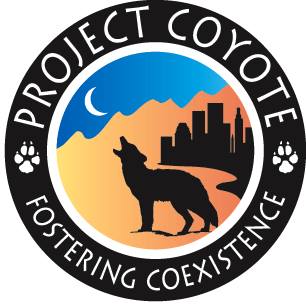 Four basic rules for walking dogs in coyote territory:
1. Keep your dog on a 6-foot leash.
2. Avoid areas known to have coyote activity, especially during breeding and pupping season.
3. Stick to trails and open paths.
4. Avoid walking your dog at sunrise and sunset hours. Coyotes are naturally active during the day, though urban coyotes usually switch to nocturnal behavior. More...
This YouTube video, Coyotes as Neighbors is super informative, and includes Spanish and Mandarin versions.
---
ACOs Helping Wildlife in SF
Another day, another raccoon set free from a soccer net. Animal Control Officer Ellie Sadler helps this little guy out.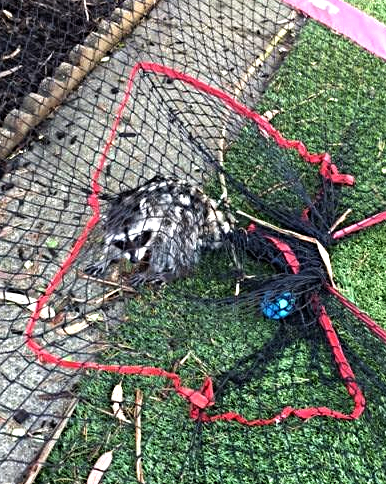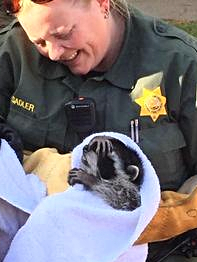 ---
Want to help rescue animals for a living? The SF Dept. of Animal Care & Control has an open job for an Animal Control Officer.
Check it out!
...ACO Johnny Hilton, we will miss you!
---

Be sure to regularly check our SFACC Facebook page for other wonderful photos & posts! And check out more of ACC's animals for adoption (dogs and cats) on the shelterme.com website.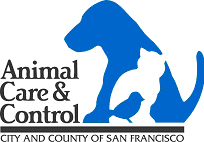 News/Events
---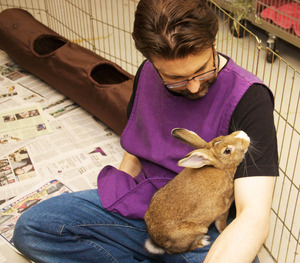 New Volunteer Orientations
Next session: Saturday, January 16, 2016
The animals LOVE all of our
volunteers
. You can walk and train dogs, socialize cats, and pet bunnies and guinea pigs to enrich their lives at the shelter and increase their chances for adoption. Learn how to foster a kitten or puppy. Or help out at outreach events to spread the word about ACC. Volunteers must be at least 18 years old & commit to 2 hours a week for a minimum of 6 months.
The first step to becoming a volunteer is to attend a New Volunteer Orientation. Call (415) 554-9414 to sign up. Pre-registration is required. All sessions are held on Saturdays, 10am-12pm.
Volunteer Orientation 2016 dates:
January 16, 30
February 20
March 5, 19
April 9, 23
---
Hop to Bunny Outreach Jan. 9, 2016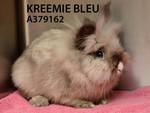 What: Bunny Day@ the SFSPCA
When: 2nd Saturday of each month, 11am-3pm
Where: San Francisco SPCA Adoption Center Lobby
(Pictured: Kreemie Bleu was recently adopted at this event.) The rescue group, SaveABunny, in partnership with the San Francisco SPCA and San Francisco Animal Care & Control is showcasing adoptable rabbits looking for their forever homes. SaveABunny staff will be on hand to answer questions about companion rabbits. Typically, the featured bunnies are available at SFACC and occasionally foster rabbits from SaveABunny. Come to this "bunderful" event!

VetSOS/Project Homeless Connect
Tuesday, January 12, 2016 - Bay View
Warm Water Cove Park - 24th and Illinois St.Accessible by Muni T-Line (exit at 23rd Street) Services begin at 11:30am
VetSOS
is a volunteer-based project providing free veterinary care for homeless San Franciscans. Clients/patients are seen on a first come-first served basis.
For more information, please call 415-522-3539 or email vetsos@sfccc.org.
---

GO NUTS! FREE Pet Fixes Every Month
@ ACC Every 3rd Thursday 1200 15th St, SF, 94103.
Next Spay/Neuter Clinic: January 18, 8am
Pets owned by SF residents are eligible. The mobile clinic is provided by Peninsula Humane Society. Accepting pets from 8-9am on a first come first served basis. One pet per family; dogs and cats only; no dogs over 80 lbs and no pets over 8 yrs old. For details, including pre-surgery instructions, call (650) 340-7022 x387.
---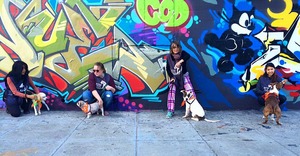 Watch a group walk video!
Classes for Dog Volunteers
Note: These classes are for current volunteers who have been through basic training.
January classes TBD. Dog volunteers, look for an email from the Behavior & Training staff.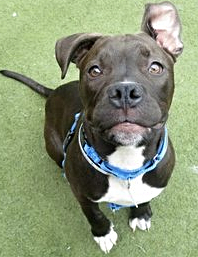 I am Mugsy...Look deep into my eyes. you WILL adopt me!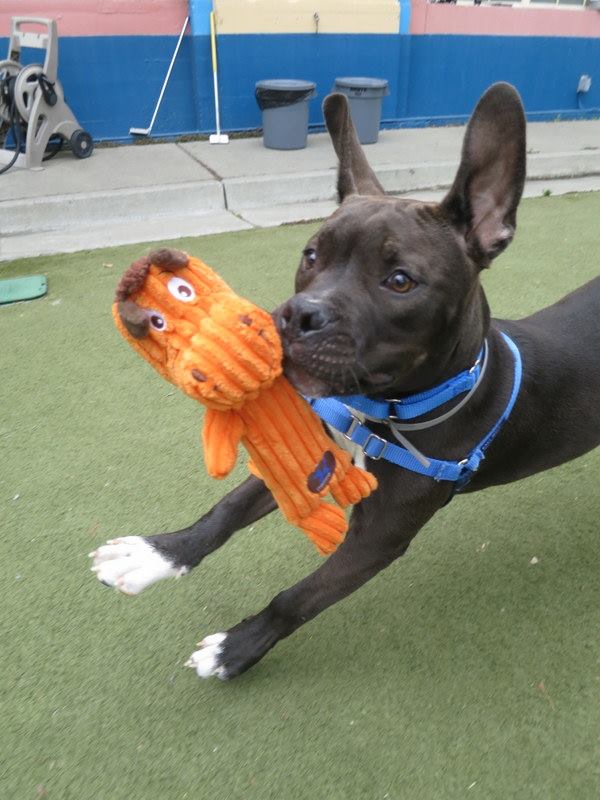 ---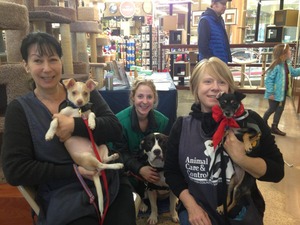 December Pet Food Express Outreach Team
ACC Outreach at Pet Food Express
on Market @Dolores St.
—EVERY THIRD SATURDAY
Meet ACC Available Dogs 1pm-3pm, Jan. 16 at the Market Street PFE in SF. Dog handlers wanted. You must be a current ACC dog volunteer who is field trip trained. Contact
ACC B&T
to find out more.
Volunteers needed to help coordinate the monthly dog outreach! Contact
acc.volunteer@sfgov.org
.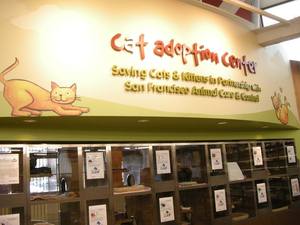 Visit the ACC Cat Adoption Center at the 1975 Market St. PFE store. Over 700 cats and 28 rabbits have been adopted there since the satellite site opened in 2012. (415) 431-4567.
---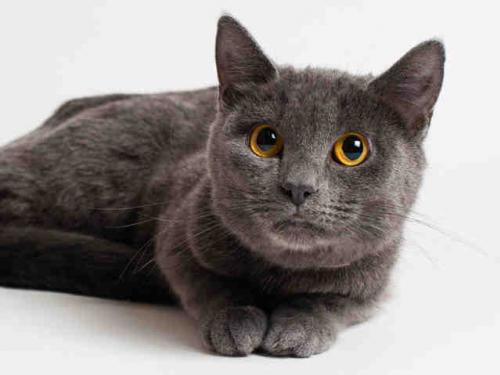 Safari (A380573) is available at ACC.
---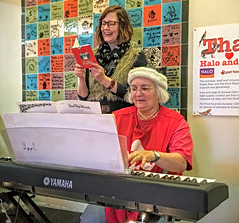 Holiday Carols Caberet at ACC
Not exactly the Kit Kat Klub...BETTER! ACC staff, volunteers, and guests enjoyed holiday carols at the 2nd Annual CAROLS CABARET on Saturday, December 12 in the 2nd floor lobby of ACC. SFACC Cat Volunteer, Marie accompanied the sweet voice of Cat Volunteer Trainer (and a volunteer herself) Celia Shuman on piano in their special performance for all of our SFACC shelter employees, volunteers, and guests.
---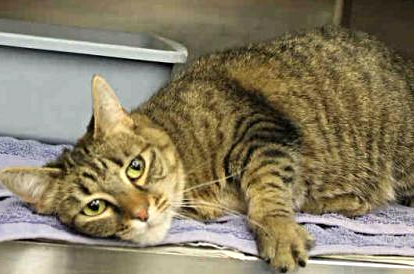 (

A381441

) B is a beautiful and sweet cat. She is at the shelter due to allergies in the family. She is reported to get along with dogs and kids and be toilet trained and to not get along with other cats. B has a lovely purr that she likes to share. She is also playful and friendly and ready for a second chance at a FOREVER home.
ACC has many cats and kittens for adoption. Why not come and meet some of them or check out ACC's SFACC satellite Adoption Center located inside the Pet Food Express store, 1977 Market Street @ Dolores.
See more fabulous felines on the ACC website!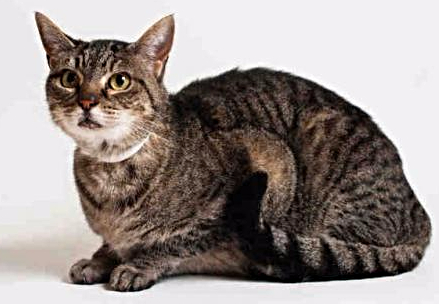 Glory (A380362) is a lovely senior cat. She is super sweet, affectionate and loves petting and brushing. Glory was surrendered to the shelter when her person had to change housing and was unable to take her along. Please consider giving Glory a secure and loving home for her golden years.
---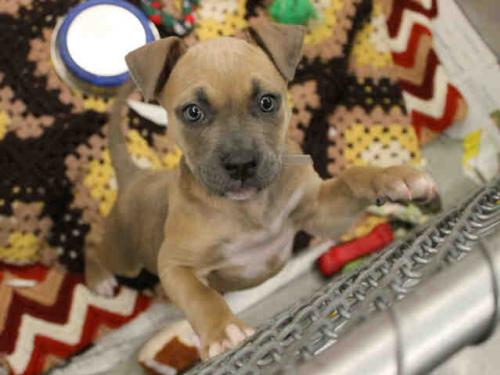 3-month old Minnie (

A381453

is available at ACC.
Low-cost Rabies and Free* Microchips
for Dogs and Cats at ACC
Upcoming clinic dates for 2016:
Sunday, March 13
Sunday, June 12
Sunday, September 11
Sunday, December 11

Microchip ID and collar tags are the most effective ways to identify your dog or cat if they are ever lost. All clinics (except PPDay) are held at SFACC, 10am-1pm (line up at 12:30pm), 1200 15th Street @ Harrison. Clinic services are administered on a first come, first served basis. SERVICES ARE LIMITED TO 80 ANIMALS.
*Microchips are FREE for San Francisco residents with licensed dogs. Dog licenses are sold on site at the shelter (
fees vary
). Microchips are $20 for those outside San Francisco. Rabies vaccinations are $6 and are required for the license. Sponsored by Friends of SFACC & SFVMA.
---
We Give Thanks to ACC Community Partners!
---
Google Gives to ACC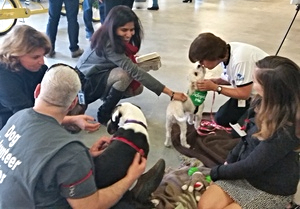 On Dec. 3, for the second year, Friends of SFACC was one of many charities selected to for Google Give, an annual program held the first week of Dec. to help support nonprofits in Google communities nationwide. One of Google's directors, Todd Curtiss, who has rescue dogs of his own, nominated ACC to participate. "I'm delighted to be able to offer a forum to spread the good word and awareness for your amazing organization."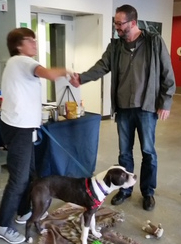 Google is dog friendly so Francis and Brooke, two available ACC dogs, came to help spread awareness and greeted Googlers coming into the cafeteria for lunch. Friends board member Ashley Oreta joined ACC volunteers JoAnne Shanahan, Mitch Dalition (also a board member), and Lisa Stanziano to introduce the dogs and talk about ACC services, adoption, and volunteering at the shelter. Generous Googlers made donations on the spot, which will be matched twice: by Todd Curtiss and by the company, for a triple match event. Wow! What a successful day—besides the needed funding, just educating people on who ACC is and what we do is so important.
Many thanks to Google coordinators Ann Gonzalez, Emily Ferdinandi, and Molly Barnes. And triple thanks to Todd Curtiss for nominating ACC!!
---
Pawtrero Dog Day Afternoon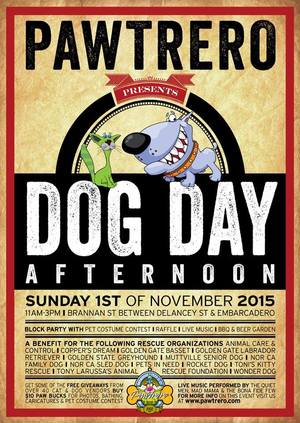 Woofs, Purrs, and Tweets to Pawtrero for including ACC in their annual fundraiser on Dec. 1. For 9 years, Pawtrero, a local family-owned independent pet supply store, has hosted DDA to raise money and awareness for local animal rescue groups. This year, 14 dog and cat rescues participated with all proceeds benefiting these incredible organizations, including ACC and Toni's Kitty Rescue. For more details, see
Pawtrero
's website
.
---
Live Oak School Students
Make Toys for ACC Animals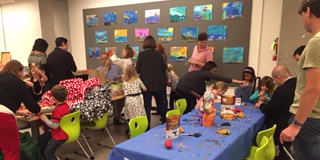 Friends of SFACC boardmembers organized a workshop for students (and parents) at the Live Oak School in SF to make rope toys for dogs, rubber noodles for cats, and ornaments for the ACC holiday tree. The volunteers delivered the goods to ACC on Dec. 18 and the shelter animals are enjoying their toys, made with love.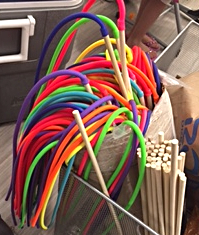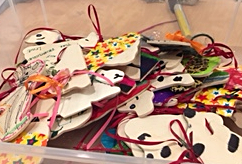 ---

Virgin America Elves Visit SF Animal Care & Control
On December 18, a group of Virgin America "elves" volunteered to spread holiday cheer to the animals at SFACC by putting together some toys onsite and delivering requested "fluffy" toys to the dogs and cats in the shelter. The airline has been a proud partner of ACC since the first Operation Chihuahua Airlift in 2010 when Virgin America flew its first dozen pups from SF to the New York to be adopted into loving homes. In 2015, Virgin America gave both cash and in-kind donations to ACC totaling approximately $30K. Thank you, generous VA!! Here's a
video
of the the elves' visit to ACC.
---
Cheers to ACC Sponsors & Partners!
SPECIAL woofs, meows, and purrs to Friends of SFACC 2015 community partners. We salute you!
City Dogs Bernie's Grooming
---
Re-Use for Rescues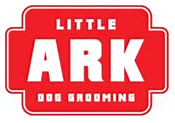 Little Ark Dog Grooming
at 748 14
th
Street in SF collects and donates dog-related items for ACC in an ongoing drive in the store. Customers can donate new or gently used dog items. Little Ark Dog Grooming is the longest-running grooming shop in San Francisco (they opened in 1976)! Thank you
Little Ark
owners Kim McCormack and Yuri for supporting animals in our community.
---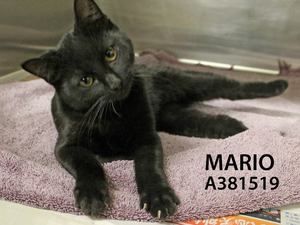 Adopt Mario!
---
Free and Subsidized Spay & Neuter
Services at the SFSPCA
To reduce unwanted pets and feral cats in the city, ACC's partner, the SFSPCA, offers spay/neuter services for SF residents:
Community Cat Spay/Neuter program: Feral and free-roaming cat S/N, with traps available (free w/deposit).
Free spay/neuter for pit bulls and pit mixes owned by SF residents. Find out more.
For animals other than feral cats or pit bull mixes, SPCA offers free or deeply discounted S/N surgeries for low-income San Francisco residents. For info., visit the Spay/Neuter Clinic page or call the hospital at 415 554-3030.
---

Community Vet Clinic at PFE
Monday-Thursday, 2:30-7:30pm.
VIP Petcare has opened a walk-in
community clinic at the Pet Food Express
store at 1975 Market St., SF. No appointments are necessary for routine veterinary care including physical exams, cat & dog vaccinations, anal gland expression, ear cleaning, eye exams, nail trim, microchip pet ID, medications, and more. All cats must be in carriers and all dogs must be on leashes.
---
Ongoing Need for Fosters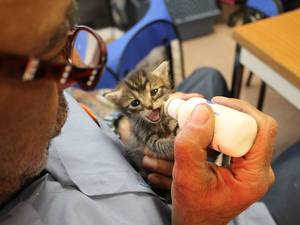 ACC needs fosters for underage puppies and kittens.
Toni's Kitty Rescue
(TKR) is a nonprofit organization that partners with SFACC to find, train, and oversee fosters for ACC kittens until they're ready to be adopted. The first step to becoming a foster is to attend an
SFACC New Volunteer Orientation
. Pre-registration is required. Call
(415) 554-9414
.
---
Hot Buns Now at ACC
ACC has beautiful, adoptable
rabbits
. We have also have some very friendly rats, hamsters, and birds for adoption.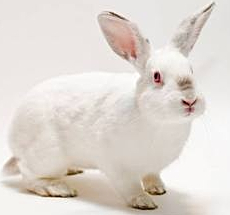 E
cho
the Bunnyman (A378125)
s a good boy bun. A dwarf Hotot, he is curious, playful, easy going, and easy to handle. Echo is ready for his FOREVER home.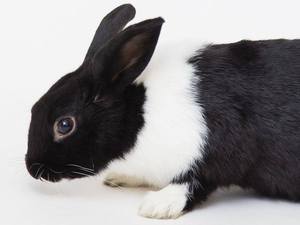 Cooper (A381001) is a great bun. This cute black and white bunny with great markings that is friendly, curious, and fun. Cooper will make a wonderful rabbit companion and would be good for a first time rabbit person.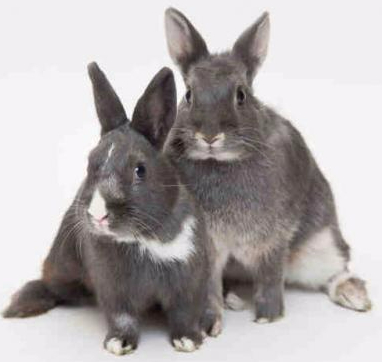 Klaus (A379757) & Mistletoe (A379756) are a sweet bonded pair of little bunnies. They are lovely to look at and also lovely to be with. These adorable buns are very bonded to each other - they play together and groom each other -- and must be adopted together. Klaus & Mistletoe can be a bit shy at first meeting but become more and more social each day as they get visits from the stellar volunteers and staff. They are calm and gentle and easy to handle. Come adopt them and double the love!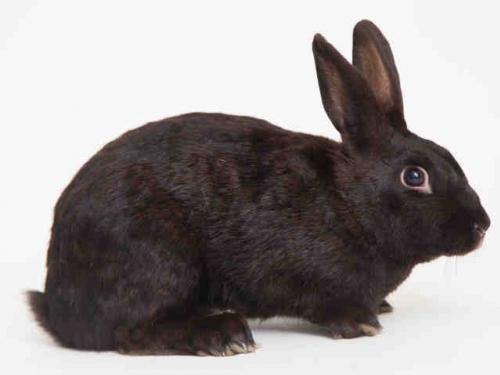 Fudge
(A376604) is a sweet treat of a bunny. This cute young fellow is curious and active. Fudge was found as a stray in Golden Gate Park.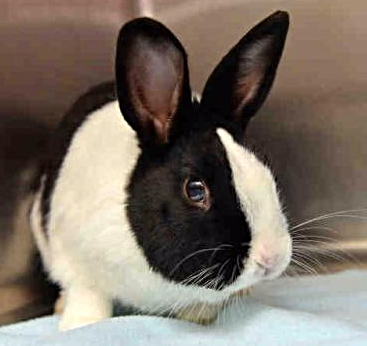 Roger (A379558) is a nice rabbit. He's a bit shy here at the shelter but is sweet and gentle. He has super soft and silky fur and wonderful markings. Roger will do best with a rabbit experienced adopter. He came to the shelter as a stray and is now ready for his forever home.
---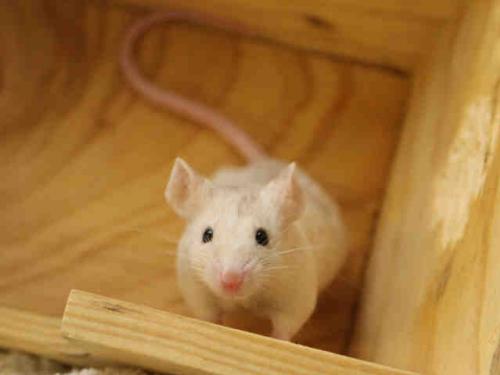 Finn
is a sweet mouse. He and his siblings Harry and Simon, are waiting for you.
---
Birds for Adoption at ACC...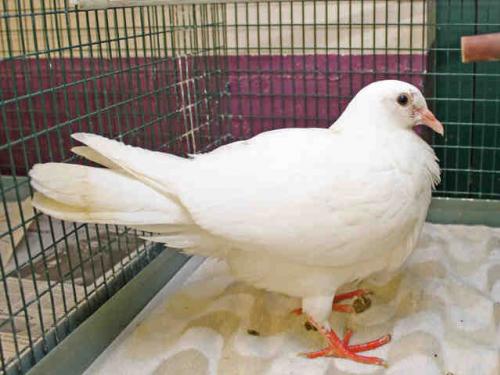 Come meet Chispita—which means "Little Spark" —and consider adding to your aviary or starting one! King Pigeons make great pets and companion birds. They are sweet, smart, calm, and full of personality. But people are not very aware of them as pets and they have a hard time finding a home. Kings are domestic pigeons that are bred to be eaten, but they sometimes escape or are set "free." They do not survive long on their own. The lucky ones, like Chispita, who was found on the street, end up in shelters, though they often wait for a long time before finding a home. Come in and see Chispita and other King Pigeons at the shelter; they may be the companions you've been waiting for!
---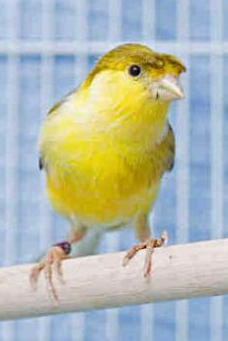 Starshine (A381074) is a beautiful canary that came to the shelter as a stray and is now available for adoption. Bring some music to your life—dopt Starshine!

Or add Lemon Drop (A380696) a beautiful domestic quail, to your aviary!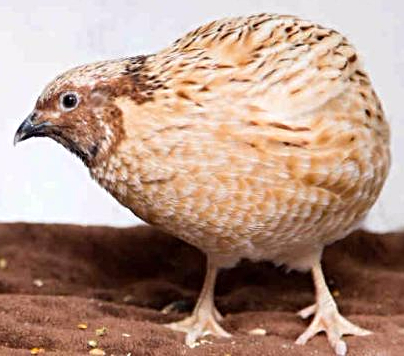 ---


BAY WOOF: The BEAST OF THE BAY AWARDS 2016 ballot is LIVE.
Vote for your favorites. Finalists will be posted from Jan 2 thru Feb 29. Send your clients and customers to vote early, but not often—only ONE VOTE per computer or phone (for each region) will be accepted.
---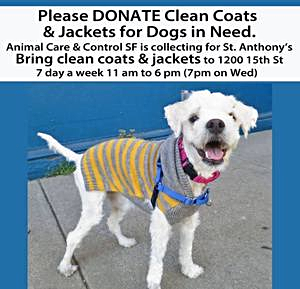 ACC's coat drive for homeless pets
continues through February 2016.
---
---