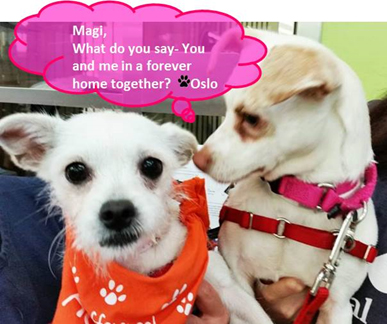 ---
Dear Friends,
This issue is dedicated to the love between humans and their animal companions, and between two critters, whatever species. We hope you enjoy these happy tales and that you'll consider adopting your next BFF at ACC.
Share your story: lovestories@sfanimalcare.org.
We'll add them to
our ACC Love Stories album through Valentine's weekend.

Thank you for all you do to help the animals.

Happy Valentine's Day
!

Jane Tobin
Lisa Stanziano
Co-Presidents, Friends of SFACC
---
Shelter Hero—
Craig O'Brien, Shelter Service Representative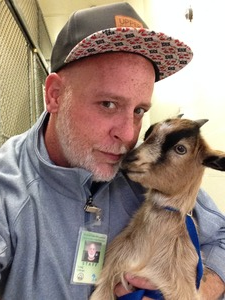 By Lisa Stanziano
"Second floor Animal Care Attendant, your assistance is needed with a cat adoption. Nothing is needed. Honey is going home!" … If ACC had a radio station, Craig O'Brien would be the disc jockey. With his smooth jazz voice and personable demeanor, Craig, an ACC Shelter Service Representative, is a pro at customer service on the phone or at the shelter.
One of Craig's characteristics, I've noticed, is how curious and open he is with people, so his breadth of work experience in animal welfare is no surprise. As an employee at the SFSPCA he explored a few roles—as animal care attendant (cleaning kennels), a customer service associate, a coordinator of their summer camp and junior/high-school volunteers. He finally found his favorite job there as the Animal Assisted Therapy coordinator, taking animals to different locations in the community—from AIDS programs, the children's and psych wings of the hospital, and the Veteran's Association, to name a few. "I worked as an SPCA AA therapist for 5 years and it was very rewarding. The effect that the animals have on patients, especially kids, is amazing. And sometimes unexpected. I usually brought a dog but once I brought a bearded dragon with me to the hospital and it held the attention of the Alzheimer's patients longer than any other animal."
Always up for a challenge, Craig decided to expand his breadth of experience in animal welfare and left the SPCA to take on the role of Animal Care Officer at ACC and was in the field for 7 years before moving on to his current role at the front desk, which he's had for almost 3 years. In a way, he's come full circle since his early days in customer service "across the street" and feels that his contribution at ACC serves not only a wider group of all types of animals but serves the residents of San Francisco in a more varied way—the services that ACC provides often help people in crises, whether they need help with a rescue or a lost pet, advice on injured or trapped wildlife, or are coming to ACC to adopt a pet or get a license for their dog or cat.
Craig's knowledge and previous job experience contribute to his success in his current job. Having been on the beat as an ACO, he understands what's going on when people call in a crisis. "We're helping people with a variety of issues, from all walks of life, which is an interesting challenge. One of my special interests is in distributing donations that we get to the homeless for their pets. Often, homeless people take better care of their pets than themselves. I'm glad that so many folks in need come to ACC to get food and supplies for their pets. We don't judge; we're here to be of service." That said, Craig emphasizes the importance of self-care. "It's a very emotional job—as are all the jobs in the shelter. I need to constantly find a balance around helping animals and people without burning out. "He's encouraged by the increase of visibility ACC has received in recent years from increased media through the Facebook page and high-profile cases (like Gem the dog rescued at Recology). "The potential to market ACC through social media is high. It doesn't cost much and we have great content." Craig referred to the volunteer-made Neeners video that was picked up at the SFWeekly and SFGate and led to Neeners's adoption.
Favorite pastimes are listening to music and attending concerts, watching documentary films, and road trips. He's also into flea (not the dog kind) and farmer's markets. He likes to hike too; a backpacking trip introduced him to the west coast from his native Manchester, Connecticut, and he moved to SF later, for good. Craig and his partner like to bring their dogs—Mack, a pittie/American Bulldog; and Gussie, a boxer/pittie girl—to romp around McLaren Park. At home they also have a kitty (Quincy) and a Greek tortoise named Chester Perkins. "They're our kids!" Craig says, with his usual enthusiasm.
Staff Update


ACC is pleased to announce the addition of two, full-time and permanent staff positions...

Dr. Shari O'Neill will join Dr. Chris Andersen in our Veterinary Division. Dr. O'Neill most recently served as staff veterinarian at Avenues Pet Hospital, a position she held for over ten years. She also brings a wealth of knowledge in disaster preparedness having served on several disaster planning groups at the state and local level. As a member of the Animal Control and Welfare Commission, Dr. O'Neill also understands ACC's work as an open-door shelter, and role of animal advocates." Welcome, Dr. O'Neill!
Congratulations to Ariana Luchsinger, who is the new Supervisor of the Behavior and Training Division. Ariana has served ACC most recently as both an Animal Care Attendant and a member of the Behavior & Training Division. Ariana's experience with the care and training of dogs spans 10 years. That experience will be an asset to ACC as she takes the lead role in nurturing, training, and socializing our animals toward being adoptable, and working with our dedicated staff, volunteers, and rescue partners.

—Miran Saez, ACC Interim Director
We asked ACC supporters to send in their stories of meeting and falling in love with their animal companion and received many heartwarming tales. To read them all, go to the Love Stories Facebook album. Thank you for sharing the love!



PO, Jr.


Hi ACC,
Back in April of 2014, I adopted Po Jr. (previously known as Jasper). I love him so much and could not imagine life without him. I adopted him because he looked so much like my dog Po. The two became fast friends and act like father & son. It feels like Po Jr, has been a part of the family forever. He fits right in and we love him so very much, Thank you for bringing us all together!!!
Lots of Love, Chelsey, Po & Po jr.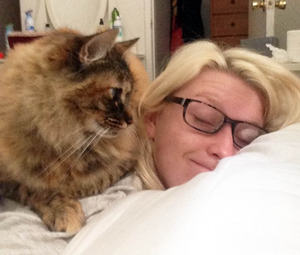 EMMA & SUNNY
Hi! My name is Emma Zirkler and in May of 2013 I met the love of my life, Sunny, at Pet Food Express on Market Street. Sunny was described as an independent cat who likes to explore before settling down in your lap. Well, Sunny has made it her life mission to prove that she is indeed a lap cat! The moment I sat down with her at PFE she hopped into my lap and has tried her best to stay in it for the past two years. No matter if I am laying in bed or sitting on the couch, Sunny is there too…on top of me. Sunny has shown me that no matter what life throws at me she will not only be at my side, but in my lap.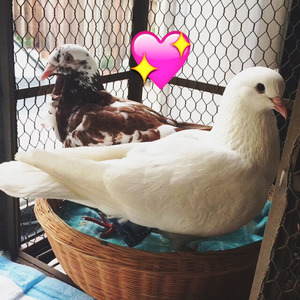 AUBREY & HEDWIG


By Sarah Wilson
When I found Aubrey, she was shivering, hungry and scared, trapped by some hall mates beneath a laundry basket. It was a warm

evening in downtown Los Angeles and my roommate and I were on our way to pick up a few groceries at the store below our apartment complex when we came across them all in the hallway. When I asked them what was going on they said the bird had been hopping around up and down the hallway all day and nobody knew where it came from. From the way it allowed them to approach it and the tag around its ankle they assumed it was domestic and caught it in hopes of contacting its owner. Unfortunately, the owner was most likely involved in pigeon racing and had no intention of taking her back. With that, my neighbors lost their inclination to help and went on with their evening plans. Seeing how helpless the bird looked, I knew I couldn't leave her in the hallway to starve so I scooped her up and took her home to my apartment, naming her Aubrey. After speaking to several animal rescues and doing online research, I knew Aubrey's options were limited and could very likely be a sad lonely life in an LA animal shelter or euthanasia so, I decided to adopt my first ever pigeon.


My three roommates were less than thrilled at keeping a pigeon inside the apartment at first, even a little grossed out. All of them had previously come from large cities, like Chicago, and considered them dirty. However, after living with Aubrey for a few days, one by one they began to fall for her charm. We let Aubrey have free reign of the living room and kitchen area during the day as there was usually always someone home to keep an eye on her. She quickly adapted to the rules of the house and even found a favorite lamp to perch on next to the window where she could enjoy her 8th floor view. For the next several months, Aubrey enjoyed her days looking at her reflection in mirrors, preening her feathers, bathing, and snacking on seeds. I quickly grew very attached to Aubrey and slowly gained her trust and affection.
Unfortunately, that January we were all to start our first semester at USC and I knew I wouldn't be able to dedicate as much time to Aubrey as she needed. Thankfully, my family agreed to take care of Aubrey while I'm busy with school and even suggested adopting a second pigeon as a mate to keep her from getting lonely. After emailing with Elizabeth Young from Palomacy (
www.PigeonRescue.org
), we arranged to bring Aubrey to SF Animal Care and Control to meet with two other bachelor pigeons. She took a liking to a Birmingham Roller named Hedwig, who we took home that very day. At first Aubrey seemed a little unsure but after a few days I discovered Aubrey and Hedwig preening each other's feathers and knew that they had bonded.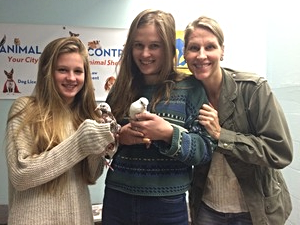 Aubrey and Hedwig now live happily in my family's home in the Bay Area where my mother and sisters take care of them. I miss Aubrey's company here in LA, but I know she's living a happier, spacious life and is waiting for me when I come home for break! Until meeting Aubrey, I never considered a bird for a pet or discovered how intelligent and lovable a pigeon could be! They are beautiful, peaceful animals that have been unfairly stigmatized and deserve a shot at loving homes.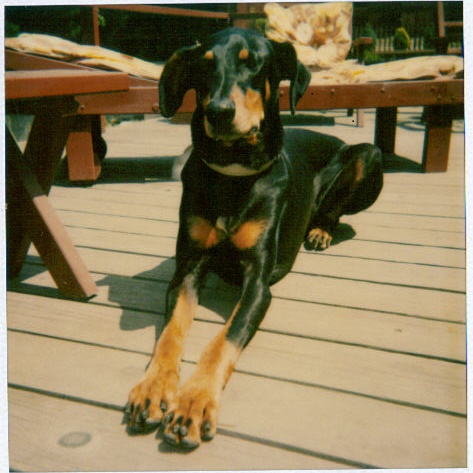 IN JACKSON'S EYES


By Debra Marks, Ph.D.
Sitting in front of me, pressed to the back of the wire cage, was a very large, very frightened Doberman pinscher. Terrified of the strangers who walked before him, huddled as far away from them as he could get, I saw the eyes of a three-year-old dog who had been abused and abandoned by his owners, his ribs protruding from the weeks he had spent out on the street. He did not have a home. He did not have a name. What he had was a look that grabbed my heart so hard that I had to bring him home with me that afternoon. I gave him the name "Jackson."
Jackson had to be taught virtually everything: how to chew on a bone, how to walk up stairs, how to have fun. The world had not been a safe place for him, and, as a result, he was terrified of everything he did not know. The sound of a telephone ringing, mail being slipped through the slot, the sight of an ironing board, clothes hanging in a closet and tiled floors all scared him to death. This dog, with his uncut ears and tan spots for eyebrows, was a tragic example of what can happen to any of us when we've been hurt at our core.
In spite of this or maybe because of it, Jackson had an enormous need for attention and capacity for love. If an arm were free, he would use his nose to lift it up to be petted. If a lap were empty, he would put his head on it and fall asleep standing up. I wondered, at first, if his need for affection was more than I could provide, but somehow, when I looked in Jackson's eyes, I would always find a bigger reservoir.
The years that followed were filled with the small steps that everyone must take when recovering from trauma. Even a dog. With time and consistency and patience and praise, Jackson began to inch his way along a path toward healing. We celebrated each victory: sleeping in the presence of a stranger or vacuum cleaner and walking on a tile floor to be with me as I got ready for work. Slowly, over time, he began to turn the difficult corner to trust.
In the years that we were together, Jackson was a constant reminder that a loving heart is the one thing that can impact the pain of abuse. He helped me remember that we need to celebrate our victories, however small they seem.
Should there be moments when I forget the journey that we took together, I need only look at his picture to remember the darkness and terror and healing and love. They are quiet now that he is gone, but they are there. A reminder and a monument forever visible.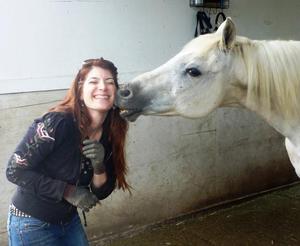 ARTEX


By Renee Krause
I met my horse, Artex, when he arrived at a horse rescue I volunteered for in 2006. As is often the case with rescues, his history was unclear but judging from his physical appearance, his recent years lacked the duties of responsible ownership that caring for a horse requires. Artex was underweight, strained, filthy, and was riddled with open cuts and wounds.
I saw none of these imperfections, however, the first time I laid my eyes on him, so small and white, quarantined in one of the upper paddocks. As I made my way towards him, he turned his head and I was caught in the net of his huge, liquid, dark brown eyes. They say what you see in a horse is what you see in yourself. Having just come out of an emotionally abusive relationship myself, perhaps there was something in his eyes that spoke to what I felt in my heart. A palpable fear, coupled with the glimmer of hope for warmer days and an easier road ahead.
I assumed care for him, and started a new program consisting of attention, hoofcare, healthcare, and grooming. As time went on, our partnership grew stronger. It was just a matter of time before I fell in love with him completely. Soon I adopted him so that no one could ever hurt him again.
Artex will be 30 years old this year, and is affectionately known as "Pohne" to those who love him. He is a retired, beautiful, opinionated horse that is extremely intelligent and absolutely loves children. His favorite treats include watermelon, apples, and the (very) occasional mini-bag of frito-lay corn chips.
For the past 9 years he's been my most treasured companion. He's my teacher and my friend. Always he is honest, steadfast, reliable and present. I often wonder if his name originated from the movie The Never Ending Story, in which the movie horse Artex saves the hero Atreyu from the swamps of sadness. It's not too far to say that my own Artex did the same for me.
After years of our mutual care for one another, both he and I came out of our situations on top and surrounded by love and confidence. We have found our way together, and it is my belief that there is no horse rescued that does not rescue you right back.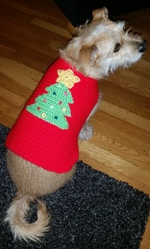 LOGAN


By Melissa Slawson
Last January, 7 days after getting engaged (a mandatory prerequisite for getting a dog), we went to ACC to meet the scruffy little terrier mix we saw online. I knew he was the one as soon as I saw his picture. Turns out, I was right.
Logan came to ACC after being found by the SFPD wandering the streets in SF. We don't know how long he'd been on his own but we know he lived in a house before. He was potty trained, knew how to sit on command, and knew right away that our couch was now his couch.
We don't know the circumstances behind him winding up at ACC but we are baffled why someone would let this amazing little guy go. As soon as Logan joined our family, we realized how much better our lives are with him. He is sweet and funny with so much spunk and personality. He loves tennis balls, the dog park, night time cuddles and sleeping in. We have decided that he is the best dog in the entire world.
Attached are a few pics of our wonderful boy. As you can see, he loves to accessorize.
Thank you, ACC, for helping us find the light in our lives - our Logan.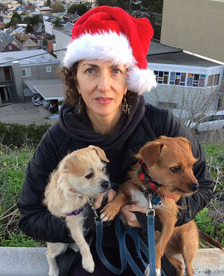 LUCY & SID


By Sara Winslow
I started volunteering at ACC after my last dog died. One day, I met a puppy there named Eliza who crawled into my lap and kissed my face. I couldn't help falling in love. It wasn't long before I brought her home and named her Lucy after the old tv show. When the vet asked for Lucy's date of birth, I counted backward, using ACC's estimate that she was 6 months when she came in. Her birthday turned out to be the day after my previous dog died.
That fall, during my last shift at ACC before a trip to Australia, I met two 8-month puppies who were surrendered because the daughter in the house "took her emotions out on them." They were sweet but terrified. They wouldn't walk, so another volunteer and I carried them to the yard. When I returned from Australia, I learned the female had been adopted, but the male—Nader— was still at ACC. On a whim, I brought Lucy in to meet him. Those two immediately began roughhousing like long lost BFFs. I had no choice; Lucy and I adopted Nader. I renamed him Sidney for the city I had just visited.
Sidney had progressed hugely in his weeks at ACC, but he still had issues, including severe separation anxiety. My first day back to work, a neighbor called to say, "We have your dog." Sid had scratched his way through a second-floor window screen and jumped out. Several dogs had lived in my house with the same window and none had ever pulled a stunt like this. Luckily, Sid was uninjured, and now I keep that window closed. Sid's next phase was to destroy things—books, clothes, furniture—even chewing paint off the wall! It took months for him to settle in. He still isn't easy, but whenever he's trouble, I remember the mistreatment he endured as a puppy and how far he's come.
Lucy and Sid are three years old now and the best of friends. They still play the same way they did when they first met. They give me lots of kisses and make sure I get up early each morning for our trip to the park or the beach. They bark too much for my neighbors, and their endless energy take lots of my time, but they're so worth it. I love them like crazy and can't imagine life without them.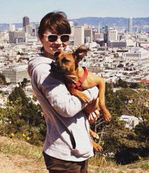 BELLA


By Celine Homer Birch
We adopted our sweet boxer mix Bella from the ACC when she was 5 months old. She's now 2 and a half. Bella's favorite activities include going to the dog park, the pet store to shop for treats and visiting her grandma at the beach.
Bella's first best friend was Porcino, our tabby cat, who she treated with the utmost respect and playfulness upon her first time meeting him when we brought her home from the shelter. Bella and Porcino play, wrestle, and have a good ole time together any day of the week! They really do love each other.
When we brought home Sally, our black lab puppy, at a mere 8 week old, Bella was a little skeptical at first. She was always kind to Sally but didn't want her to come into bed with her despite Sally's tries at cuddling with her new big sister. Since then Bella and Sally have become an inseparable team. Our girls have a new job that they take very seriously: protecting the newborn human addition to the family from any and all harm! The girls sleep near mama and baby, wake and keep them company during middle of the night feedings, check on baby when she cries, and make sure baby's hands and feet never go too long without lots of licks and kisses. They are truly a dream team!
Bella has also had the unique task of being an emotional support animal for her owner and has traveled through airport security, on airplane rides within the state of California and has helped her owner overcome emotional obstacles by providing companionship and loyalty. Bella had no special criteria for fulfilling this job. She was a dog that needed a second chance and upon getting hers, gave her owner one at having more more secure interactions near and far from home. Bella is the best companion for her owner and provides her with all of this support just by being herself. We are forever grateful to the ACC for having saved Bella and for giving her a chance to find her forever home with us. We love her with all our hearts!!! She is our special girl.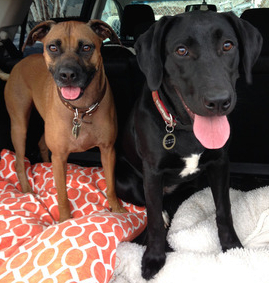 Bella with Sally getting ready to play at the dog park.
Dog of the Month: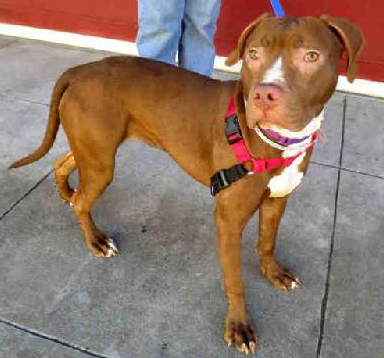 Harper
(A364837) is a 13-mo. gorgeous girl who'd love to start the new year with you! With her supermodel persona, she's actually a goofy, affectionate, and fun-loving gal. This lovely lady cannot wait to have the gentle, fun-loving family she deserves. Harper already knows "sit" and can't wait to learn more with you by her side.
The love of a dog is unconditional. A

CC has many super dogs of all sizes and ages for adoption who are waiting to give you theirs!
Check them out at ShelterMe.com.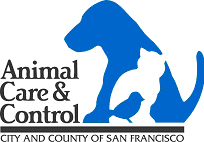 News/Events
& Ongoing Outreach
---
Upcoming Events
---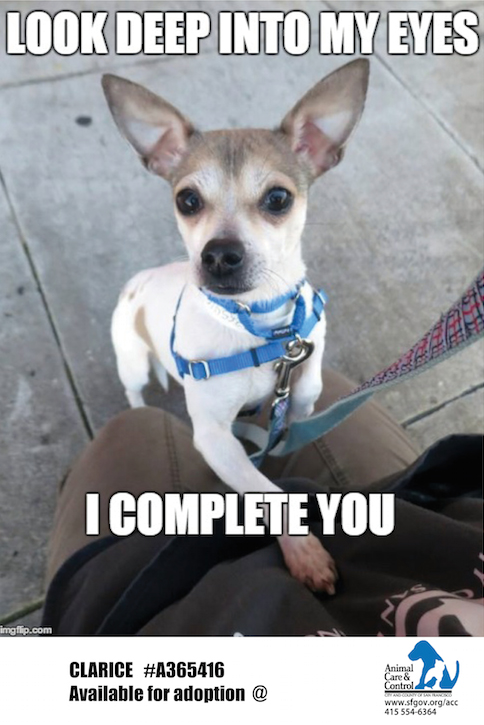 Find Your L
♥
ve Match!


In conjunction with the SFSPCA's annual Be Mine Valentine festivities, ACC will offer no-fee adoptions for qualified adopters for all animals this weekend, February 7th and 8th.
T
hank you, Friends of SF Animal Care & Control for making this happen!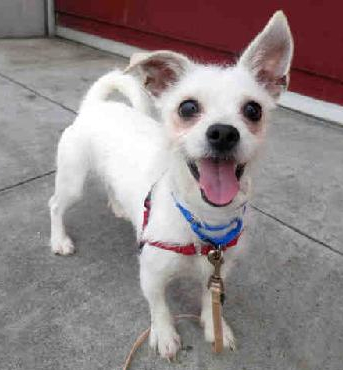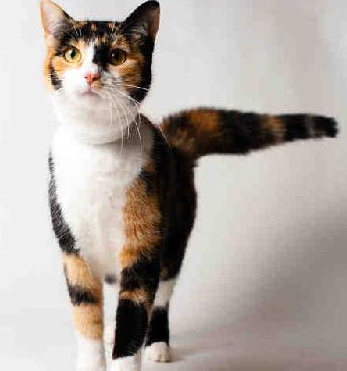 Mag

i
(A365222
) (L) and
Kiko
(
A364433)

are

available for adoption at ACC.
Low-cost Rabies and Free* Microchips
for Dogs and Cats at ACC
Next session: Sunday, March 3, 2015
Microchip ID and collar tags are the most effective ways to identify your dog or cat if they are ever lost. All clinics (except PPDay) are held at SFACC, 1200 15th Street @ Harrison.
2015 clinic dates:
Sunday, June 14, 2015
Sunday, September 13, 2015
Sunday, October 25, 2015 (at Pet Pride Day, Sharon Meadow, Golden Gate Park from 11am-3pm)
Sunday, December 13, 2015
*Microchips are FREE for San Francisco residents with licensed dogs. Dog licenses are sold on site at the shelter (
fees vary
). Microchips are $20 for those outside San Francisco. Rabies vaccinations are $6 and are required for the license. Sponsored by Friends of SFACC & SFVMA.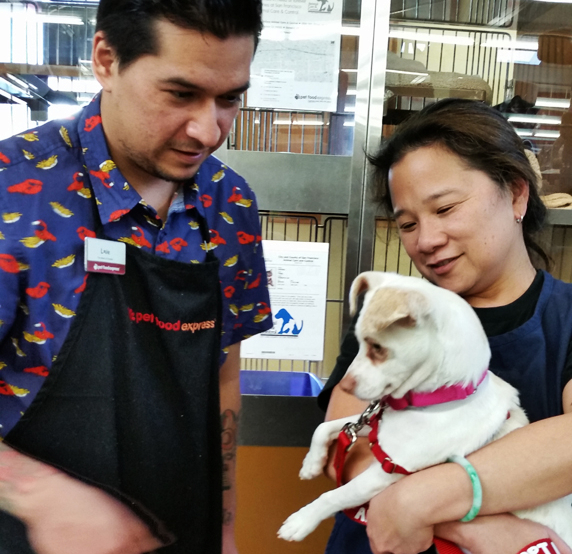 Volunteers introduce animals
to the public at outreach events.
New Volunteer Orientations
Next session:
Saturday, Feb. 21
Pre-registration is required. Please call (415) 554-9414 to sign up. All sessions are 10:00 am-noon.
2015 Volunteer Orientation Dates:
February 21 (Sat.: one session in Feb.)
March 7 (Sat.), 22 (Sun.)
April 4 (Sat.), 18 (Sat.)


May 2

(Sat.), 16 (Sat.)
The animals (and staff!) LOVE all of our volunteers. You can walk and train dogs, socialize cats, and pet bunnies and guinea pigs to enrich their lives at the shelter and increase their chances for adoption. Learn how to foster a kitten or puppy! Or help out at outreach events to spread the word about ACC. Volunteers must be at least 18 years old & commit to volunteering 2 hours a week for a minimum of 6 months. The first step to becoming an SFACC shelter volunteer is to attend a New Volunteer Orientation.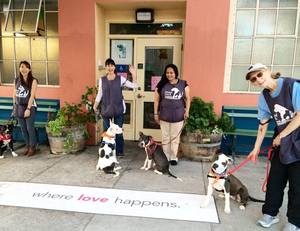 Watch the group walk video!


Classes for Dog Volunteers


Note: These classes are for current volunteers who have been through basic training.
Urban Mutts: Reactivity
February 25th @ 6pm
Join Behavior & Training staff Kathy & Ariana for advanced techniques to help modify and prevent reactivity in our shelter dogs. This 1-hour session will help you develop the skills to recognize and understand the roots of reactivity and give you the tools needed to successfully work on this behavior. We hope to see you there!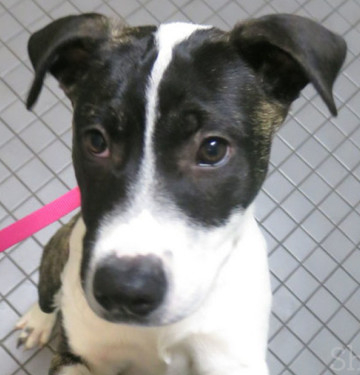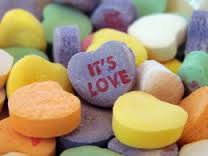 Gorgeous, playful 4-month-old Autumn (
A
366157)
can't wait to meet her new adopter and learn all about the world! This very friendly girl loves playing with toys and exploring the world by your side. Autumn has a soft gorgeous coat with beautiful brindle and white, perfect for post-play cuddle times. If you're looking forward to classes and puppy socials, meet Ms. Autumn today!

GO NUTS! FREE Pet Fixes Every Month




@ ACC Every 3rd Thursday

1200 15th St, SF, 94103.
Next Spay/Neuter Clinic:

Feb. 19, 8:00 am
Pets owned by SF residents are eligible. The mobile clinic is provided by Peninsula Humane Society. Accepting pets from 8-9 am on a first come first served basis. One pet per family; dogs and cats only; no dogs over 80 lbs and no pets over 8 yrs old. For details, including pre-surgery instructions, call (650) 340-7022 x387.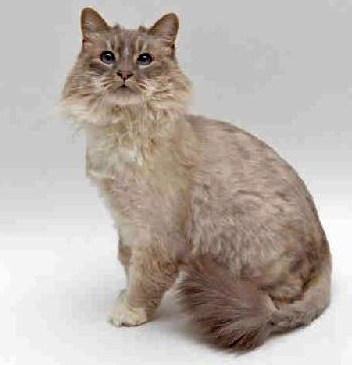 Kitty (A365335) is friendly, loving, and a regal beauty. She has unusual deep blue eyes and plush, plush fur styled in a lion cut and needs an adopter that can keep her groomed in a way that befits this royal cat. Kitty has lived with another cat.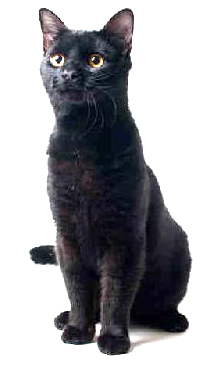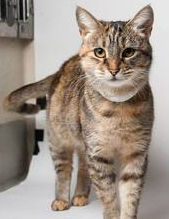 Stallone
(L) and Fifi
are available at ACC.
See more of our fabulous felines on the
ACC website
!
ACC Outreach at Pet Food Express
on Market @Dolores St. in SF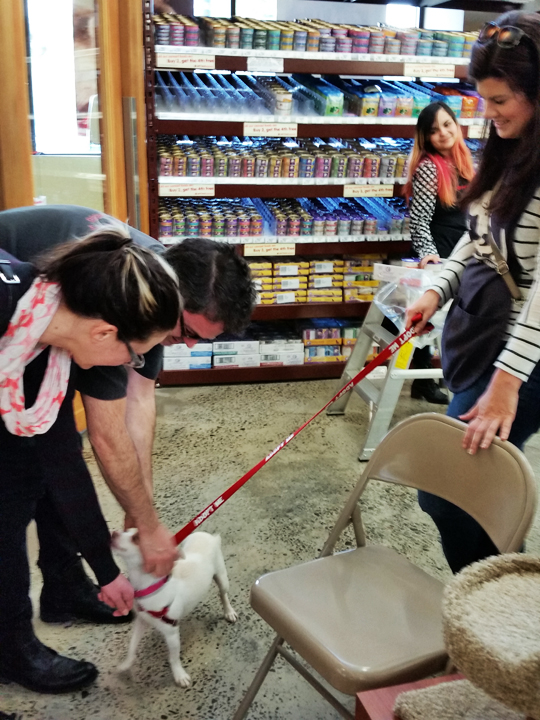 Small Animal Awareness 11am-2pm. Share information about small animals (rabbits, guinea pigs, rats, hamsters, birds) the shelter often has for adoption. Note: We need more volunteers to continue this outreach. Please contact

Deb Campbell

if you're interested.

Ongoing Dog Licensing at PFE on Saturdays, 9 am-10 am (and Petco in Potrero Center on Sundays, 10am-12pm).
Meet ACC Available Dogs 1 pm-3 pm, every third Saturday in the PFE Community Room.
***The Cat Adoption Center at the 1975 Market St. PFE store has CATS and RABBITS for adoption every day. Over 500 cats (!) and 27 rabbits have been adopted there since the satellite site opened in 2012.
(415) 431-4567.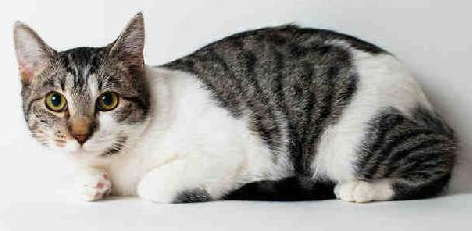 Julie
(A362048) is available for adoption at the ACC Adoption Center at Pet Food Express, 1975 Market Street, San Francisco, CA 415.431.4567.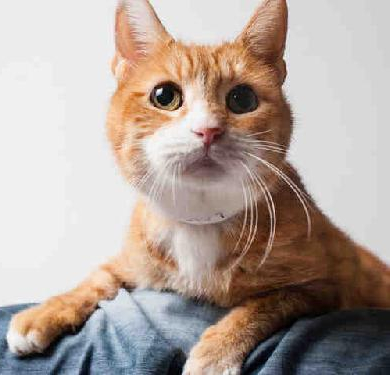 Bobby (A365491) is a wonderful senior fellow looking for a golden home for his golden years. His family of 10 years moved to a much smaller place and are adding a baby to the family, so they surrendered him to ACC. Bobby is a gentle, loving, and affectionate fellow when you coax him out.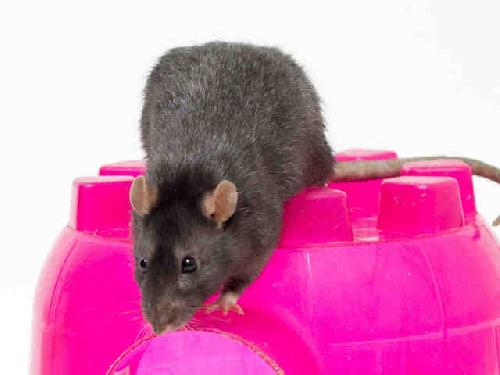 Carmine
(
A364482
) Carmine, Lennie, & Squiggy are nice guys. These three boys are shy and still learning about people but are sweet and fine to handle and will blossom in a steady home with lots of attention. Rats are smart and fun; they make great pets for small spaces. Carmine, Lennie, & Squiggy are waiting to meet you at ACC.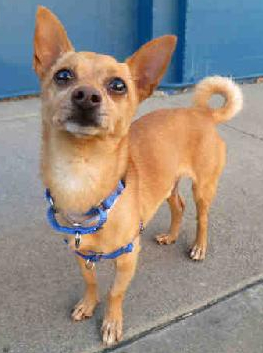 Sam (
A366399
)
is a sweet, sometimes bashful gentleman who'd love to find a new guardian as gentle a soul as he is.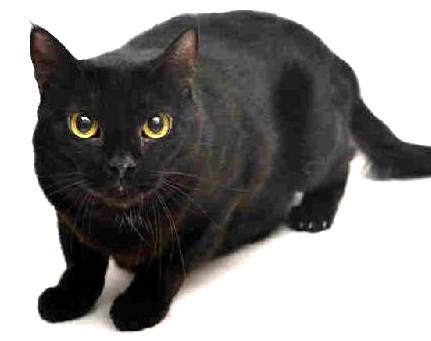 Tiana
(A360736) is sweet and friendly and wanted to be in our laps during the photo shoot. She is at ACC after being abandoned in a vacated apartment. Meet this girl and see if there is a place in your heart and your home for her.

VetSOS Project Homeless Connect
Friday, February 20, 2015
St. Anthony's Clothing Center - 8th & Mission St.
Please line up on the Mission St. side.
Services begin at 10:00am
Next clinic is March 11 at Bill Graham Auditorium.
VetSOS
is a volunteer-based project providing free veterinary care for homeless San Franciscans. Clients/patients are seen on a first come-first served basis. For info. about clinic dates and locations, please call (415) 355-2248
.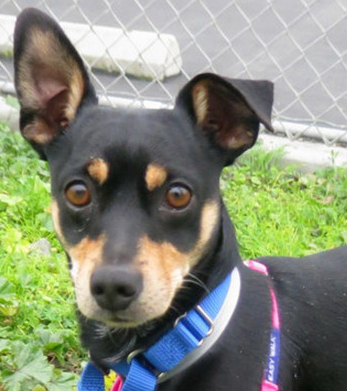 Freddy (L) & Johnny Cash (R)
- available at ACC.
Free and Subsidized Spay & Neuter
Services at the SFSPCA
To reduce unwanted pets and feral cats in the city, ACC's partner, the SFSPCA, offers spay/neuter services for SF residents:
Community Cat Spay/Neuter program: Feral and free-roaming cat S/N, with traps available (free w/deposit).

Free spay/neuter for pit bulls and pit mixes owned by SF residents.

Find out more

.

For animals other than feral cats or pit bull mixes, SPCA offers free or deeply discounted S/N surgeries for low-income San Francisco residents. For info., visit the

Spay/Neuter Clinic page

or call the hospital at 415 554-3030.
---
FEBRUARY HOT BUNS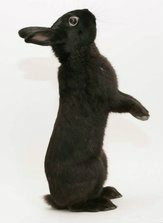 Midnight (ID#A357218) is a fantastic bunny. This sweet, friendly, and playful bunny came to the shelter as a stray. He is ready for a good steady home. Midnight is as handsome as he is nice, which is to say VERY. Come meet this great little fellow and see if he is the bunny companion for you.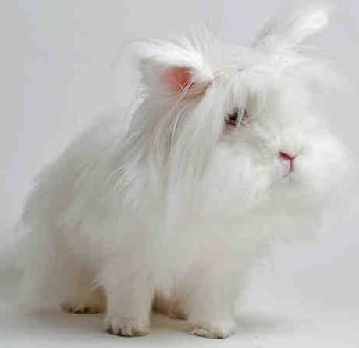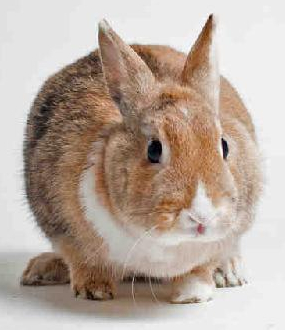 Fluff
(A365098) &
Lulu
(A365099) are a bonded pair and must be adopted together. They are young (~1 yr.), sweet, gentle, easy to handle and seem to like being petted. Could they be any cuter? Fluff and Lulu's owner developed allergies and couldn't continue to live with them. These girls are litter box trained. Come meet this darling duo!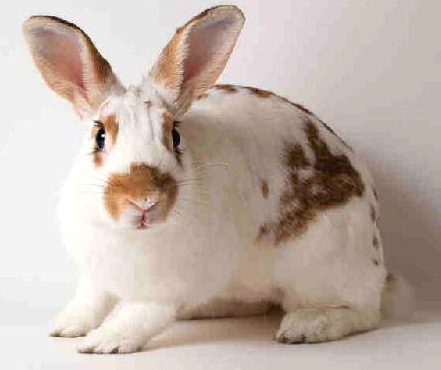 Peony (A362188)
is a cute little rabbit with her fun spots, fabulous eye lashes, and adorable face. She is sweet, calm, curious, and becoming more social each day. Peony is easy to handle and would be good for a first time rabbit person. Peony is ready and waiting for her forever home so come pick her to add to your life's bouquet.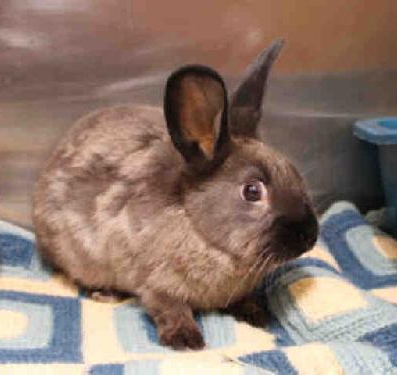 Fig
(A355602)
is a small, super handsome chocolate brown bunny ready for a home. Fig is easy to handle, sweet, and curious.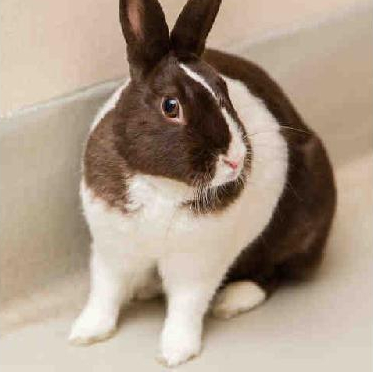 Sensii

(

A343011)
is a beautiful Dutch bunny. She is sweet, friendly, and easy to handle. She was very calm and patient when a volunteer trimmed her nails. In two words, Sensii is a Big Winner. Sensii is available for adoption at Pet Food Express Adoption Center, 1975 Market Street, San Francisco, CA 415-431-4567.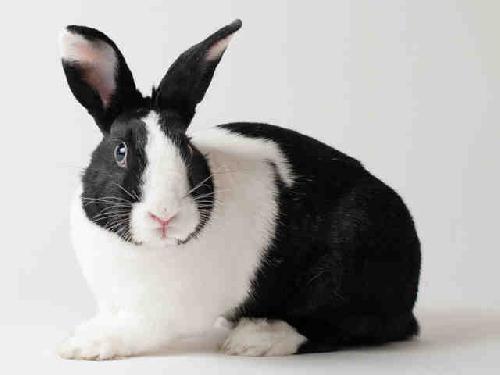 Saskia (A358066) is a stunning beauty of a bun with great black & white markings and super soft fur. She can be a bit shy at first but is calm and very approachable. Saskia is becoming friendlier and friendlier each day at the shelter. She's perfect as a first rabbit.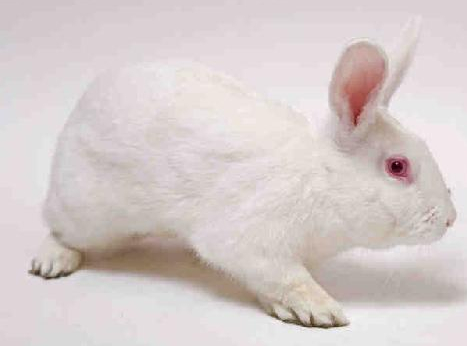 Marshmallow (A361403) lives up to his name - he is soft and sweet. Marshmallow is a sociable, good natured and really fun bun. He was found abandoned in a box in the SF Mission district but it has not dampened his spirits in the least. This is a great rabbit!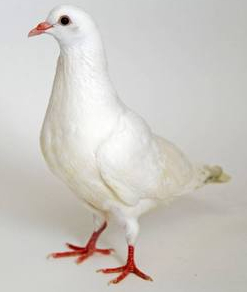 Jax is a beautiful bird that was found as a stray on Nob Hill. King Pigeons make great pets and companion birds. They are sweet, smart, calm, and full of personality. Many people are not aware of them as being pets and they have a hard time finding a home. Kings are domestic pigeons that are bred for food, but they sometimes escape or are set "free." They do not survive long on their own. The lucky ones, like Jax, end up in shelters. Come in and see Jax in the ACC lobby.
---
Be sure to regularly check our SFACC Facebook page for other wonderful photos & posts!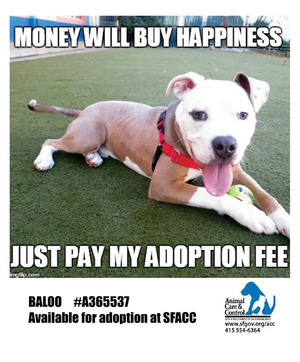 ---
More Happy Tales...
Recent Adoptions and Updates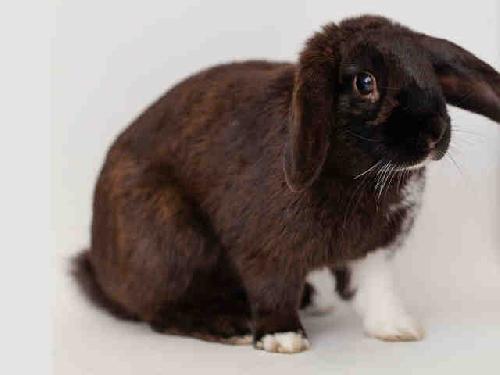 Shadow the bun has been adopted! Also adopted recently: Mischief the kitten, Xavier the cat, Shadow the bun, & Michaela the Hamster. Yay!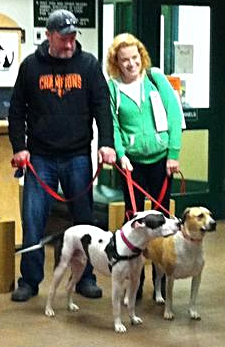 NEENERS goes home with a new sister!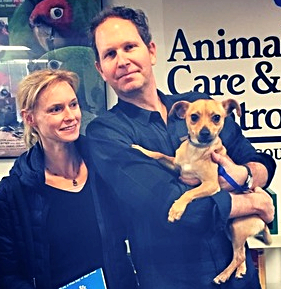 MICK has new parents!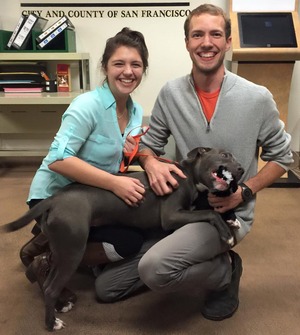 NILA was adopted by two ACC dog volunteers!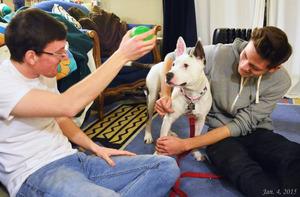 ASHLEY SKY: Thank you ACC for our new family member! Everyone at ACC was so wonderful, in helping us meet and adopt Ashley Sky!! Thank you!!! (We've decided to call her Sky). Already, we can tell she is fun, smart, and SUCH a Sweetheart!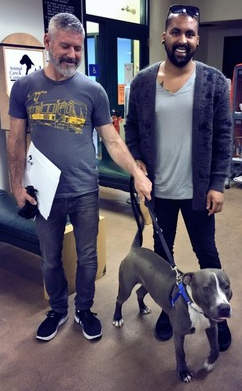 ROOCO goes home (to a sister!)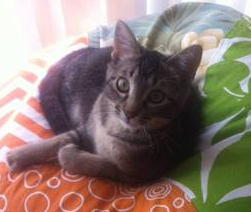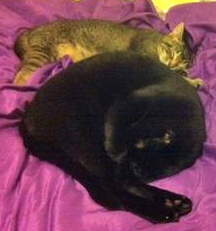 "BLUE is now JINGLES. He is doing very well and getting along with our other cat really nicely. He was shy at first, but now is settling and getting comfortable with us." Here he is in his new bed and with his new big brother, Harold. So happy for all!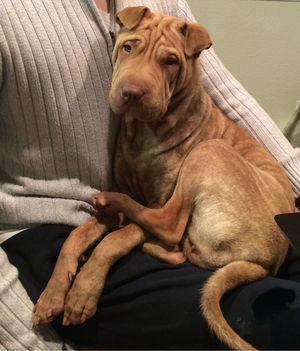 Hi SFACC!
I used to be LUNA, but now everyone calls me MAGGIE. I was adopted in November, and wanted to send you an update with some drool-worthy selfies. ​​In two short months I've shown mom and dad that I'm a champion snorer and and kisser. I've learned lots of tricks in only two months and will do anything you ask...if you have a treat. I also learned that there are sooo many ways to occupy a lap.
Thank you to all the wonderful volunteers who took great care of me while I waited for mom and dad to come pick me up.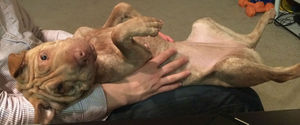 ~ Saggy Maggie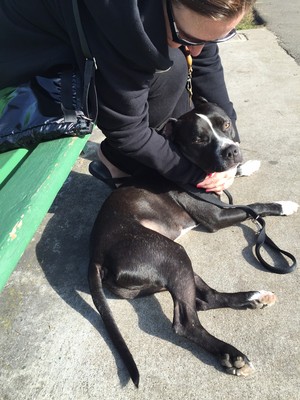 Update on TYSON: Bethany reports that he is a rascal, and will find something silly to do in the house, but only when she's in the shower. Very smart boy doing really really well.
He is a sweet calm fun loving dog.
---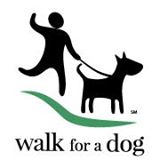 WOOFTRAX app
Support your local animal shelter simply by walking your dog. For every mile you walk, Wooftrax donates to the shelter of your choice. Get the app at
WoofTrax.com
.