Dear Friend,
Animal Defenders International (ADI) is delighted to announce that the Plenary Council of Colombia's capital city Bogotá this week voted overwhelmingly to ban the use of animals in circuses, with 36 votes in favor and 8 against the Development Plan proposed by the Mayor.
ADI's office in Bogotá congratulates Mayor Gustavo Petro, the city councilors who made this possible, especially Councilman Roberto Saenz, and the local animal organizations and citizens who worked alongside ADI to achieve this ban. ADI is in discussion with the authorities to establish what steps will be taken if circuses ignore the ban.
The ban Colombia's capital follows a vote earlier in the month in Congress to end the use of animals in circuses nationwide – that Bill has now moved to the Senate, with two further votes required for it to become law.
Please donate today to support our campaigns in South America, and around the world.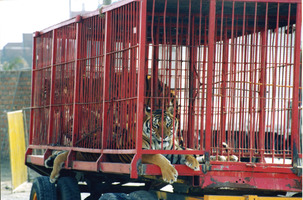 Colombia appears to be moving rapidly towards becoming the latest country in South America to ban animal circuses since the launch of ADI's Stop Circus Suffering campaign in 2007. To date Bolivia, Peru and Ecuador have banned either all animal acts or wild animal acts, with a ban also well advanced in the Brazilian Congress.

A bill that would ban the use of wild animals in traveling circuses is currently under consideration in the U.S. Congress. Please click here to email your Representative in support of the Traveling Exotic Animal Protection Act, H.R. 3359.