Driver Profile - Neil Kohler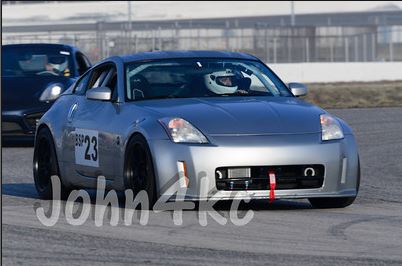 Age: 32
Car/Class: 2003 Nissan 350z/HPDE 3
NASA Central: Tell us where you live and about your job/employment?
I live in Columbia, Missouri. By day I am a Network Engineer for University of Missouri. I also own my own home small business "Kohler Creative and Consulting" with my wife. We provide website design, branding, and development, as well as small to medium business IT services and consulting.
NASA Central: What was your first track car and what are your future driving/competition plans?
My first track car is my current track car, my 2003 Nissan 350z. I prepped this car before NASA Spec-Z existed so it is over-modified for that class and will be suitable for one of the NASA ST classes. My current goals are to get comfortable in HPDE4 and when approved, obtain my competition license and experience some wheel to wheel racing.
NASA Central: What do you enjoy most about NASA?
What initially drew me to NASA was how well my car would fit in to their racing classes as well as the flexibility of their classing rules. What kept me coming back to NASA events was how motivated the NASA Central staff, volunteers, and instructors were in helping me achieve my goals, rather than forcing me through a pre-defined process. I have yet to attend an event where someone isn't actively asking if I feel as if I am progressing toward my goals.
NASA Central Note:
Neil has progressed quickly through HPDE and is on his way to gaining the needed experience in HPDE 4 before jumping into Comp School. We expect Neil to be racing in ST3 before the year ends.

Gateway Recap
NASA Central saw the largest turnout yet at the opener this season, with 110 drivers from four different NASA regions hitting the track last month. 12 track records across the TT and Race groups, and a lot of very close racing action. The HPDE group swelled to over 35 cars, including 10 new HPDE 1 drivers.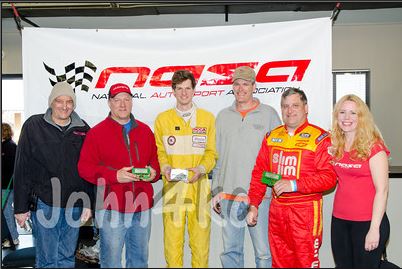 Congratulations to our Comp School graduates pictured:
Bryan Cohn - Chief of Driver Development, NASA Cental
Marshall Moore
Andrew Lanning
Cliff Pearce
Michael Smith
Kathi Jorgensen - Chief Registrar, NASA MW
Thanks for the great time to all who were there, enjoy the pictures linked below and race specific recaps.